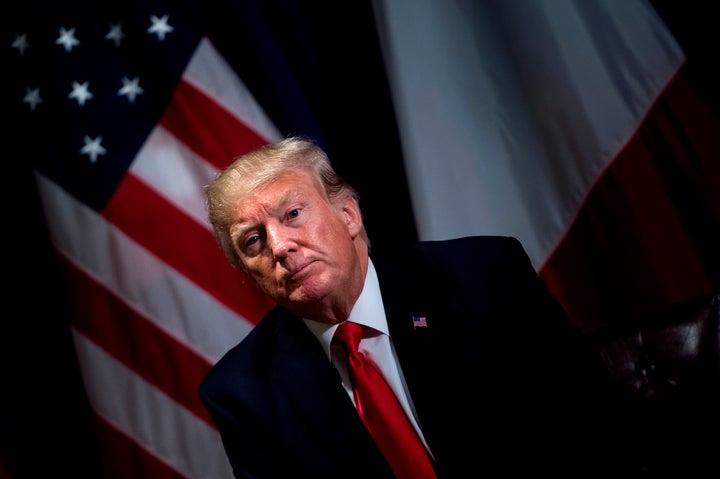 President Donald Trump was once a beacon for French far-right leaders, who pointed at his election victory as a taste of the coming populist uprising that would sweep them, too, into power. But among France's far-right voters, there's been a growing dislike of Trump ever since he took office.
Supporters of France's anti-immigrant, anti-Islam National Front ― a party whose platform can often resemble Trump's ― have an increasingly unfavorable opinion of the U.S. president. In a new poll released this week, only around 20 percent of National Front voters say they have a positive outlook on Trump, while 37 percent see him in a negative light. The remaining 43 percent of those voters said they had neither a negative nor positive view of Trump.
The number of National Front supporters who don't view Trump favorably is up around 11 percent since a similar poll from February 2016, suggesting that the more familiar these voters have become with Trump, the less they care for him.
It's an interesting result, given that National Front leader Marine Le Pen's campaign for president this year seemed to mimic Trump's election run in a number of ways, and it highlights just how unpopular Trump is abroad.
No Love For Trump In France
Although Trump has higher unfavorable ratings among French centrist and left-wing voters, the YouGov poll conducted for Le HuffPost between Oct. 25 and 27 shows that the country as a whole views him in an increasingly poor light. The result is fairly unsurprising. France and other European nations never had much confidence in Trump, finding his lack of experience concerning and his derogatory comments toward women and minority groups shocking, experts say.
"The general public opinion on Trump, from the very beginning, has been extremely negative in France ― with a huge majority of French voters considering that Trump was not only a big surprise winner of the election in 2016 but someone who wasn't deemed presidential according to the standards we apply in France," said Cécile Alduy, an expert on French politics at Stanford University.
French voters in past decades have also preferred Democratic presidents to Republicans, and were notoriously disapproving of President George W. Bush. On the other hand, President Barack Obama still remains an exceedingly popular figure in France, and President Emmanuel Macron's election run tried to replicate aspects of Obama's presidential campaigns. Obama even gave a rare endorsement of support to Macron right before the vote.
The far-right leader Le Pen, meanwhile, was one of the first foreign politicians to congratulate Trump on his win. Her rhetoric is often similar to Trump's on issues such as immigration, and she received Trump's tacit endorsement just before the French vote when he called her the "strongest" candidate on "what's been going on in France."
Trump's victory, along with the Brexit referendum, also gave Le Pen and other far-right figures a narrative that a populist uprising was going to sweep across Europe during a series of high-profile elections this year. But that narrative never came to fruition, and Le Pen suffered a landslide loss to the centrist Macron in the second round of the French presidential vote. Her party subsequently fell into turmoil.
Many analysts watching the French presidential race noted that one turning point in Le Pen's campaign came during her performance in a televised debate in which she assumed a combative, Trump-like tone that was off-putting for French voters.
France's general hostility toward Trump stems from both his policies and his persona, experts say. Voters are averse to his brash anti-intellectualism just as they dislike his turn away from international agreements such as the Paris climate accord. They also fear that Trump's reactive, bellicose foreign policy approach is a threat to global security as he ratchets up tensions with North Korea ― the YouGov poll shows that 80 percent of French respondents believe Trump is having a negative impact on peace in the world.
In the YouGov poll, the French harshly condemned Trump's domestic policies as well. More than 8 in 10 people surveyed thought Trump had a negative effect on minority rights in the U.S., while 77 percent of respondents believe he is bad for "American democracy as a whole."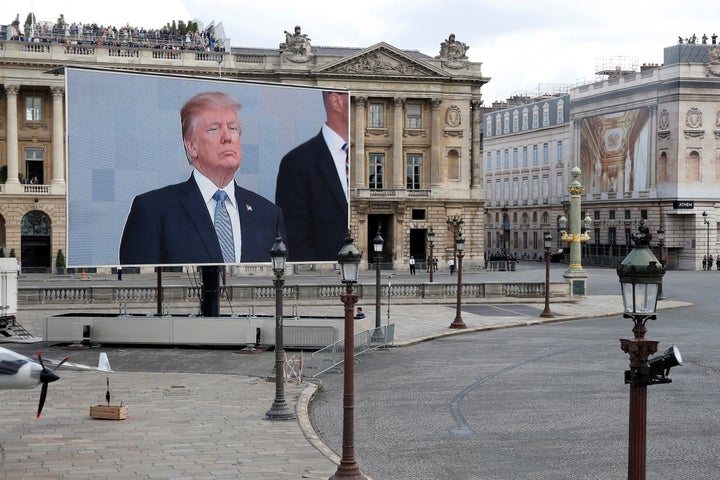 Trump Loses More Favor With The Far-Right
Experts say that there are a variety of possible reasons why Trump never had high levels of support from National Front voters ― some of which relate to differences between the French and American far-right.
"The French far-right since the 1990s ― particularly their voters and not so much their leaders ― has been pretty strongly anti-American," said New York University professor Martin Schain, whose work focuses on European politics.
Part of the National Front's voter base also come from formerly leftist, working-class roots that favor a strong welfare state, Schain explains, whereas the American far-right tends to embrace more individualist, limited government ideology.
Trump's recent drop in popularity with the French far-right, however, is largely linked to a series of failures, scandals and policies that go against supporters' expectations of him. These have ranged from inability to build his border wall and have his executive orders on immigration upheld to carrying out missile strikes in April against Syrian President Bashar Assad's forces after they launched a chemical weapons attack.
"Since he's been president, Trump has disappointed on some issues ― including strikes in Syria. Marine Le Pen's party is a noninterventionist party, they were supportive of Assad and their policy is that nations should keep to themselves," said Alduy.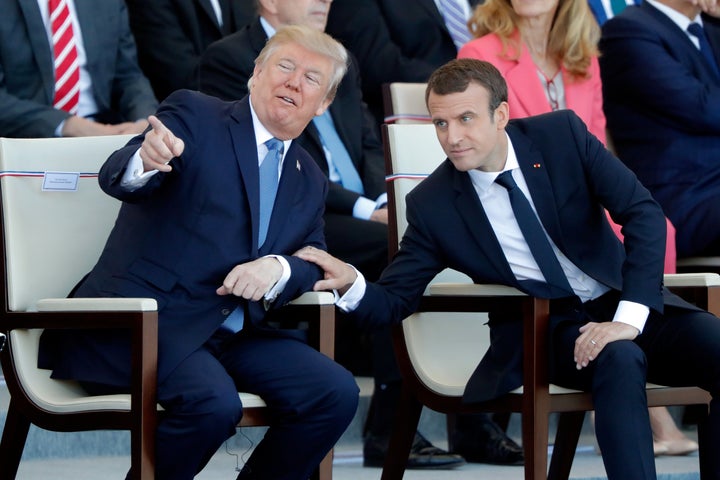 Trump's trip to France for Bastille Day during the summer also subverted what French far-right supporters may have expected, ending up being a fairly cordial visit where Trump was visibly enjoying himself alongside Macron during the celebrations.
"There's also this sense that Trump, for all his bravado, could be seduced and calmed down by a young 39-year-old president. That undermines his image for National Front supporters," Alduy said.
"He projected an image of 'I'm not taking no for an answer from anyone, I'm not following the rules,' and yet just show him a military parade on July 14, and he's all cooing and liking Emmanuel Macron, who is abhorred by National Front sympathizers," she added.
The continuous tumult and scandals plaguing the Trump administration also contradict expectations that he would kick out the corrupt elite and return power to the people. Instead, legislation Trump supports has stalled and many figures close to him are under investigation ― offering more of a cautionary tale than something to aspire to for far-right supporters in France.
"The more that you get this perception of him as plutocratic and corrupt, the even less popular he's going to be," said Sheri Berman, a professor of politics at Barnard College.
"The recognition of what he really stands for and who he really is has diminished already-low popularity ratings in France and in Europe more generally, where he is pretty much despised."
The YouGov survey was conducted online from Oct. 25-27 with 1,034 people representative of the French national population 18 years old and over.
Popular in the Community