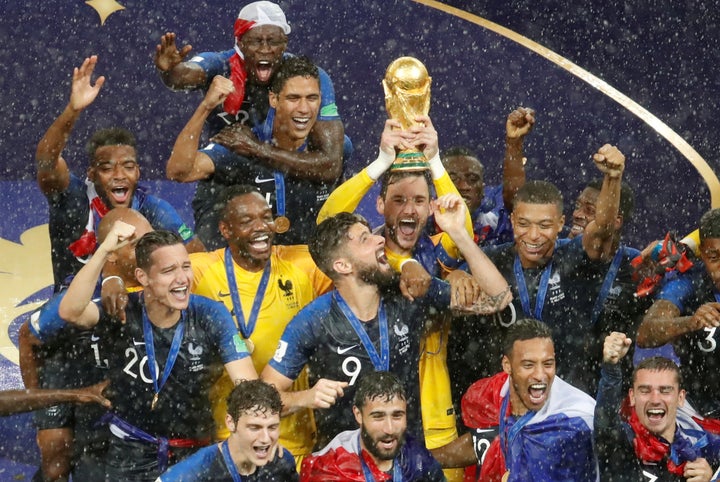 Even if they had failed to hang a second star on their jerseys on Sunday, which signifies a World Cup win, the players of the French national team would have still been able to claim a unique boast. Since the beginning of the 2018 tournament through to their 4-2 victory in the final against Croatia, this French team has had a different World Cup than in years past, but not just because they won ― it was the first time in decades that no French political party had attacked the team for its diversity.
Les Bleus have spent years as a kind of lightning rod for discussions of race and identity in France. The conversation over the ethnic background of players and what version of France the team represents was not just whispered in fringe circles, but openly debated in French media and by political leaders.
When France first won the soccer World Cup in 1998, commentators celebrated that the country's flag had changed from white, blue and red to "black, blanc, et beur," or black, white and Arab. The team's diversity became both a rallying point for multiculturalism and a target for far-right leaders such as Jean-Marie Le Pen, who said that a team full of players of African and Arab descent had nothing to do with the ideals of France.
The World Cup of "1998 turned this team into a symbol, and it's always been a symbol since then," said Laurent Dubois, a historian at Duke University and author of a book on French soccer.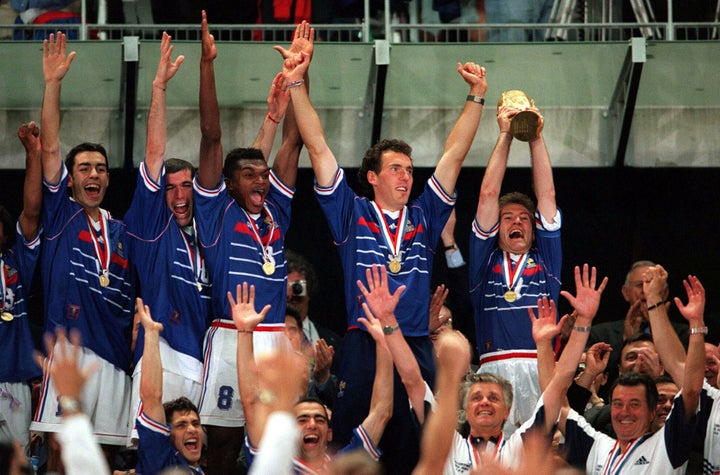 France's hosting of the European Championship in 2016 was overshadowed by scandals that included players accusing racism as a factor in the team's selection process. It spilled over into a full public debate about national identity and drew in the country's biggest soccer stars, politicians and intellectuals.
But only two years later, France's national team is practically universally embraced in the country and the cause for national euphoria throughout the tournament. Even Jean-Marie Le Pen ― who had 22 years ago judged the team as "artificial" ― was pictured with a French flag and novelty sunglasses. And Les Bleus have been almost entirely devoid of scandal ― whether manufactured by the far-right or genuine.
The national unity over the team is not because the players are any less diverse. An analysis by The Guardian found almost 80 percent of the French squad are from migrant backgrounds. In the past, the team's diversity would have been a target for the far-right. But the far-right National Rally party, formerly known as the National Front, embraced the squad. The sentiment is shared across France's fractured political landscape. The leftist France Unbowed party similarly supported them, with leader Jean-Luc Melenchon announcing the team's image reflected that of the country.
"This is not the same French team," said Aleksandar Nikolic, head of sports policy for the National Rally.
"This team is in the image of what we want to promote: Players who sing the Marseillaise and proclaim their attachment to their country."
But it would be wrong to think that the national harmony over the French team is indicative that the country has addressed its problems with systemic racism or that the far-right no longer holds xenophobic and anti-immigrant views. Soccer also remains an easy target for racism ― Switzerland's team became a source of crisis over national identity, while the far-right in Germany blamed their country's early exit on having too many players from immigrant backgrounds.
Instead, France's success and young, clean-cut image gave far-right politicians little to prey on, while the team's popularity made it politically fatal for anyone to oppose Les Bleus.
"It's this team's victories that … inhibits racist and xenophobic discourse," said Thomas Guénolé, a political scientist and member of France Unbowed.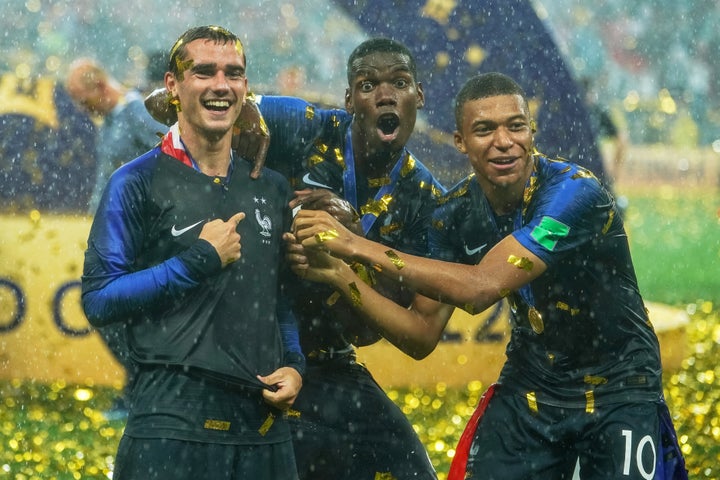 The team also appeared to be more conscious of its public face, playing to nationalism and attempting to avoid being tarnished by the likes of blackmail and sex tape scandals that have hit past national team squads. In press conferences, stars such as Antoine Griezmann and Paul Pogba have mentioned how proud they were to play for France.
"I do not know where I am!" Griezmann said at the end of the match Sunday night. "That is the France we love. There are different origins but we are all united. There are many players who come from different horizons but we all play for the same jersey and for our country."
His comments were echoed by other players. "France today is a France full of colors," star midfielder Pogba said before the final, according to AFP. "There are people of many different origins, that's what makes France so beautiful. We all feel French. We're happy to wear this shirt."
Midfielder Blaise Matuidi, born in Toulouse to an Angolan father and a Congolese mother, said on Friday: "The diversity of the squad is in the image of this beautiful country that is France."
"For us, it's superb," he added. "We are proud to represent this beautiful jersey and I think the people are also proud to have a national team like that."
But it's unclear how long France's far-right will find it politically advantageous to stay away from turning the national team into a target again. France's 1998 victory brought the country together, but political divisions over race and identity quickly re-emerged. Despite French joy at the World Cup result, politically, Europe has rarely been as divided as it is now.
Travis Waldron and Reuters contributed reporting to this article.
Related
Popular in the Community