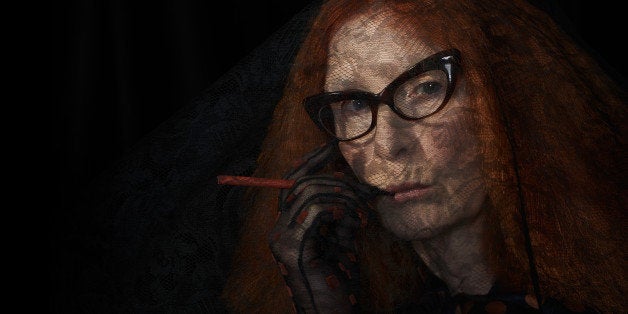 Frances Conroy is having just as much fun learning about her "American Horror Story: Coven" character, Myrtle Snow, as viewers are.
"My favorite part about her? Well she's being revealed to me as well. There's very interesting things happening beginning Monday when I do my work in [Episode 9] and next week reveals something -- a turn of events -- that I can only say is quite dramatic. What we'll be shooting this coming week for Myrtle is a change of things for her in some ways," Conroy said in a phone interview with The Huffington Post. "I'm finding out who she is each time they write something. She's very interesting."
The 59-year-old Golden Globe winner and Emmy nominee is relishing her time playing the mysterious witch with shocking red hair and an even more shocking wardrobe. She signed up at the request of Ryan Murphy.
"I just know Ryan wanted me to play a character. I said, 'Oh cool, that's great.' Then we did hair, makeup and wardrobe tests and he'll kind of give you an idea and lead and let you play with it," she said. For Myrtle Snow, "AHS" co-creator Murphy wanted Conroy to base how she sounded on Diana Vreeland, the storied fashion editor. Murphy had Conroy research Vreeland; Conroy took to YouTube and mimicked Vreeland for Murphy based on the documentary, "Diana Vreeland: The Eye Has To Travel." The hair comes from Vogue's Grace Coddington.
"Then I bought the documentary, which is a brilliant piece of work, and I watched it -- I don't even know how many times -- to study her, to watch her mouth as she speaks, to listen to her accent because she was born and raised in Paris and then came to New York as a 10-year-old. Just to take her in as well as I could, then to be able to utilize it and take it into the character of Myrtle," she said. "That starting off point -- that invention to start her off with -- was an interesting place to start from. Then to just take the life of each episode and see how this character responds to situations and where she goes. The episode this week revealed a lot, in that trial scene I think of it as, with Fiona. Before that, you saw her briefly in the pilot, but I'm not trying to evade anything but really I'm finding out about her each time and I think she's just a very interesting person that's part of this coven."
The character briefly appeared in the first episode of "Coven" and that was enough to get viewers talking about the signature look. But Conroy hasn't peeked at the Internet chatter. "No, I can't do that because that's like going into a house of mirrors. I'm not interested in looking in a mirror. I've got to create this and I don't go to the response of what I'm creating. I have to keep creating it. Whatever response comes out, that's fine, that's what the audience gets to have," she said. "They get to have a response."
"Oh, I just think he thinks the dynamics of putting whatever character I am and her character is interesting to create and see where it goes," Conroy said when asked about the conflict. "I think that Jessica has gone along with the scenes that have been written and likes having scenes with me. For me, it's a thrill because it's just fantastic to be in any scene with her and they're all great scenes that have been written. It is interesting, there have been some wonderful things that have been written involving her that I've been in."
Myrtle Snow's introduction involved an explosive confrontation with Fiona. While looking into the disappearance of a student, Myrtle has the chance to question her nemesis, Fiona. It's later revealed that Spalding, the butler at the coven's school, holds Myrtle responsible for his disfigurement.
"I think it was a fantastic reveal of her. Fantastic! And the fact that suddenly she realizes something that she never considered before was just mind-blowing. It just shows the whole history between those two women. Oh god, just an explosive moment of rethinking something. Oh, I thought it was great. And it was interesting to do. That was a big scene to do. That took hours to do and I thought, 'Oh god, my voice is tired, I'm tired, my feet are tired.' It was so intense to do. I even bruised my hand and I don't know how I did it. I took off the red gloves at one point and thought, 'Wait a minute, I have a bruise on my left hand.' I never hit anybody. It was like I would have had to backhand somebody. I was like, 'Oh maybe it's after I blow up and resting my hands on the desk.' I rested on them so violently it made a bruise. I thought, 'Wow, that's wild. It kind of epitomizes what we've done today.' This was a very intense scene to shoot."
More and more about the mysterious Myrtle Snow will be revealed this season. "You learn she's been very much a part of the school and she took Cordelia under her wing and was a mother figure for her ... Just telling Fiona she hasn't been a mother and I stepped in. Cordelia's looked at me for me for simple things like that, for years," Conroy said of her character's relationship with Cordelia (Sarah Paulson), Fiona's daughter.
The upcoming fifth episode of "Coven" will feature some big twists -- and possibly the nature of her powers. "You will find more revealed next week, there's another confrontational scene with Fiona and Myrtle with a couple of weird turns in it. And another scene is a direct consequence of that scene. So, it's pretty extraordinary. In fact, when I read it, I thought, 'Oh my god, how are we going to do this? I've got to wrap my head around what's going to happen next week.' [Laughs.] We don't really know what Myrtle's powers are and quite frankly, I can't tell you that either. I can't really tell you that.
"Next week there are two scenes that really take the story in quite a place, between Myrtle and Fiona and between the entire coven," she said. "It really raises the stakes ... She's going to a very, very interesting place these next three days. It's showing her relationship with the other witches in a lovely way, and another relationship in a way, with Fiona. Just to see her become more and more revealed in more performances in person is exciting because it will be well-done and well-written.
"I just think it will be really fabulous to watch this get more and more fleshed out. I love my name, I love Myrtle Snow as my name. It's a lovely name."
"American Horror Story: Coven" airs Wednesdays, 10 p.m. ET on FX.
Popular in the Community