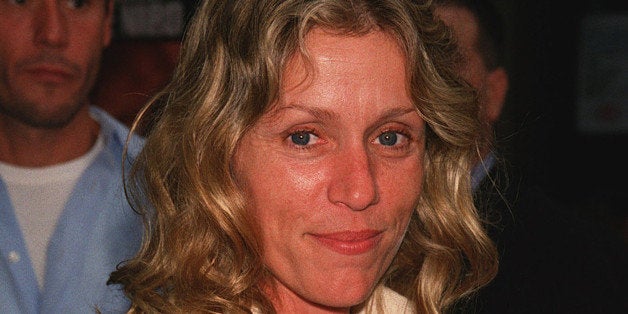 SPECIAL FROM Next Avenue
After a 10-year absence from giving interviews, actress Frances McDormand, 57, is back, and I couldn't be happier.
The Academy- and Emmy-award winner's latest role is Olive Kitteridge, in a four-part HBO mini-series with that name based on the Pulitzer Prize-winning book by Elizabeth Strout. It premiered on Nov. 2 and concluded Nov. 3.
McDormand has said what drew her in — she produces and acts — was the character's complexity and the chance to explore it over time. The story begins when Olive, a stoic, depressive New Englander, is 45. It follows her for 25 years through life's losses, lessons and joys.
While she has given interviews for the series, McDormand has spoken frequently on aging. What she's said has been provocative, straightforward and spot-on. Here, culled from media reports, are 10 of her most incisive quotes:
On why our species is in trouble: "There's no desire to be an adult. Adulthood is not a goal. It's not seen as a gift. Something happened culturally: No one is supposed to age past 45 — sartorially, cosmetically, attitudinally. Everybody dresses like a teenager. Everybody dyes their hair. Everybody is concerned about a smooth face." — The New York Times
On showing the power that comes with age: "One of the reasons that I am doing press again after 10 years' absence is because I feel like I need to represent publicly what I've chosen to represent privately — which is a woman who is proud and more powerful than I was when I was younger. And I think that I carry that pride and power on my face and in my body." — National Public Radio
On ageism as a cultural problem: "I want to be a role model for not only younger men and women — and not just in my profession, I'm not talking about my profession. I think that cosmetic enhancements in my profession are just an occupational hazard. But I think, more culturally, I'm interested in starting the conversation about aging gracefully and how, instead of making it a cultural problem, we make it individuals' problems. I think that ageism is a cultural illness; it's not a personal illness. — National Public Radio
On the physical difficulties of aging: "Getting older and adjusting to all the things that biologically happen to you is not easy to do, and is a constant struggle and adjustment. — National Public Radio
On her reaction to plastic surgery: "I have not mutated myself in any way. Joel (Coen, her director husband) and I have this conversation a lot. He literally has to stop me physically from saying something to people — to friends who've had work. I'm so full of fear and rage about what they've done." — The New York Times
On why her face gives her an advantage: "I've got a rubber face. It has always served me very well and really helps, especially as I get older, because I still have all my road map intact, and I can use it at will." — Reuters
On what looking old signals: "You are someone who, beneath that white hair, has a card catalog of valuable information." — The New York Times
On how homelife experience can transfer: "I think that many of my skill sets from being a housewife I used for producing. Because you don't stop until it's done." — The Los Angeles Times
On how she came to be a producer: "With Olive, I realized that I'm a filmmaker — not just an actor. I've absorbed a lot over the last 30 years working with a lot of extraordinary filmmakers, and I put that all into play when making Olive Kitteridge." — The Daily Beast
On how she wants to be treated: "I want to be revered. I want to be an elder; I want to be an elderess. I have some things to talk about and say and help. And, if I can't, then — not unlike Olive — I don't feel necessary." — National Public Radio
Before You Go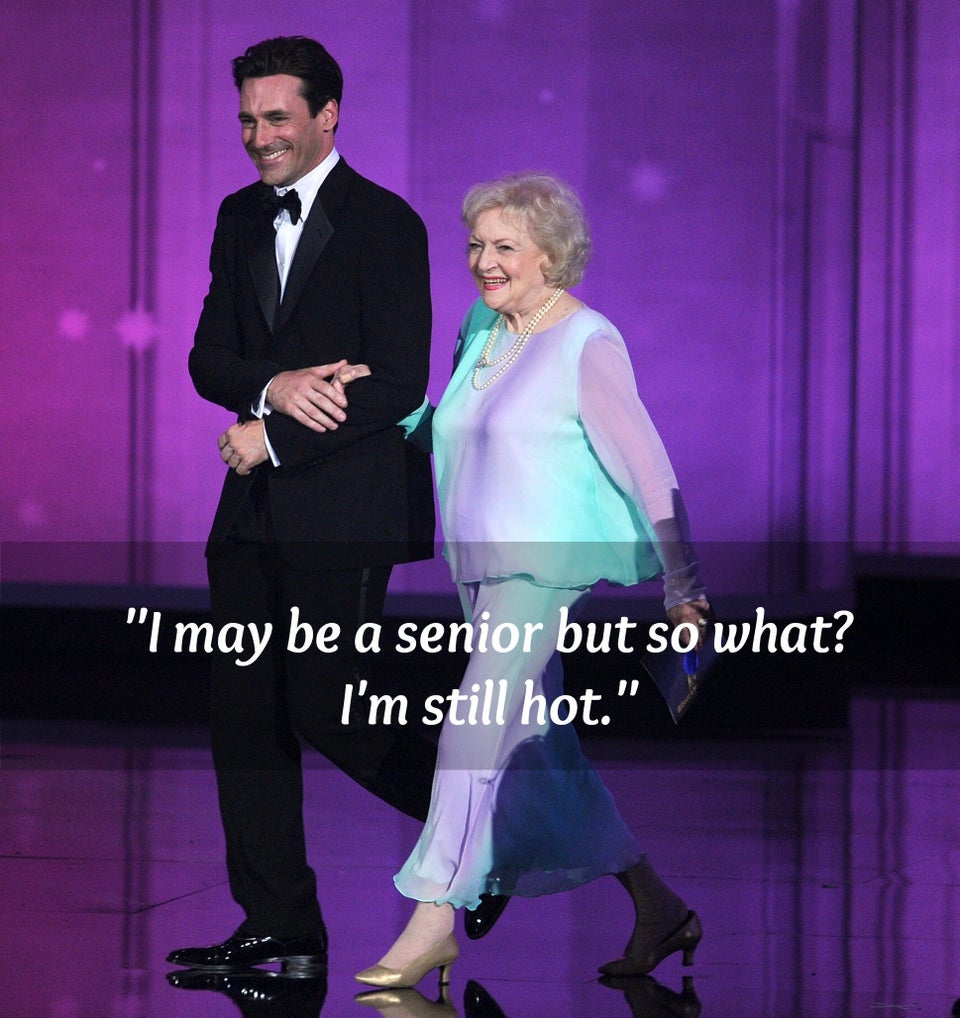 Top 10 Betty White Quotes
Popular in the Community