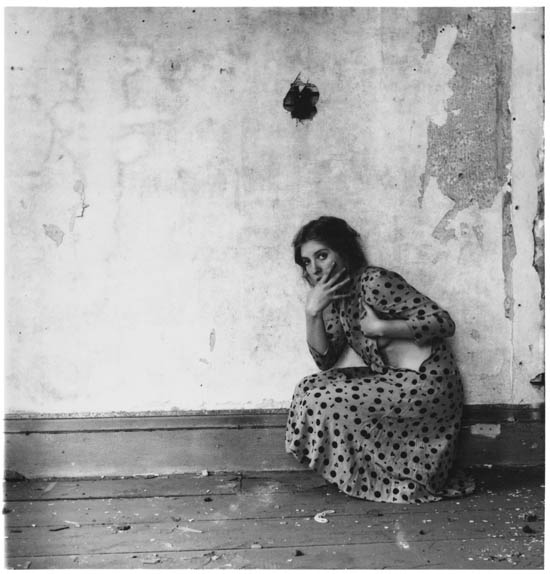 Francesca Woodman, Polka Dots, Providence, Rhode Island, 1976; gelatin silver print; 5 1/4 x 5 1/4 in. (13.3 x 13.3 cm); courtesy George and Betty Woodman; © George and Betty Woodman
There are things in that paper which nobody knows but me, or ever will. Behind that outside pattern the dim shapes get clearer every day. It is always the same shape, only very numerous. And it is like a woman stooping down and creeping about behind that pattern. - Charlotte Perkins Gilman, The Yellow Wallpaper
 
A young woman sits primly in a high-backed wooden chair. She wears what looks like a late Edwardian dress, and her hair is pulled back. She exudes stillness; one might imagine that she'd be just as still were this a moving picture rather than a photograph. Yet her stillness does not seem to be that of relaxation, but of composure: She holds the fingers of one hand in the other; surely, if her hands were left free rather than posed, they would simply hang there. Her feet are placed side-by-side, flat on the ground, and her knees are held together, which takes conscious effort, if minimal. It seems that what tension there is in her body is put towards containing it, restricting its potential for sloppiness (and the character associations therewith) and assuming a conventionally lady-like posture. She stares out towards a light source out-of-frame, which might be a window or door.
 
Alone, it would be a beautiful image: pensive, poetic, a study in what physical composure and a distant gaze can convey. But behind the sitter, blurred from movement, a naked girl swings from the doorjamb, a wild apparition at odds with the placidity of the foreground. She faces away from the sitter, and isn't obviously engaged with or even aware of her at all, but it's hard not to infer some psychic relationship between the two. In fact the contrast between them almost presumes a connection, the self-possessed gentlewoman and the stifled desires and impulses rioting behind her serene visage.
 
Francesca Woodman herself features prominently in the greater portion of her photography, often in nudes. In much of it, she plays a similar "character" to that in the image above: the id made visible and loosed in the conventional settings crumbling around it. She is mischievous, sprightly, and provocative, casually complicating, or even upending, the image of the "eternal feminine" she brings to mind with her Gibson Girl hair and the era-ambiguous dresses she occasionally wears. She dirties her hands and feet, splashes paint onto her skin or pinches it with clothespins, squeezes herself into cupboards and detached fireplace moldings, wraps herself in tattered wallpaper peeling from the walls, crouches barefoot amongst the dust and detritus and reclines in display cases alongside taxidermied rodents.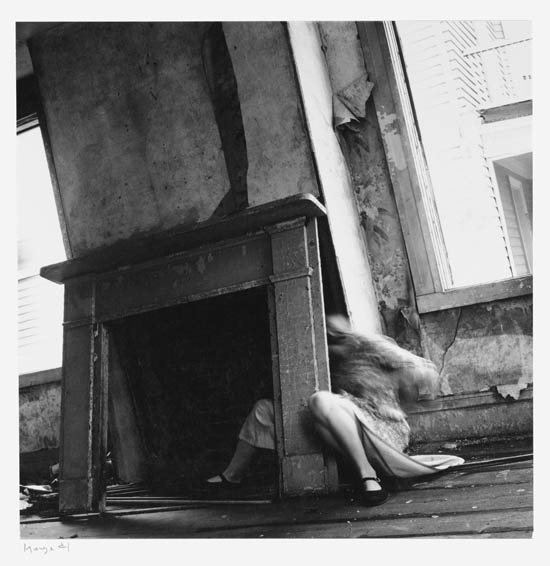 Francesca Woodman, House #4, Providence, Rhode Island, 1976; gelatin silver print; 5 ¾ x 5 ¾ in. (14.6 x 14.6 cm); courtesy George and Betty Woodman; © George and Betty Woodman
 
There is the suggestion of psychological chaos in the solecistic, seemingly reckless, placement of her body in the decrepit spaces she favored, but aesthetically, the images are far from chaotic. Woodman's playfulness with pattern, the geometric elegance of many of her compositions, her use of inanimate objects whose shapes mimic or contrast with the plains of her body, make the images visually arresting regardless of their implications. The lithe, curling bodies of eels are echoed by her own in the Eel series (1977-78), or by the vertical-patterned tights curving over the swell of her thighs in Fish Calendar (1977). In Space 2 (1976), Woodman lies on the floor, her torso concealed by a door she has somehow balanced on one corner and propped up diagonally against the wall. The door, massive and straight-edged, appears to hang like a cleaver over the soft, rounded nude on the floor, as her left foot flutters near the bottom edge of the picture. In an untitled work from 1979, representative of Woodman's experiments in fashion photography, she reclines on a couch, back to us, wearing a garter belt and sheer stockings, but has two more garter belts fastened around her waist and chest, straps dangling. Two pairs of sheer stockings hang like moulten skins from the wall over the couch. Garters and stockings had only recently been ousted in popularity by pantyhose for the latter's practicality, but not yet re-emerged as the impractical but sexier choice of fantasies pushed by today's Victoria's Secret and Agent Provocateur. Yet Woodman has picked up on and hinted at what inevitably comprises part of the nostalgia-fetishization of women's underwear that's marketed in terms of seduction rather than support: bondage. The garters encircling her stomach and chest, the strap stretching across the smooth flesh of her buttock to tug on her stocking, even the way her arms are folded across her face (as if to stop her own mouth), all bring to mind the image of a woman bound.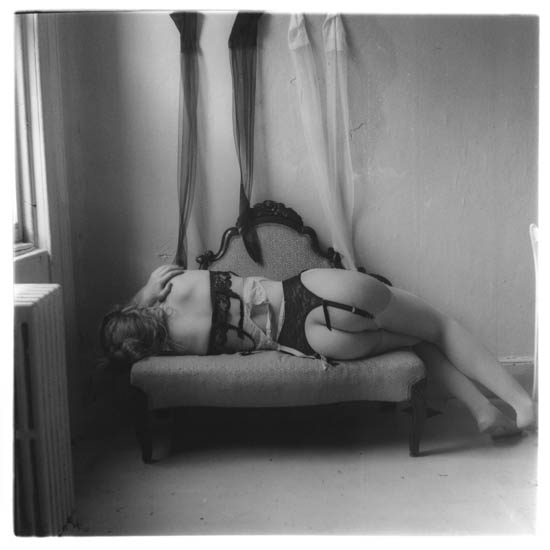 Francesca Woodman, Untitled, New York, 1979-80; gelatin silver print; 6 1/16 x 6 1/16 in. (15.4 x 15.4 cm); courtesy George and Betty Woodman; © George and Betty Woodman
And there one goes again -- it's nearly impossible to consider the aesthetic qualities of Woodman's imagery, as I have tried and failed to do, without wandering into Hineininterpretierung. The temptation to read into the images some measure of the psychological torment that led to her early self-destruction is too great, as is the temptation to ascribe some ideological interpretation to work by a young artist who may or may not have been aware of or opinionated about such things. But to remark only on the graphic power of her compositions -- the lighting, the juxtapositions of this and that, in other words, the beauty of their form -- is to miss this other mysterious dimension which is at times sinister, confusing, funny, confessional, sexy, heartbreaking, and iconoclastic. The sense that one is spying on the imaginative labors of a troubled but dazzling mind is heightened by the small size of the prints on display in SFMOMA's retrospective (the first major one of Woodman's art in over 20 years).  Excluding several spectacular diazotypes such as her gorgeous Caryatid series from 1980, most prints are between 3.5"x3.5" to around 7"x7". Rather than leaping out at the viewer, these images require one to lean in close, as if peering guiltily through a keyhole. Here the exhibit's catalogue, named by American Photo Magazine as one of the best photography books of the year, comes in handy, allowing one to revisit without stooping or eyestrain or peering over the heads of other viewers, the nearly 140 photographs that comprise the show. With or without the book, the inventiveness, ambiguity, and sheer beauty of the images will haunt you long after the show has moved on the New York, the city whose obliviousness to the impatient young photographer's talent devastated her nearly thirty years ago.
Some images contain nudity.
PHOTO GALLERY
Artist Unbound: Francesca Woodman at SFMOMA
Calling all HuffPost superfans!
Sign up for membership to become a founding member and help shape HuffPost's next chapter