Though official D.C. remains shutdown, Francesca Zambello, artistic director of Washington National Opera, is working round-the-clock on her new Force of Destiny production, a tribute to Giuseppe Verdi which opens this Saturday in the Kennedy Center Opera House.
Verdi's bicentenary is today, October 10, and though the composer will be feted everywhere this season, Zambello feels her Force of Destiny will have deep relevance to contemporary operagoers -- from its story of family dysfunction to its edgy depiction of street culture. She cast two young American sopranos, Adina Aaron and Amber Wagner, who will sing the role of Leonora on different dates, and has set the action in a volatile urban landscape "sometime in the near future." Zambello's staging doesn't try to replicate your grandparents' memory of La Forza del destino, but the composer certainly didn't mind changing this work. He wrote three versions between 1861 and 1869.
Last week Francesca Zambello took time from rehearsals to chat about her vision of Verdi's masterpiece, which is her twelfth production for Washington National Opera since 2001 when she staged Of Mice and Men. She also shared her plans for WNO's future as she moves toward her first anniversary as artistic director on January 1. According to local opera fans I've polled, Zambello was the ideal choice to head WNO, having directed here so often and served as artistic advisor since spring 2011 when the company became a constituent of the Kennedy Center. She mentions that she and Kennedy Center president, Michael Kaiser, have been colleagues since she directed at Covent Garden 15 years ago, and she feels "grateful" that Kaiser recruited her. Blessed with abundant creative energy, she also serves as general and artistic director of the Glimmerglass Festival where she'll launch her fourth season in July 2014.
We're sitting in her office at the company's rehearsal studio, and when I ask why she chose The Force of Destiny, she smiles. "When Michael Kaiser and I were discussing this fall which would be Verdi's bicentenary, I said, 'Everyone's going to do La traviata and Rigoletto and Otello. Why don't we do Forza--The Force of Destiny? Nobody does that in this country, and it's so great! It's a big opera with big roles, but it's fiendishly difficult for the singers.' My thought was, let's take the hard road! It hasn't been done here for 23 years."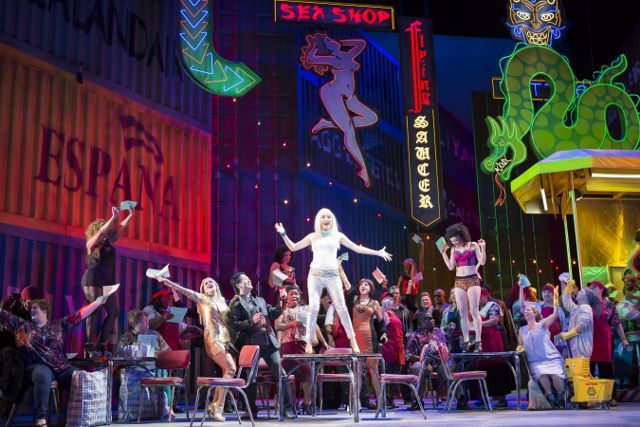 Ketevan Kemoklidze as Preziosilla and the company of The Force of Destiny.
Photo by Scott Suchman.
Her enthusiasm is palpable: Zambello relishes the challenge. "The story is about a code of honor," she explains. "A young man named Alvaro murders the father of his lover, Leonora, and her brother Carlo chases him and his sister to avenge the father's death. We see that kind of family code in the Middle East, in Asia, in America, in Africa. Honor has replaced pride in a way. So that made me think it was such a contemporary story. It happens that we're in a pan-religious world, and we see extremism in all religions. On the internet and TV, in fact, we see devout followers willing to do anything for religion.
"What thrilled me about The Force of Destiny is that it's a depiction of how [extremism] happens and how it feels. Time wise, the opera is set just around the corner, and it could be in Thailand or Times Square. It's about urban guerilla warfare, because nowadays wars are fought not on battlefields but in urban settings. The three principals are runaways chasing each other, and where are runaways found? In cities, where some people live in shanties and cartons."
Long before Zambello began working on her birthday tribute to Verdi, she was devising ways to enhance the "national" in Washington National Opera, a designation conferred by Congress in 2000. "National doesn't mean we're planning to perform all over America," she says. "But we're part of a national monument, and we'll be performing in multiple theaters in that venue, and that's one of the great things that wasn't available to Placido Domingo [who ran WNO from 1996-2011]. We're also doing more works that focus on American artists -- I'm hiring as many of America's emerging stars as I can, as well as those from our great firmament of stars -- performers, directors, conductors, and designers."
She feels proud that WNO will commission and/or stage many more works that are both written and performed in English. These include three short operas to premiere in Kennedy Center's Terrace Theater on November 13, as part of WNO's American Opera Initiative; a new holiday opera, The Lion, the Unicorn, and Me (December 14-22), adapted from the story by Jeanette Winterson with a score by Tony-nominated composer Jeanine Tesori; and Jake Heggie's acclaimed Moby-Dick (February 22-March 8, 2014).
"I'm encouraging librettists and composers who are writing for us to incorporate American themes and myths," Zambello says. "And we'll also be performing certain works in English that were not written in English, such as The Magic Flute, in a translation created for us. And we're also marketing the names of the operas in English, such as Flute, The Force of Destiny, and Elixir of Love. I feel that if people can pronounce the name easily, they're more likely to buy tickets. All of these things emphasize that we're 'national' in scope, and it's also worth noting that an American woman is running the company."
Not just any female opera director, of course. Zambello's been a force of nature since 1984 when she made her debut at Houston Grand Opera. She's staged works for the most-respected opera companies in the world, receiving raves for what The New Yorker calls her "psychologically probing interpretations of the operatic repertoire." And she's equally at home in the theater, having directed musicals for Broadway and elsewhere.
When I ask Zambello whether freelancing all these years has helped her perform her current duties, she replies, "Oh heavens, yes! I can't even count how many companies I've worked for. It must be 30 or 40 by now. I think about general directors and what they've done and how they've handled certain situations, and I know I've learned from different people. Directing when you're also the artistic director also makes me more supple in my approach because now I know the whole picture. I also feel more grounded, and my goal is now about giving back. We've enlarged the Domingo-Cafritz Young Artist Program, and we're not just training performers, but creating the artists of the future. I'm now equipped to do this, both here and at Glimmerglass, and that's part of the job, too."
It's a tough time for the arts as everyone knows, and some companies -- the latest being New York City Opera -- have not survived. But Zambello never takes her audience for granted, and one of her main goals is keeping Washington National Opera in front of the public:
I am always thinking, 'How can I offer the best artistic quality?' Patrons will respond to something unique and personal and different. You have to create shows for them, but I don't believe in dumbing down. So it's 'How can we put on the best Wagner or the best Verdi?' The word 'accessible' gets used too much, but I'm eager to make operas that our audience will want to see. I'm also focusing on diversity in casting. I'm trying to make the stage reflect the world today, and I hope our audience will be that as well.
Nowadays Zambello commutes between a house in Georgetown and her home in Manhattan and a third house in central New York State where Glimmerglass performs. "I love Washington," she says. "It's a gorgeous city. This morning I was running along the C&O Canal, and I go to the museums all the time. I've also been visiting Civil War battlefields... I've done a lot of exploring, and I'm happy here so I'm in D.C. a large part of the time."
The Force of Destiny runs October 12 through October 26 in the Kennedy Center Opera House. Along with Adina Aaron and Amber Wagner, the cast also features Mark Delavan/Luca Salsi, Ketevan Kemoklidze, Giancarlo Monsalve/Rafael Davila, Valeriano Lanchas, Enrico Iori, and Peter Volpe.
For information about the Glimmerglass Festival which runs during July-August, visit www.glimmerglass.org
The Kennedy Center will hold performances during the government shutdown. Please visit their home page for more information: www.kennedy-center.org
Support HuffPost
The Stakes Have Never Been Higher
Related
Popular in the Community