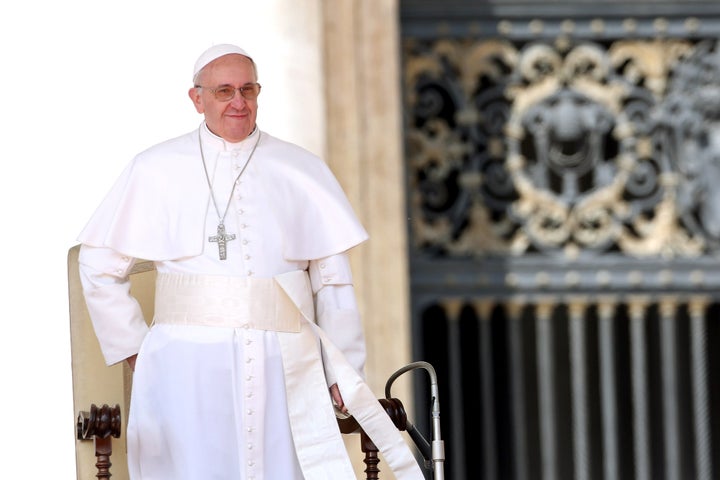 While no one knows what the future will bring, Pope Francis has hit the ground running in projecting the spirit, image and personality that may well make him a much-needed, though at times controversial, bridge within Catholicism between a conservative or traditionalists Catholics and those that embrace a more reformist vision for the future of Catholicism. However different, Pope Francis shares significant similarities with Pope John XXIII, who convened Vatican II. He is a theological conservative and also men of great pastoral humility, simplicity and compassion. Like John XXIII, he is aware of the need for renewal and reform.
Will the similarities end there or will Francis, emulating John XXIII, initiate a new aggornimento, process for looking forward and bringing the church up to date?
For many who hoped for a more progressive pope to reclaim the reformist spirit of Vatican II, there were "slim pickings" from among so many of the conservative cardinal candidates appointed by John II and Benedict XVI. The election of Argentinian cardinal Jorge Mario Bergoglio, a relative unknown and conservative on issues like married clergy, ordination of women, gay rights etc., was initially seen as a disappointment. But then we encountered Pope Francis! Surprisingly, despite the enormous popularity of Francis of Assisi throughout the ages, no pope had taken his name. Equally surprising, the new pope, although a Jesuit, did not select his name from the many Jesuit saints. The reason and significance of the decision by Cardinal Jorge Mario Bergoglio may be found in his reading of the signs of the times and his lifestyle, example and message for Catholics as well as the global community.
Like St. Francis, whom Jesus is said to have admonished, "Francis rebuild my church," Pope Francis now faces an institutional church in need of substantial rebuilding and reform. He heads a deeply divided church theologically; has an entrenched and flawed, some would say incompetent, Vatican bureaucracy; inherits a legacy of decades of scandals (in particular pedophilia) and of deception by members of the hierarchy, and an exodus of Catholics in Europe and America.
From the first moments of his papacy, Pope Francis signaled a pope bent on being a "spiritual leader," who emphasizes the example and teachings of Jesus (that St. Francis so steadfastly emulated): the spirit of simplicity, humility, love and compassion; emphasis on issues of social justice, especially care for the poorest of the poor; and a religiously inclusive rather than exclusive outreach not just theologically but personally to other faiths and of no faith. He has quietly but firmly eschewed the pomp and circumstance of the Papacy in dress, living quarters, popemobile and security and embraced the laity (including the poor, sick and imprisoned). This new style was signaled most movingly by Pope Francis break with tradition in decision to celebrating Holy Thursday liturgy outside the Vatican at a prison. He replaced the tradition of washing the feet of 12 cardinals who represented the apostles with washing and kissing the feet of 12 young prisoners, including, in an unprecedented move, two young female prisoners, one of them a Muslim.
While Pope Francis has captured headlines and the hearts of many progressives, liberals and some conservatives, he has not impressed ultra-conservative or Tridentine Catholics, who fear he will resurrect what they regard as the "excesses," for some heresies that resulted from Vatican II. However, liberals, who welcome a move away from Benedict XVI's retrenchment and retreat from the spirit of Vatican II, will find the pope's conservative theological opposition to married clergy, women's ordination, birth control abortion and gay marriage disconcerting and unacceptable. Conservatives, who will applaud the pope's conservative theological positions, will at times continue to be deeply concerned, and some outraged, with what they see as a break with Catholic tradition.
Pope Francis' success in "rebuilding" the Catholic Church faces formidable challenges. He will need to clean house, reorganize the Vatican bureaucracy and its leadership, create a more transparent and inclusive Church and hierarchy and appoint cardinals and bishops who reflect a greater theological diversity. Equally important, he is challenged to level the playing field between the hierarchy and the laity, reclaiming and institutionalizing Vatican II's more inclusive and empowering vision of both the laity and the hierarchy/clergy as the People of God. A more open and inclusive climate in the Church would surface the diversity among Catholic scholars that already exists but is often muted by fear or concern about being disciplined, silenced or fired from their positions. It would lead to substantive theological and social reforms, informed by recent scholarship in science, Scripture, theology and church history. The fruits of this new knowledge and perspective have already generated fresh Catholic theological thinking, respectful of tradition, but also informed by new insights from science on the nature of the universe and its impact on cosmology and understandings of God; of the New Testament and Jesus message and mission; and new understanding of the development of doctrine and practice based on the real not simply idealized understanding of Church history.
Too often, conservatives and ultra conservatives see reformist thought as a threat, undermining "sacred" tradition. They forget or are the victims of, in the words of Philip Jenkins, "holy amnesia." While tradition in Catholicism, as in Islam and other faiths, is a foundational source and reference point, it is historically and socially conditioned and therefore not immutable. Benedict XVI, a conservative icon, demonstrated this when he abolished Catholic teaching from medieval times on the existence of Limbo, the place where unbaptized souls of children go if they die before they can be baptized. In contrast, Paul VI, having convened two commissions to advise him on the Church's teaching on birth control, chose to ignore the findings of both that supported a lifting of the ban on birth control. While Pope Francis may not alter his opposition to the ordination of women to the priesthood, a first step, based on recent scholarship that demonstrates women had prominent leadership roles in the early Church, would be their ordination as deacons.
But the cornerstone for Pope Francis' rebuilding the Catholic Church and it role globally will depend on a successful reclaiming of the common ground that transcends the centrality of dogma and "holy wars" that too often have divided the Church in the past and conservatives and liberals today and have little resonance with the teachings of Jesus in the Gospels: a message of God's love and a compassion and of social justice. Similarly, in response to the realities of globalization, Francis needs to reclaim the groundbreaking acceptance of religious pluralism at Vatican II, reflected in Nostra Aetate (Declaration on the Relation of the Church with Non-Christian Religions) and exemplified in Oct. 27, 1986 in Assisi when John Paul II prayed with representative of the world's religions. In sharp contrast, Benedict XVI, at the commemoration in Assisi of the 25th anniversary of Pope John Paul II's "prayer for peace," chose to ignore this precedent that had been seen by many as a milestone in interreligious relations.
Related
Popular in the Community