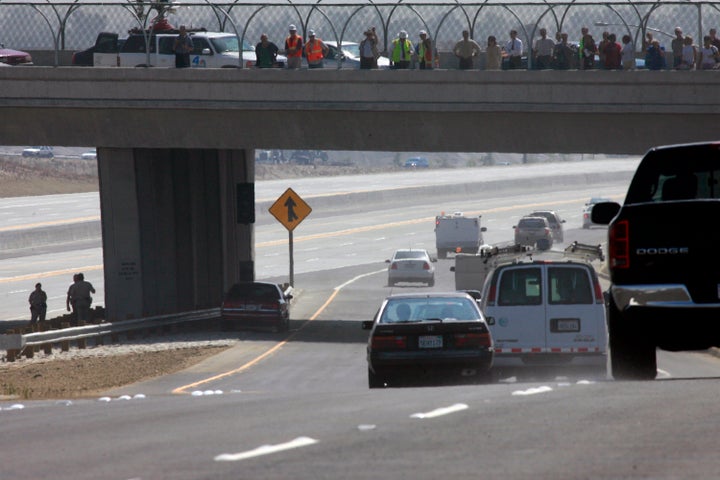 After at least 10 documented suicide attempts spanning several years, Francisco Solomon Sanchez finally succeeded in killing himself last Friday, reports the Pasadena Star-News.
The 41-year old man from Duarte jumped from the 210 Freeway overpass and was hit by at least one car. The LA County Coroner ruled that his death was a suicide.
Sanchez had actually jumped from the same overpass in 2003, and used prosthetic legs as a result of that failed attempt. His efforts have landed him in mandatory psychiatric evaluation in the past, but health and safety officials are limited when it comes to mental health interventions. In LA County, people can be held involuntarily in a psychiatric health facility for up to 72 hours. The person can be held for an additional 14 days against his or her will only if certain criteria are fulfilled. From the LA County Department of Mental Health training manual (PDF):
1. The professional staff of the designated facility has found that the patient meets the criteria of being dangerous to others, self, and/ or gravely disabled due to a mental disorder; and
2. The facility providing the intensive treatment is designated by the county and agrees to admit the patient; and
3. The person has been advised of the need for, but has not been willing or able to accept, treatment on a voluntary basis. (§5250)
The 210 Freeway has seen other suicides and suicide attempts in the past. In April of this year, a man jumped from the overpass in La Canada Flintridge. In May 2010, police were able to convince another man to climb down safely after he threatened to throw himself off the overpass in Azusa. And in November 2008, a suicide caused a second death in the form of a traffic collision.
A call to Caltrans (California Department of Transportation) revealed that while the department has a database to track traffic accidents, there is no system to record suicides and suicide attempts. The spot where Sanchez jumped from had not been flagged as a high-incident location in the past, but Caltrans is launching an investigation in response to The Huffington Post's inquiry.
Popular in the Community