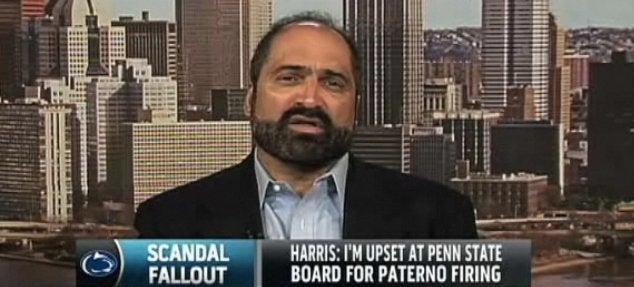 A notable former Penn State student was also angered by the Board's decision to dimiss Paterno amid the child sex abuse scandal involving the 84-year-old's former defensive coordinator Jerry Sandusky. In the days following Paterno's dismissal, former Penn State running back Franco Harris defended his former coach and expressed his disappointment with Paternos's ouster.
Unlike the thousands of Penn State students who participated in the protests and riots, Harris has been unable to just return to business as usual. The member of the Pro Football Hall of Fame has lost a job due to his comments.
Harris appeared on various media outlets defending his former coach. He consistently railed against the Board's decision to entangle Paterno and the football program in Sandusky's alleged misdeeds while also complaining that people were separating Paterno's moral and legal obligations.
"When I heard that, it blew my mind," Harris told the Pittsburgh Tribune-Review. "Why would they bring the moral into the legal? Now, everyone gets to interpret in their own way. That's what really bothers me: Joe did what was right for him to do. He forwarded the information to his superiors. That's the legal procedure at Penn State."
On Tuesday, The Meadows Race Track and Casino fired the ex-Pittsburgh Steelers star for his public comments just one month after hiring him. The casino issued a statement:
In light of the recent developments with Franco Harris regarding Joe Paterno's dismissal, Franco and The Meadows have mutually decided to put their business relationship on hold at this time, while these matters are looked into further
"I'm upset at the Penn State board for the firing of Joe Paterno," he said on MSNBC last week. "I think that it added to the frenzy on the focus of Joe. There's a bigger picture here than Joe. There are the abuses by Jerry Sandusky and also people are talking about a cover-up. Those are the biggest pieces of this scandal."
He also said that the allegations surrounding Sandusky were not under Paterno's watch.
"Jerry Sandusky was no longer a coach or under the authority of coach Paterno," Harris said. "When the situation happened, Joe Paterno went to the university. This is a university matter, no longer a football matter for Joe. And when Joe Paterno went to the administration, he went there and passed the message to very competent people. You would think that they would do their job."
Related
Popular in the Community