During a rare trip to the Palace of Versailles Monday French President François Hollande called on lawmakers to change France's constitution in order to better protect the country.
Hollande referred to article 36 of the charter as outdated, and asked that parliament change it to give the government greater power without needing to resort to a state of emergency.
"We are at war, this new kind of war demands a constitution that can manage a state in crisis," he said.
He announced that he is submitting a proposal to extend the state of emergency by three months and asked parliament to vote on it before the end of the week.
He also suggested enacting a law that would revoke French citizenship from anyone linked to terrorist attacks, however he didn't elaborate on how this law would be applied.
In a 45-minute speech to the French parliament, Hollande reinforced his message of solidarity and determination in the fight against radicalism. He juggled between emotional depictions of France's exceptionality and firm declarations on how the country will wage its war on terror.
"France is at war," he said. "The acts committed Friday night in Paris at the Stade de France are acts of war.
"We must respond with cold determination to the attack that our country was a target of."
He said that the Islamic State terrorists likely targeted France because it's a country defined by liberty and democracy. "Our democracy stands more true than these assassins," Hollande said.
"We are not engaged in a war of civilization, because the terrorists do not belong to any civilization," he added. 
He repeated France's call to arms and applauded the resilience of the French people. "I'm calling again on our compatriots to take this opportunity to show our country's honor, lucidity, and dignity.
"[They] are ardent, courageous people who stand up every time." 
Policemen have gone "beyond themselves" to protect the people, Hollande added.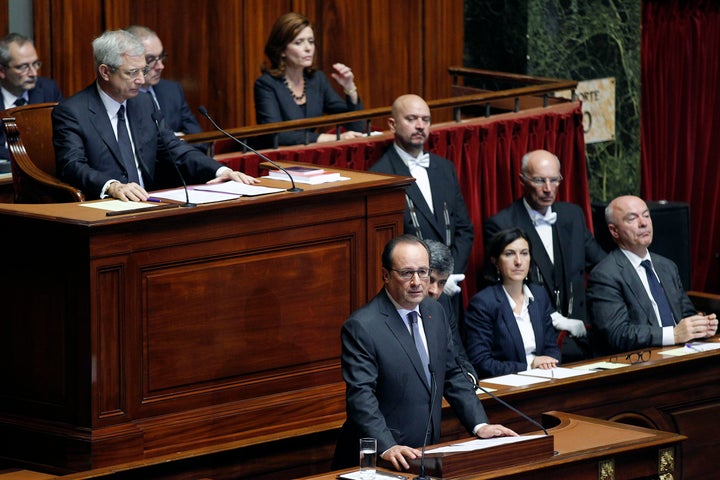 He also highlighted France's renewed push to destroy Daesh, also known as the Islamic State, in Iraq and Syria. Part of this strategy, he said, will include more airstrikes.
France successfully struck a training camp and an operations center in Raqqa, Syria, on Sunday. The Charles de Gaulle, France's flagship naval aircraft carrier, will be heading to the Mediterranean on Thursday, and will triple France's airstrike capacities.
Hollande made clear that "our enemy in Syria is Daesh, so it's not about containing but about destroying this organization to save the populations of Syria and Iraq, but also Lebanon, Jordan, Turkey and neighboring countries. It's also to protect us, to prevent this from happening on our soil."
He said it's a fight against terror on a global scale, and a war that will need "patience" as "[t]errorists are threatening the entire world, not just France." 
"Our enemy disposes of the most vile tactics to kill, but the enemy is not out of reach," Hollande said. 
"Their crime reinforces our determination to destroy them," he added.
Though Hollande slammed the international community's "incoherent and divided" response to the Islamic State's rise, he also alluded to efforts underway to unify this process.
He said he will meet with President Barack Obama and Russian President Vladimir Putin in the coming days. France, he said, is also "talking to everyone," including Iran, Turkey and the Gulf countries.
Hollande praised the virtues of the French raison d'être throughout his speech. France, he said, is a diverse and young country that does not distinguish between "color or origin." The attacks killed people of nineteen different nationalities.
"What was [the victims'] only crime? It was being alive, it was belonging to a France that is open to the world," he said.
"I want France to remain herself," he added. "They will never manage to change the face of France, never damage the French spirit, never prevent us from living wholly and freely. We need to prove that with cold blood."
He closed by saying that: "Human civilization is enriched thanks to France, and that's why France needs to pave the way. Terrorism will not destroy the Republic, the Republic will destroy terrorism." 
PHOTO GALLERY
Messages Of Solidarity For Paris
Calling all HuffPost superfans!
Sign up for membership to become a founding member and help shape HuffPost's next chapter