At long last, New York's Upper East Side welcomes back Pâtisserie François Payard. After losing a lease on his old location, then finding a new location that ended up not working out, Payard is now happily settled into a beautiful new space on 3rd Avenue at 74th Street. The shop opens to the public on October 29.
Of his return, Payard told me "I'm so very happy to be back. But I know that everybody expects so much so I have to try to live up to their expectations. It's much more difficult to go back than to open the first one!"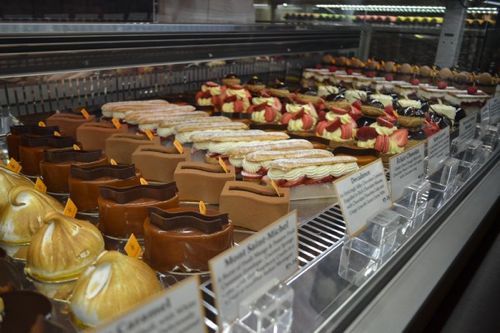 Payard's line of petits gâteaux
Having soaked up the ambiance and sampled so much of what Payard is offering at the new shop, it would be hard to imagine anyone being disappointed. The stylish new location is modern and elegant, and it boasts a new line of pastries that prove Payard still has it. "I have only four cakes from the old shop," explained Payard, "because customers really wanted them. But the rest is all new. This place is all about bringing a new 'Payard' and that was the challenge."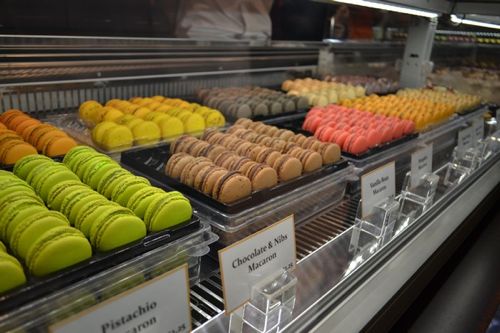 Payard's macarons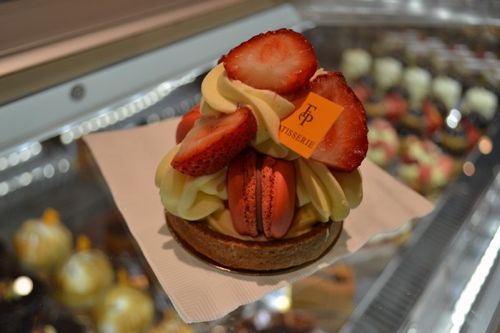 "Tarte aux Fraises Revisitée" -- Crispy almond tarte shell with fresh lemon verbena cream, raspberry macarons and market strawberries
At the pre-opening party on October 22, Payard welcomed an excited crowd of new customers, and old friends came out to celebrate the long-awaited return. One of the best moments was when Jacques Torres congratulated Payard and the two legends looked more like children in a playground than the serious, accomplished pastry chefs that they are.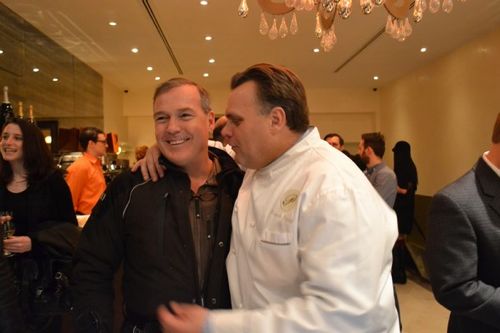 Old friends at play, Jacques Torres (left) and François Payard (right) share a moment of sheer joy
When I asked Payard how it felt to wait so long to finally "come home" to the Upper East Side, overcoming the challenges he faced along the way, he replied, "Never give up! I love to push myself and I love to push everybody else. It's what makes some people different."
The new Pâtisserie François Payard boasts not only a beautiful space, but a full line of chocolate bonbons, sweet and savory macarons (in flavors like Squid Ink with Cream Cheese and Olive Tapenade), and pretty petits gâteaux, and the café will serve light savory fare. "We worked on the line for a long time, since a year ago. And I designed the shop myself. It's all about elegance and beauty. A pastry chef is more than a chef, we're very artistic people."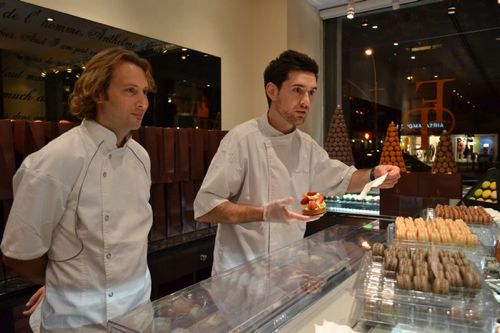 Payard's right hand men: Pastry Chef Simon Veauvy (right) and Pastry Sous Chef Ignacio Garcia (left)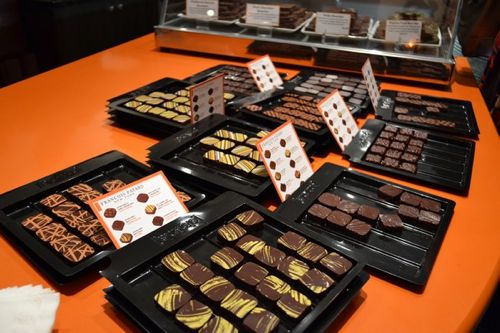 Payard's chocolate bonbons
Having moved to New York City in 1989, I told Payard he was a real New Yorker now. He laughed, "Yes, I am, but a New Yorker with a bad accent!"
The new Pâtisserie François Payard is located at 1293 3rd Avenue, at the east corner of 74th Street.
Check out this slideshow of the Payard's pre-opening party:
PHOTO GALLERY
The New Patisserie Francois Payard
REAL LIFE. REAL NEWS. REAL VOICES.
Help us tell more of the stories that matter from voices that too often remain unheard.