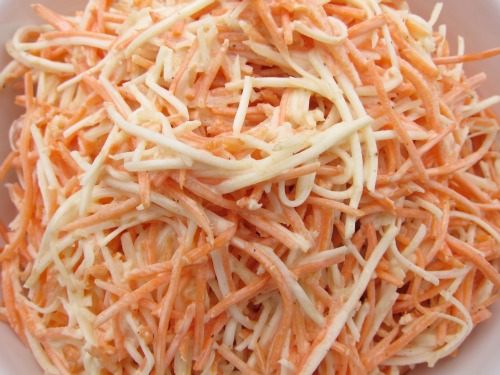 This recipe is a hardcover. Which sounds a little bit strange without explanation.
A few months ago, I bought a Kindle. And I buy Kindle books avidly. But only the ones I want to read once. The ones I don't want to see cluttering the sagging shelves in my little apartment. The ones that are all plot, all blood, all sex, all intrigue--and once the end is neatly tied in a bow, I will sigh, and maybe think a little while longer about it, and then never read it again.
But I still buy hardcovers: books by authors I love, new printings of books I cannot live without. They are why my shelves are sagging. Because every reading brings some new pleasure, like meeting an old friend after a time apart, and finding out another totally fantastic thing about them.
Carrot and celeriac slaw is a hardcover. It's a cross between the very traditional French céleri rémoulade, and an American cole slaw. Céleri rémoulade is shredded celery root, or celeriac, tossed in a mayonnaise-based sauce, usually flavored with a little bit of mustard and acid, like lemon juice or vinegar. Similar to our American cole slaw, but without the sweetness of carrots or sugar or other sweet things that often find their ways in. Plus, no need for the traditional celery salt--celeriac has that perfect faint, earthy, celery flavor, and crispy white flesh that doesn't wilt like cabbage. I whisk together a simple dressing of good French mayonnaise, spicy Dijon mustard, and cider vinegar. I toss in the shredded carrot, for that touch of American sweetness, and celery root, for that phenomenal why-don't-we-eat-more-of-this-in-the-States flavor, and let it wilt, until the vegetables bends a touch, but are still crunchy as a chip.
I've been writing these posts from France the last couple of weeks, and I have made this slaw every other day, using the gorgeous pre-shredded carrots and celery root from Carrefour (I'm telling you--they're really good!), good French mayonnaise, and a Dijon mustard slightly spicier than our usual. I eat it with lunch and dinner, and leftovers are even better the next day. Every time I take it off my nearly-sagging refrigerator shelf, I look at it like an old friend, and discover I love it even more than I did yesterday. Bon app.
Carrot and Celeriac Slaw
serves 4 to 6
INGREDIENTS
5 tablespoons good mayonnaise
4 teaspoons cider vinegar
2 to 3 teaspoons Dijon mustard
Salt to taste
Pepper, freshly ground, to taste
1/2 pound finely shredded carrot
1/2 pound finely shredded celery root
PROCEDURE
In a large bowl, whisk together the mayonnaise, vinegar, mustard, salt, and pepper, until emulsified. Toss with the carrots and celery root, cover with plastic wrap, and refrigerate at least 1 hour, up to overnight. Serve slightly cold, anywhere that you would serve cabbage or cole slaw--with a sandwich or burger, on top of a salad, even in a fish taco.
Calling all HuffPost superfans!
Sign up for membership to become a founding member and help shape HuffPost's next chapter