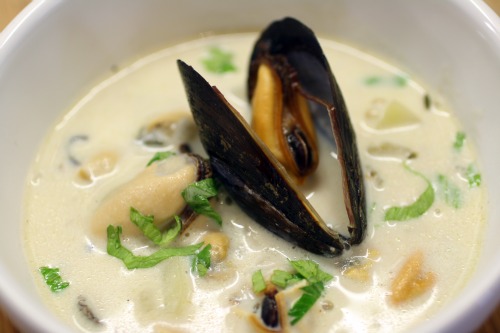 I like when food tastes familiar. It's routine, and it's comforting. Like the way clean sheets always smell out of the dryer, or the first perfume you remember your mother wearing (Shalimar), or the feel of a soft rug under your toes when you get home from work. It's the same everyday, but that doesn't make it any less precious or perfect or satisfying. It only becomes more so with every repetition.
I do tend to make a lot of comfort food--and maybe that's reflective of where I am in life. Maybe, with all the imminent changes ahead, I gravitate towards familiar food because I need that warm, dryer-baked blanket or whiff of Shalimar to anchor me, to remind me that I'm not floating away like an untethered balloon out into the vast unknown. I come from somewhere, and I'm going somewhere, even when it feels like the wind may whip me in any direction on a whim.
This dish is a hybrid of two of my favorite comfort foods: chowder and mussels. I love American chowder. I remember my first time in Massachusetts: I went to the nearest restaurant, and ordered a cup of New England clam chowder with a pouch of oyster crackers. I love the cream and the ham and the potatoes and the seafood--it is sweet and salty and so comforting it is like the blanket wrapped around a newborn baby. Who could cry after a spoonful of that?
And French mussels, in this case moules marinière. Mussels swimming in their own juice, tempered with sweet onions and thyme and a splash of cream. I love that you always get more than you could ever imagine eating--there is something so comforting in excess and bounty. A very primal comfort.
This soup mixes the two together: the flavors and seafood of France, with a bit of American preparation. The result is hearty, and a quirky departure from tradition. I hope it anchors you as well as it does me. Bon app!
MARINIÈRE MUSSEL CHOWDER
serves 4
INGREDIENTS
1 tablespoon unsalted butter
2 large shallots, finely diced
1 clove garlic, minced
2 small celery ribs, sliced
½ cup dry white wine
2½ cups water, seafood broth, or a combination
1 bay leaf
1 handful thyme stems
2 large Yukon Gold potatoes, peeled and diced
3 pounds mussels in their shells
1 cup whole milk
2 tablespoons toasted all-purpose flour (See Note #1)
1 cup heavy cream
Fine sea salt
Freshly cracked black pepper
PROCEDURE
In a large stockpot, melt the butter over medium heat. Add the shallots, garlic, and celery, and sauté until fragrant and translucent, stirring often, 1 to 2 minutes. Add the wine, and reduce 1 minute.
Add the water or stock, potatoes, bay leaf, and thyme. Bring the mixture to a boil, cover, and simmer until the potatoes are beginning to be tender, about 7 minutes. Season the soup with salt and pepper, and add the mussels on top of the potatoes. Do not stir to incorporate. Simmer, covered, until all the mussel shells have opened, about 5 minutes. Use a slotted spoon to remove the mussels to a large bowl. Take the soup off the heat. Pluck the mussel meat from the shells, and roughly chop.
Return the pot of soup to low heat. Add the milk and the toasted flour, and whisk until the milk just begins to simmer and slightly thicken. Add the heavy cream, and stir to heat through. Add the mussel meat, and garnish with chopped celery leaves. Serve immediately, with garlicky baguette.
NOTES
#1 To thicken a soup or stew, you can add flour at the end, not just in a roux. But you don't want to add raw flour, or it will taste like raw flour. In a small, dry sauté pan, add the flour, and toast over medium-low heat until the flour is golden, stirring often. Remove from the heat immediately, and store.
REAL LIFE. REAL NEWS. REAL VOICES.
Help us tell more of the stories that matter from voices that too often remain unheard.