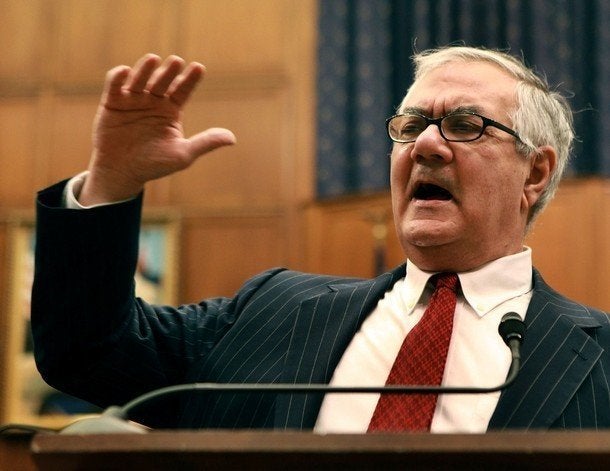 Rep. Barney Frank (D-Mass.), chairman of the House Financial Services Committee, told a Massachusetts audience at a recent town hall that the House will pass legislation this fall mandating a "complete audit" of the Federal Reserve.
The bill to audit the Fed, H.R. 1207, was introduced by libertarian Fed critic Rep. Ron Paul (R-Texas) and is backed by well over a majority of the House. Frank's comment suggests it won't just be left to languish in committee.
"I want to restrict the power of the Fed in a number of ways," said Frank in response to a question about the bill.
"They have had since 1932... the right to intervene in the economy almost whenever they" wanted to, Frank said, noting that the Fed relied on its extraordinary lending power to forward billions to financial institutions last fall. He intends to curtail that lending power, he said.
"Finally we will subject them to a complete audit," he said. "I have been working with Ron Paul, the main sponsor of that bill. He agrees that we don't want to have the audit appear as if it is influencing monetary policy, because that would be inflationary and Ron and I agree on that."
Defenders of an independent monetary policy, including much of the political elite of both parties, argue that politicizing monetary policy would destabilize the financial system, devalue the dollar and lead to higher interest rates.
"If monetary policy is seen as not being independent that could shake people's confidence in the dollar. I mean, we are dealing with a world of nervous people," Frank told HuffPost in June. A politicized monetary policy is assumed to be inflationary because politicians have an incentive to run-up deficits and then have inflation reduce the value of the debt -- a policy that would harm debt-holders such as China.
"One of the things the audit will show is what the Federal Reserve buys and sells, and that will be made public," Frank said. "But not instantly, because... you would have a lot of people trading off of that, and you would have too much impact on the market. Again Ron agrees with that, so we will probably have that data released after a time period of several months, enough time so it wouldn't be market-sensitive. That will be part of the overall Fed regulation that we are inducting."
The questioner followed up: "By the end of the year?"
"The House will pass it probably in October," said Frank.
The bill has steadily picked up co-sponsors since it was introduced, with rank-and-file Democrats and Republicans coming together in an unusual way. Rep. Dennis Kucinich (D-Ohio), who has his own legislation pressing for Fed transparency, became the symbolic 118th cosponsor of Paul's bill.
House passage will put pressure on the Senate to act. The upper chamber has had a similar bipartisan coming-together, with Sen. Bernie Sanders of Vermont, a socialist, and Sen. Jim DeMint (R-S.C.), as far from a socialist as imaginable, cosponsoring a version of Paul's bill.
Wall Street has been pushing back against opening up the Fed. A federal judge recently ordered it to disclose who the bank is lending to and what collateral it's getting in return. The Fed is appealing, arguing that such disclosure would damage it and the banks receiving the loans.
The Clearing House Association, a coalition of financial industry players, joined the Fed in protesting the decision.
"Experience in the banking industry has shown that when customers and market participants hear negative rumors about a bank, negative consequences inevitably flow," said Norman Nelson, vice president and general counsel for the group, according to Bloomberg. "Our members have accessed the discount window with the understanding that the Fed will not disclose information about their borrowing, especially their identity."
Clearing House members include: Bank of America, Bank of New York Mellon Corp., Citigroup, Deutsche Bank, HSBC, JPMorgan Chase and Wells Fargo.
Related
Popular in the Community