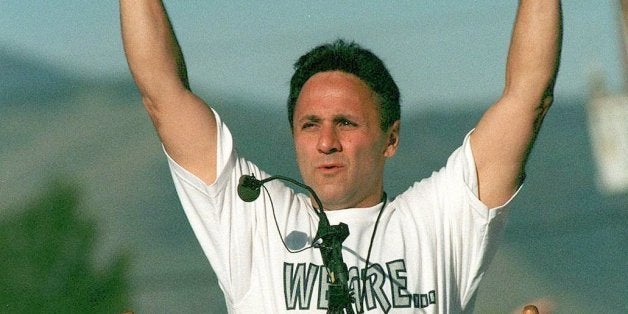 After two students stormed Columbine High School and perpetrated one of the deadliest school shootings in United States history, principal Frank DeAngelis vowed not to retire until after his freshman class had graduated.
He kept his promise, then decided to stay until the students who were in kindergarten at the time of the massacre had completed high school.
That was the class of 2011.
In a moving letter to parents, DeAngelis announced his plans to retire after this school year and reflected on his time at Columbine. "I felt it might be time to retire before a student informs me that I taught their grandparents," he wrote.
Read part of the letter below:
It has been my privilege to lead this wonderful school through the best and worst of times. The support of our families and the Columbine community has meant the world to me; I have been profoundly honored and humbled to be a part of the Columbine family. I can never thank you enough for the continued support that you have given me over the past four decades as a teacher, coach, assistant principal and the past 18 years as principal...

Thank you for 18 memorable years as principal of this extraordinary school. I know that I will shed a lot of tears, tears of joy and tears of sadness; and I know that the memories of my time at Columbine will last for a lifetime. I am eternally grateful. Wherever my next journey in life takes me, my heart will always be with Columbine.
On April 20, 1999, students Eric Harris and Dylan Klebold, armed with multiple guns, entered the school and killed 12 students and a teacher before turning their weapons on themselves.
At the time of the massacre, DeAngelis already had 20 years under his belt at Columbine. He started at the school as a social studies teacher, before becoming assistant principal and then principal in 1996.
On the day of the shooting, Mr. D, as he's known to students, came face to face with one of the killers. As the Denver Post reported:
And then suddenly, he stared down a hallway at a kid pointing a shotgun in his direction. DeAngelis thought he was about to die as shots echoed and glass shattered behind him.

He believes he lived because, at that moment, the gunman chose to pursue teacher Dave Sanders up an adjacent stairway and fire the shots that killed him. That, too, binds DeAngelis to this place.

"There's survivor's guilt on my part that I'll take to my grave," he says.
Popular in the Community