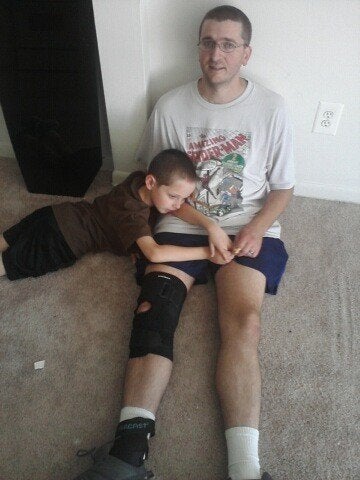 When Frank Deyoub and his wife were thinking about names for their newborn son, one moniker was completely off the table: Frank Deyoub.
"If I named my son after me, he would have all the issues I'm having," says 35-year-old Deyoub, who lives in Royal Oak, Mich., with his wife and now 8-year-old son. "I've gotten denied work, I've been embarrassed. It's made people in my own family look at me differently."
The problem? Deyoub's credit report, the data file of all the money he's borrowed or tried to borrow during his adult life. Most American consumers have a credit report compiled by each of three large private ratings companies: TransUnion, Equifax and Experian. Banks, landlords and even employers and use these reports to decide whether or not to trust someone with almost all the critical pieces of an adult's financial life: a job, credit card, auto loan, mortgage. At best, a blemished credit report translates into more expensive borrowing costs; at worst, it means a lost job, car or home.
For Deyoub, who works at a medical equipment company, the distress is devastatingly personal. His descent into credit report hell began 15 years ago, when he claims his father, Frank Scaramuzzino, stole his identity and used Deyoub's unblemished financial record to buy two houses and three cars.
Around the same time, a former high school classmate, a drug user, allegedly began using Deyoub's name when the cops arrested him. Since then, some credit companies have sent Deyoub reports that list his classmate's criminal history as Deyoub's, or that attributed his father's purchases and debts to him.
Scaramuzzino, who received a two-year prison sentence for federal tax evasion in 2009, told The Huffington Post that his son's version of events is inaccurate, that "there was never identity theft or fraud." He acknowledged that some of his own financial information made it onto his son's credit report, but said that may have been due to a clerical error, since the two men had the same name at the time. (Frank Deyoub legally changed his last name from Scaramuzzino in 1998.)
As for Deyoub, he says he doesn't have much of a relationship with his father anymore. Still, Deyoub finds that some credit-reporting and background-check companies continue to mix up the two of them.
"Someone's not really thoroughly checking this," Deyoub told HuffPost. "This is supposed to be gospel of who you are and how you handle things."
The CFPB, a one-year-old agency founded in the wake of the financial crisis to look out for consumer interests, said it will improve the way bureaus address accuracy. The agency will monitor the accuracy of information furnished to credit reporting companies, and will look at how reporting companies assemble that information. The CFPB said it would also examine how the bureaus handle corrections.
Over the years, Deyoub's tried to fix errors on his credit reports. Yet they persist. TransUnion lists Deyoub's birth year as 1953 (it's 1977). TransUnion doesn't have Deyoub's current address on file, though he's lived there more than a year. Deyoub says he's written TransUnion to try and set the record straight. He's been able to clear up some of the mistakes with some of the companies -- which he says took months of back-and-forth correspondence -- but other errors have proven harder to stamp out.
There's wide disagreement on the accuracy of credit reports. Studies from consumer groups have shown 25 percent to as many as 80 percent of credit reports contain some error that may or may not affect one's credit score, the number used by the big agencies to rank a consumer's credit-worthiness.
Norm Magnuson, a spokesman for the CDIA, said credit bureaus update consumers' files every 30 days and that lag time can skew the error rate higher. But consumer advocates point out that even a very low error rate, like that cited by the industry, still affects millions of consumers.
Sometimes the error can be as simple as one name sounding like another. Sandra Cortez, a Colorado accountant and grandmother, learned this the hard way in 2005, when a credit check at a local car dealership returned unexpected results: Cortez was supposedly on a government watch list of individuals suspected of having ties to terrorism. In reality, the person on the watch list was a different woman named Sandra Cortes Quintera, but Cortez didn't learn of the mistake until she'd spent a few anxious hours thinking she was about to be arrested by the FBI.
Pamela Banks, senior policy counsel for nonprofit consumer organization Consumers Union, said errors persist because of lack of enforcement by regulators, lack of investigation into errors by reporting companies, and consumers themselves not doing enough to monitor their own reports.
One reason some errors are perpetuated is because of how the bureaus match information from creditors with credit files, according to Chi Chi Wu, an attorney with the National Consumer Law Center. Wu said that some data-matching formulas only require seven out of nine digits of a Social Security to match, which can lead to credit files that contain information from more than one person.
"[Credit bureaus] don't undertake meaningful investigation, and automate everything in order to save money," said Wu.
There are approximately 3 billion credit reports issued each year by the three biggest reporting companies and more than 36 billion updates made to consumer credit files, according to the CFPB. Tracking all that information is a herculean task, to be sure. But consumer advocates brush off any suggestion that volume has anything to do with accuracy.
But many consumers are not doing their part, either. Less than 40 percent of Americans actually bothered to take a look at their own reports last year, according to the National Foundation for Credit Counseling.
"People chase their credit scores, but they skip the first step and obtain a credit report," said Gail Cunningham, director of the NFCC.
Everyone can get a free report from each of the three main bureaus each year at AnnualCreditReport.com. Have you had trouble correcting an error on your credit report? Or has an error on your credit report prevented you from obtaining a loan? Please share a comment or email money@huffingtonpost.com.