When Frank was a puppy, his future did not seem very promising.
According to owner Rafael Borges' video description, when he adopted the dog, Frank was 5 months old, was not vaccinated and weighed about 7 pounds. Frank's previous owner had kept him outside in a small area, where he was only fed adult dog food. The puppy also had infections that went untreated and may have led to his current deafness, according to his owner. Shadows made Frank nervous, and "his only friend was a torn blanket," says Borges.
After Frank's adoption, however, things changed dramatically.
With some love and care in his new home, Frank was able to live a much fuller, happier life, and began wagging his tail. In fact, Borges says the dog is so happy, he even wags his tail in his sleep! Watch the video above for proof.
Though the clip was posted a year ago, it's resurfaced on the Reddit, reminding us just how much adoption can change the life of a pet.
Related
Before You Go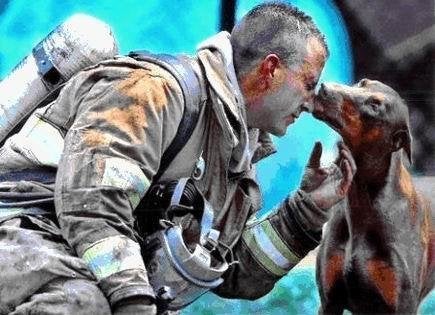 20 Moving Encounters Between Grown Men And Dogs
Popular in the Community