 For more than two decades the architecture-engineering-construction (AEC) industry was an IT laggard. This was especially true when compared to other industries, including the cottage one called Hollywood.
With the annual AEC market size at $1 trillion in North America and more than $7 trillion worldwide, it's expected to grow to $12 trillion by 2020, according to the Oxford Economic-Global Construction Perspectives 2020 Report. Compared to Hollywood's $50 billion in annual film and TV production, the word "small" takes on new meaning.
Yet, the mobile cloud has shaken up the once sleepy construction IT sector. In the past year, there have been many acquisitions made by three dominant players: Oracle, Autodesk and Trimble. They are fighting for market share in the project management space, with the last two focusing on collaboration and building information models (BIM, digital 3D models that lets teams virtually and paperlessly build a building).
Enter Gehry Technologies, a startup co-founded by leading architect Frank Gehry.
This new challenger has moved into AEC collaboration software. Similar to what Academy Award-winning film director James Cameron did for Hollywood in 1991 with the seamless capture of "liquid metal" in Terminator II, by introducing Silicon Valley CGI to film production, world-renowned architect Frank Gehry has achieved even greater success.
3D Models Blaze Path to Better Design
Gehry's 3D modeling approach to design seemingly has defied the law of gravity with his off-axis, sinuous building contours, from the Guggenheim Museum Bilbao, Spain, to the Lou Ruvo Brain Institute in Las Vegas, NV. His iconic projects have led him to be labeled "the most important architect of our age" by Vanity Fair.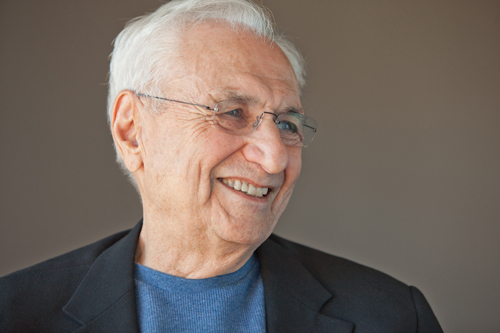 Photo © dbox
"The Guggenheim build out was totally done through 3D models. Frank Gehry used it to manage the entire design and build process. He brought that process to other projects," said Matt Reid, Senior Vice President of Marketing at Gehry Technologies.
"What he found was that his projects, which he began designing using 3D models, instead of on paper, could be transformed into software and shared online," said Reid. "Our Europe team created collaborative tools to share these 3D models in real time. For the new museum in Paris, the Foundation Louis Vuitton, we used this sharing system to achieve extraordinary new architecture."
Now that Gehry's 3D approach to design has been put in the cloud, it will help AEC stakeholders to collaborate more effectively on projects. For too long they have worked in silos with data that was opaque and rarely shared. The new solution offers better visibility of data with more precision in building.
The product is called GTeam. It's the new platform from Gehry Technologies, Inc., in which Mr. Gehry is the Chairman. It aims to deliver efficiency and transparency in building projects big and small. For an industry made up of 80% small-to-medium size businesses (SMB), who have seen their margins slashed by two-thirds since the 2008 financial crisis, using such tools help improve their bottom line.
This past July, Gehry Technologies announced in a press release it had acquired the Dutch 3D software firm Bimshare, which is a "BIM data solution that provides the easiest way to share 3D models on desktop and mobile devices." Through this agreement GTeam gains advanced technology that further positions it for widespread adoption.
'Green' Building Means More Challenges
Having worked on projects of scale and complexity in New York City for leading construction management firms, including New York State's first LEED-gold condominium, this author understands that green building means more: More plumbing risers to collect and recycle rainwater; more electrical infrastructure for fuel cells, geothermal wells, solar panels, and wind turbines; more technical designs of landscaped roofs and building envelopes -- with less square footage for developers to sell or rent their units.
Yet green is good. The upfront investment will payoff in the long run with reduced energy costs, lower stormwater runoff into city sewer systems, and carbon sequestration of pollutants. Compared to old, grey buildings, green is a major selling point.
BIM combined with GTeam will empower architects and engineers to be more accurate with their designs, and eliminate misunderstandings among tradesmen and contractors.
More importantly, it will provide more data transparency to all stakeholders, including the owners, who are at most risk with poor project execution and delivery.
In reaching out to Gehry Technologies, which is headquartered in Los Angeles, in a phone interview, I spoke with Matt Reid, whom I met at last December's Ecobuild/BIMStorm Conference in Washington, D.C., and Andrew Witt, GTeam's Director of Research.
James Grundvig (JG): What's the value proposition in using GTeam?
Matt Reid (MR): The core value proposition is more effective collaboration amongst project teams, resulting in the ability to win more work amid the challenges of today's small and large projects that sometimes involve globally dispersed groups.
JG: How does GTeam's capability compare to BIM?
MR: It complements BIM. It makes BIM data easier, more accessible and better to use, providing the toolset needed to win bids and successfully execute on complex projects.
Andrew Witt (AW): The last ten years has been a drive to put the power of BIM's rich content in a form that is both actionable and useable. To accelerate sharing.
JG: Who is GTeam's main competitor? Is it Horizontal Systems, which was acquired by Autodesk?
MR: Autodesk BIM360, which may or may not include Horizontal Systems as of today, is our main competitor. It's a subscription model. Autodesk bolted it to its BIM platform, which has four disparate systems. The challenge for customers is not knowing how these systems will be integrated and which should be used. GTeam customers say it doesn't deliver the seamless delivery or user experience the way GTeam does and looks to be serving a proprietary-only vision. GTeam is an open platform.
AW: We are in a different category in terms of simplicity. Anyone can use it in a few seconds, but it has all the power professionals need. It's like Dropbox for 3D. Making a building is already too complex; GTeam makes life simpler for anyone using 3D.
[Note: On Gehry Technologies' website, Autodesk is listed as an investor.]
JG: What are the price points or model for GTeam?
MR: We have paying customers today that are helping solidify our packages and pricing. Our intent is to provide pricing that's affordable to businesses and projects of all sizes. For the Free Preview September release, we are signing up architects, construction firms, and fabricators. Owners are also putting data into the system. They're a new piece of the market asking for a secure BIM data management platform.
AW: We see a viral, grass roots adoption. For example, architects, owners, and builders love it, but so do fabricators and installers. They can finally use 3D anywhere, without expensive tools. So there's a broader appeal.
JG: Can GTeam be used in other verticals?
MR: We have seen interest from other industries, from aerospace and Hollywood, to automotive and gaming, where tons of 3D models and images are used. We can tackle those worlds and win. There's a free preview available online to the end of September. So for those looking for simple solutions, for teams that are much more global it would be the right fit. We have seen positive responses from small project design to urban planning.
In addition to the huge AEC industry market size, annual worldwide revenue for BIM solutions is expected to grow from $1.8 billion a year to almost $6.5 billion in 2020.
JG: How will GTeam improve design?
AW: Everyone benefits from high quality information. The benefits are more eyeballs on project data. With that, you can leverage the creativity of the entire team.
MR: High quality information coupled with easy, real-time access to that data enables the industry to not only improve design, but to reduce waste. It's been proven through our company's 10 years of project delivery services. The experience we've gained in improving design has been packaged into GTeam and we hope the industry can benefit from this as well.
As the decade-long social startup wave begins to recede for investors and users alike -- Digg, Zynga, Facebook -- there's a new wave, a major paradigm shift to the mobile cloud. Utilities, tools such as GTeam will become the new market leaders, along with those companies that can structure "unstructured" (big) data.
Calling all HuffPost superfans!
Sign up for membership to become a founding member and help shape HuffPost's next chapter