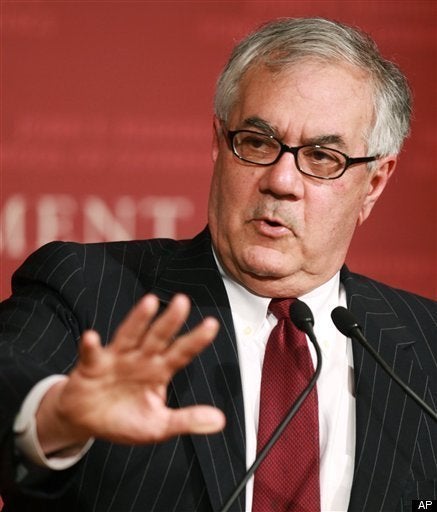 Rep. Barney Frank reacted angrily on Wednesday to a proposed bipartisan compromise on the Consumer Financial Protection Agency in the Senate.
"That's not coming over here," Frank told HuffPost, insisting that the House wouldn't agree to putting consumer protection authority inside the Federal Reserve, as Banking Committee Chairman Chris Dodd (D-Conn.) is proposing.
"I thought that was a joke," he said. "Even by Senate standards, that's mind-boggling."
Frank sought out reporters in the Capitol on Tuesday night to express his extreme displeasure.

"It's like making me the chief judge of the Miss America contest," Frank said. "It's already been in the Federal Reserve!"
The Fed has had authority over consumer financial protection for years but consciously decided not to use it, despite a congressional mandate to do so. In 1994, Congress instructed the Fed to protect consumers from subprime loans, but when Republicans took over in 1995, then-Chairman Alan Greenspan decided he could ignore the directive. The rules weren't put in place until Democrats retook control of Congress and the crisis was well underway.
"The Federal Reserve is undemocratic, it's non-transparent, it's elitist, it's arrogant: Let's give them consumer protection," marveled Frank, the chairman of the House Financial Services Committee.
"They better vote on this," he said of the Senate. "If they want to kill consumer protection, let there be 41 Jim Bunnings over there."
Bunning (R-Ky.) spent the better part of the last week blocking a routine extension of unemployment insurance. Sen. Jack Reed (D-R.I.) has vowed to take the fight to push for a strong independent CFPA to the Senate floor.
The banks and Dodd's chief negotiating partners, Sens. Richard Shelby (R-Ala.) and Bob Corker (R-Tenn.) argue that banking regulators must have veto power over consumer protections, because restricting some bank activities could harm the institutions and put at risk their "safety and soundness."
But Rep. Brad Miller (D-N.C.) wondered aloud how banks could argue that preventing them from ripping off consumers puts them in jeopardy.
"It would be one thing if they were saying, 'They're making us do things that will cause us to lose money.' But they're saying, 'If you don't let us do these things because they're abusive to consumers, we won't make enough money to survive,'" Miller said.
"The legislation doesn't require the banks to offer anything. It would prohibit certain practices. So their argument is, they have to be able to cheat consumers to stay solvent. I'm not sure I'm persuaded by that argument, or that a bank that has to cheat consumers to stay solvent is one we should keep afloat. Maybe it's time to send in the FDIC."
Miller said the argument is lacking "particularly when there's no interest rate regulation. There's not an interest rate cap on anything. It really is the traps hidden in the legalese that most consumers aren't going to understand until the traps are sprung on them. So I'm pretty unimpressed by that argument."

Popular in the Community