Frank J. Short was arrested Tuesday afternoon for allegedly throwing a glob of his own semen onto the back of a 20-year-old female shopper at a Walmart in New Castle, Del., because, he later told police, he thought the woman was attractive.
The victim was texting when Short, 22, allegedly walked past her, saying "Excuse me." Seconds later, she "suddenly felt something wet on her buttocks, thigh and leg," according to a Delaware State Police report obtained by The Smoking Gun.
Short continued to follow the victim around the Walmart until she was forced to take refuge in an Employees Only area. Two workers there escorted her to the security office where she called the police, WPVI-TV reported.
When troopers interrogated Short, he first told them he had accidentally "flung" some mucus on the victim after sneezing into his hands. Then he said that he threw some of his spit on the victim whom "he felt was hot," Gawker reported.
After further interrogation, he allegedly told officers he "basically gets a thrill out of such an act."
It is unknown if he carried the bodily fluid in a container.
Before You Go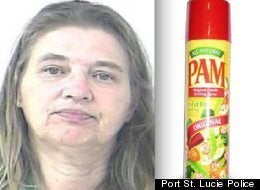 Bad Sex
Popular in the Community