A man suspected of carrying out Tuesday morning's mass shooting on a New York City subway train has been taken into custody after police received a tip from the public on their Crime Stoppers hotline, authorities said.
Frank Robert James, 62, was arrested Wednesday afternoon, roughly 30 hours after the shooting, after he was sighted walking the streets of lower Manhattan, authorities said at an afternoon press conference.
"We hope this arrest brings some solace to the victims and to the people of the city of New York," said New York Police Department Commissioner Keechant Sewell. "We used every resource at our disposal to gather and process significant evidence that directly links Mr. James to the shooting. We were able to shrink his world very quickly. There was nowhere left for him to run."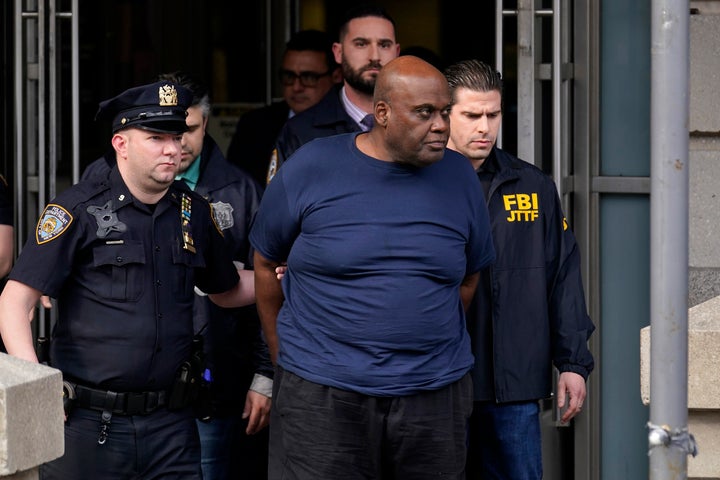 James, who authorities say fired a gun 33 times during the incident, faces a federal charge of terrorism on mass transit, which carries a maximum sentence of life in prison if he's convicted, said Breon Peace, U.S. attorney for the Eastern District of New York.
"The government will prove, among other things, that James traveled across a state line in order to commit the offense and transported materials across a state line in aid of the commission of the offense," Peace's office said in a statement.
James is known by local law enforcement, having had nine prior arrests in New York City and three in New Jersey, said NYPD Chief of Detectives James Essig. He was able to purchase a handgun in 2011 in Ohio because he did not have any felony convictions, said Essig.
Video posted online shows James being escorted into a patrol car in handcuffs in the East Village without incident.
Authorities said James donned a reflective construction jacket, hard hat and mask, and boarded an N train where he carried out his attack in Brooklyn's Sunset Park neighborhood around 8:30 a.m. on Tuesday.
He allegedly first set off smoke grenades before opening fire on commuters. Ten people were wounded by gunfire and another 13 suffered injuries related to smoke inhalation, falls or panic, authorities had said.
Essig said James managed to slip away amid the chaos, boarding an R train as it pulled into the station and then exiting at another station.
James had initially been named a person of interest in the shooting after he was identified as the renter of a U-Haul van that was possibly connected to the violence, authorities said.
A key to the van was found inside the subway station with other items believed to have belonged to the shooter, including a credit card with James' name on it. Authorities said James rented the vehicle in Philadelphia. It was later located about five blocks from the subway station.
Surveillance video obtained by NBC New York reportedly captured James entering a subway station a few hours before the shooting while wearing the construction attire and carrying what appeared to be several suitcases with him.
This is a developing story. Please check back for updates.
Popular in the Community