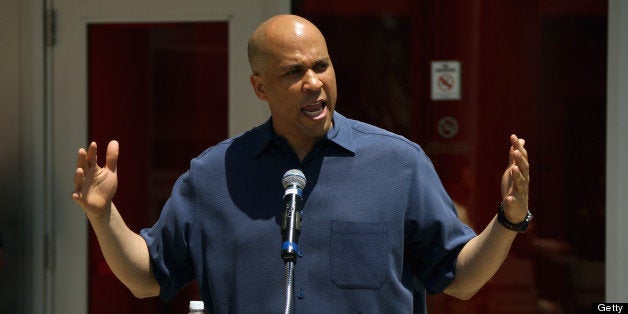 Less than two months after his death, the memory of New Jersey's longest serving United States senator looms over the race to succeed him.
With Newark mayor Cory Booker maintaining a large lead in the Aug. 13 Democratic primary to fill the late Sen. Frank Lautenberg's (D) seat, Lautenberg's family continues to press its support for Booker rival, Rep. Frank Pallone (D). At the same time, Booker, who feuded with Lautenberg, has made his own connections with the late senator's political team. Rep. Rush Holt and Assembly Speaker Sheila Oliver are also running in the Democratic primary.
Josh Lautenberg, the late senator's son, authored an email sent out by Pallone's campaign Tuesday, touting Pallone, a longtime congressman, as "the person my father would've wanted to succeed him." The email follows the Lautenberg family's endorsement of Pallone last week.
"Simply put, Frank Pallone will only be your next Senator if his supporters get to the voting booth in huge numbers. The consequence of not getting involved or assuming this race is already over will ensure victory for Cory Booker," Josh Lautenberg wrote. "Frank Pallone can win this race but only with your help. On behalf of my father, I am asking you to get out there and work hard to help Frank Pallone to victory on August 13th."
The bad blood between the Lautenbergs and Booker stems from the Newark mayor's decision to announce his candidacy for the regular 2014 election for the Senate seat before the late senator announced his decision to retire. Booker sped up his candidacy to the 2013 special election following Lautenberg's death.
While the Lautenberg family pushes Pallone, Booker announced Tuesday that Essex County Freeholder Brendan Gill (D-Montclair), who headed Lautenberg's state-based operations, would join his campaign staff as senior political adviser. The move comes after Gill joined 150 other Democrats to endorse Booker.
Gill is considered one of the top Democratic operatives in New Jersey and was Lautenberg's 2008 campaign manager, steering him to a Democratic primary win over Rep. Rob Andrews and a general election victory over former Rep. Dick Zimmer (R). He was elected to the Essex County Board of Chosen Freeholders in 2011 and briefly was considered a potential candidate for governor earlier this year. Gill also was mentioned as a potential lieutenant governor running mate for Democratic gubernatorial nominee Barbara Buono.
Calling all HuffPost superfans!
Sign up for membership to become a founding member and help shape HuffPost's next chapter