The Charles R. Perry House in Glencoe carries the iconic horizontality and the angular wooden interiors that are the unmistakable hallmarks of legendary architect Frank Lloyd Wright. What the house doesn't have, compared with several other Wright homes currently listed in the Chicago area, is a million-plus-dollar asking price.
(Scroll down for photos of the house.)
Currently listed at $550,000 (down from an original asking price of $699,000 in May), the stucco and wood home in the Ravine Bluffs subdivision of East Glencoe is about a half million dollars less than other Wright houses in Chicago's 'burbs. Then again, it needs a good deal of attention, too.
Built in 1915, the three-bedroom, 1.5-bathroom house at 272 Sylvan Drive is listed as a home that "needs some TLC." That doesn't mean the house is about to fall down -- listing agent Jamie Roth of Prudential Rubloff said the house is structurally sound -- but it does mean the kitchen and baths appear dated and that for "today's standards, somebody would want to update."
The exterior and the landscaping also need work, Roth added, and the house is listed "as is," so if there's something like a loose step found during a home inspection, the buyers are responsible for repairing it.
That said, there's plenty about the house that possesses hallmark Wright charm. The exterior, for instance, peaks above the front door, which Roth said reflects Wright's love of Japanese culture and design, as it's meant to be reminiscent of a Japanese pagoda. The foyer, Roth added, has an inlaid floor pattern of wood.
"You have a carpet of wood," Roth said. He adds that, "in keeping with that period of his architecture, the ceilings are actually coved, and they're higher. They give an appearance of being extremely high, and it keeps your eye flowing out to the exterior."
All Photos Courtesy of Larry Malvin Photography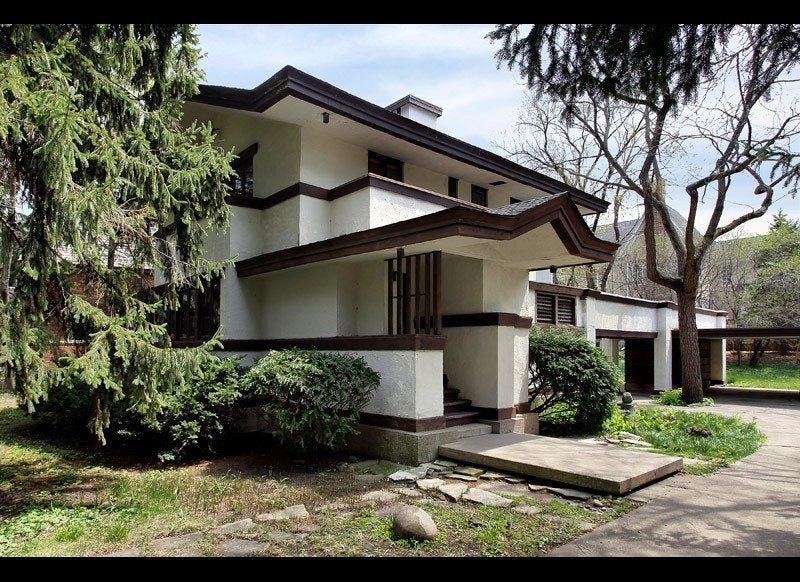 Frank Lloyd Wright House In Glencoe