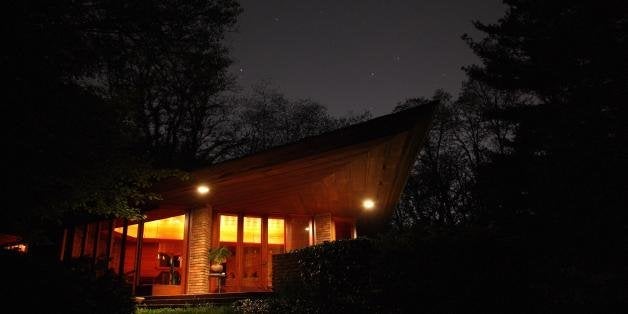 Just a short walk from the University of Michigan's buildings and bars teeming with college students lies a hidden house, tucked into woodlands, where peace and privacy prevail.
Those who catch a glimpse of it in Ann Arbor, Mich. might recognize the style. Famed architect Frank Lloyd Wright designed the brick and cyprus home for William and Mary Palmer. Construction started in 1951, when Wright was in his 80s.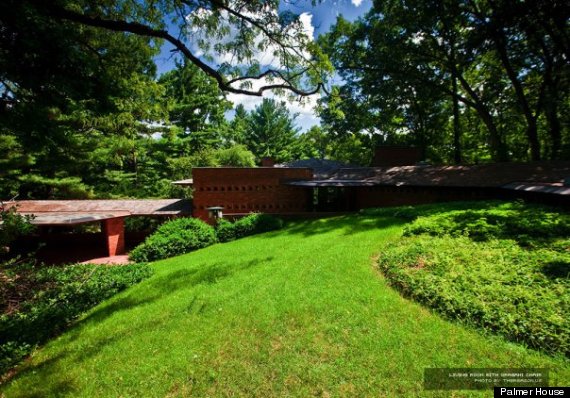 The home's relationship to its surroundings is no accident. Though prolific and highly successful, Wright focused on nature and tranquility in his work. Ahead of his time, he created and practiced organic architecture, using principles from nature to guide his designs and use of materials. He produced environments where home and setting were one, like the Palmer House or Fallingwater in Pennsylvania.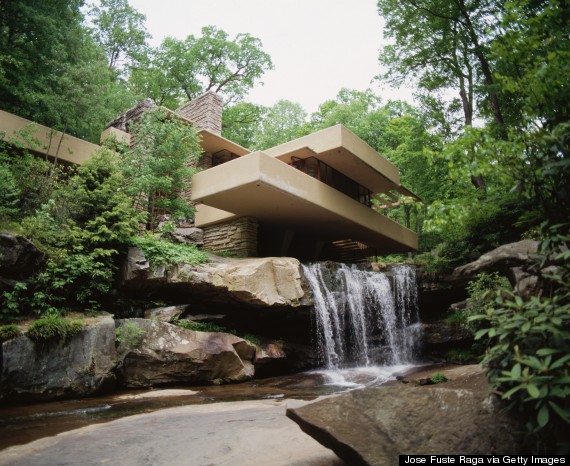 "You listen to Fallingwater the way you listen to the quiet of the country." -- Frank Lloyd Wright. Photo by Jose Fuste Raga via Getty Images.
"I go to nature every day for inspiration in the day's work," the architect said. "Study nature, love nature, stay close to nature. It will never fail you."
It's the details that make Wright's buildings subtle masterpieces. Using the equilateral triangle as a recurring design element, there's barely a right angle in the entire Palmer House, from the hexagon beds (six triangles) to the shower. On the outside, a pattern of polygonal cutouts resemble abstract birds; when the swaying trees move in the wind, the shadows appear to show birds in flight.
Wright's homes reflect his regard for simplicity -- they have open plans, a hallmark of his style, and most have large windows to let in natural light. A Phoenix home designed by Frank Lloyd Wright shown in 2012. AP Photo by Ross D. Franklin.
At the Palmer House, its current owner Jeffrey Schox told Concentrate Media, the angled rooms prevent sound from traveling, giving a quiet and serene feel. It has small, solitary bedrooms, and upon entering the great room, "you're drawn out through the great room and into nature outside," Schox said.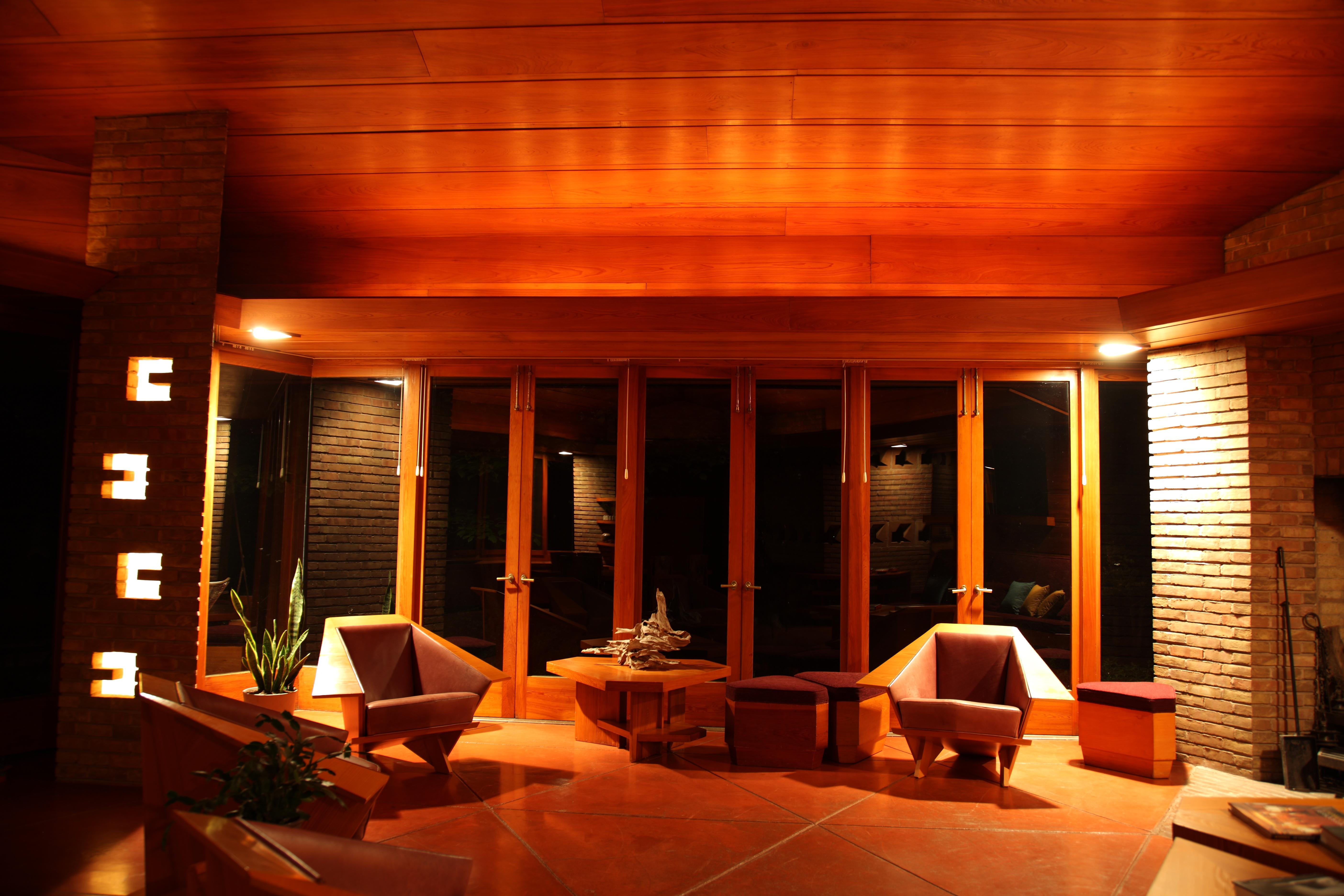 Photo courtesy the Palmer House.
"Simplicity and repose are the qualities that measure the true value of any work of art," Wright said.
The Palmer House urges visitors to take in its hidden features and surroundings, and its owners do, too. Gary Cox, caretaker of the home and owner Schox's father, said they require minimum stays of two nights so guests "spend some serious time in the house, see it in the morning light and the evening light."
"The more time you spend in the house, the more riveting it becomes," Cox said.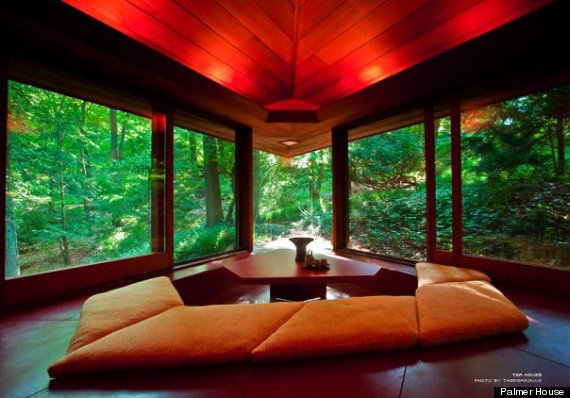 A view from the Teahouse, an outbuilding on the property designed after Frank Lloyd Wright's death by the architect's protégé John Howe. Photo courtesy the Palmer House.
Schox fell in love with the Palmer House when he was an engineering student at U of M. He would go on runs through the arboretum, and there he caught sight of the house's unusual cantilevered roof. He spent the next two years visiting other Wright homes.
After eventually becoming a patent attorney, Schox and his wife Kate moved to San Francisco, but he often returned to Michigan to visit family and meet with clients. When the Palmer House went up for sale in the midst of the housing downturn, his mother Sue sent Jeffrey an email with the listing to "his" house. At Christmas, they sat down as a family to consider the option.
"It was a back of a napkin kind of thing, and we talked about it for an hour or so," said Gary Cox.
They wrote a letter to the son of the original owners. Mary Palmer passed away in 2011 after living in the home for more than 50 years and then stayed in an assisted living home in the last years of her life; Frank Palmer died in 2000. Schox sent an offer and their vision for the home's future, a place where visitors could explore its beauty in peace. The offer was accepted without a counter.
"That was the first of our 'holy shit' moments," Gary Cox said. "We had just acquired a true American icon."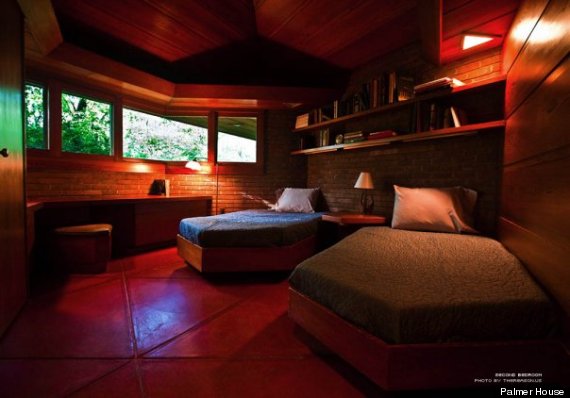 Photo courtesy the Palmer House.
Jeffrey didn't move back to Michigan; instead, Gary and Sue act as caretakers. The home is occupied about half the time, with Cox staying there when he comes into town. Groups can rent it out for meetings. And the home has become part of the family's traditions; they gather there each Christmas.
When the family first started renting it out in 2009, they were worried about letting strangers loose in a house with historical significance and original furniture pieces. But they'd be happy to have nearly all of their Wright-loving visitors return.
"We want you to live in it," Gary Cox said. "It's a home, not a museum. Once we explain the significant to them, they get it."
We think Wright would approve. This story appears in Issue 80 of our weekly iPad magazine, Huffington, available Friday, Dec. 20in the iTunes App store.
More photos of the Palmer House: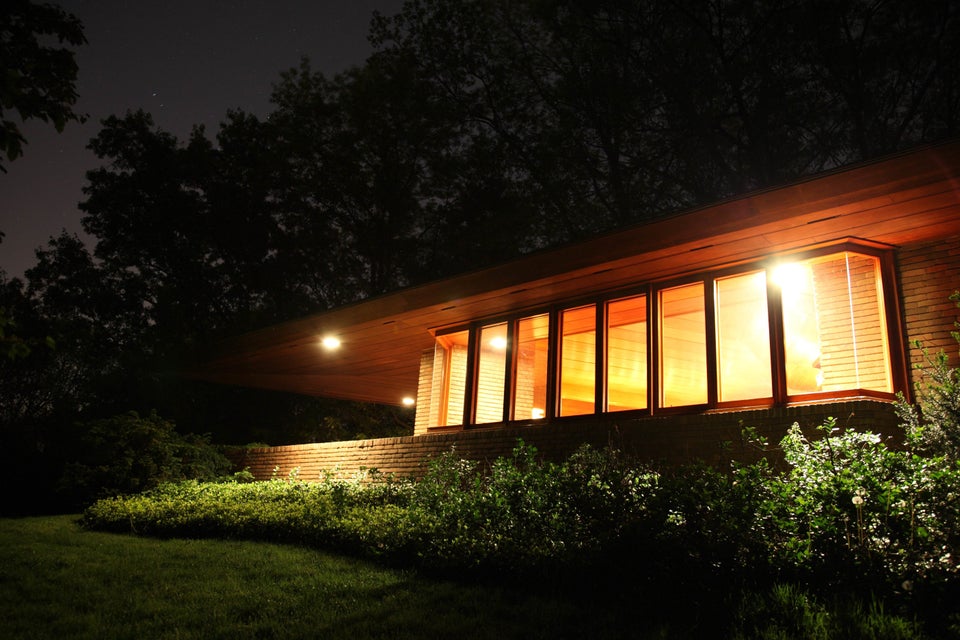 The Palmer House In Ann Arbor, Designed By Frank Lloyd Wright