The Millard House, also known as "La Miniatura," was one of four patterned concrete block houses that Frank Lloyd Wright designed in the 1920s. It was commissioned by rare book dealer Alice Millard, for whom Wright had already designed a home in Chicago in 1906. In an essay about the home, Hunter Drohojowska-Philp tells of the agreement Millard and Wright had in regards to using the unusual concrete blocks:
Millard was content with the concrete block if she could contribute her own taste to the house in the form of an ornate fire screen in the living room, rustic wooden doors and 18th century Delft tile in the bathrooms. Wright was so excited about his sympathetic client and the charming site that he reduced his fee to accommodate her budget.
The home has four bedrooms and four bathrooms, two kitchens, and a studio guest house that was designed by Frank Lloyd Wright's son, Lloyd Wright, a year after the original home was completed. The listing also notes that the home is listed on the National Register of Historic Places. While the home was initially scorned for its use of concrete blocks (Frank Lloyd Wright himself said they were "the cheapest (and ugliest) thing in the building world," but questioned, "Why not see what could be done with that gutter-rat?"), the home was eventually regarded as one of Wright's most significant pieces of work.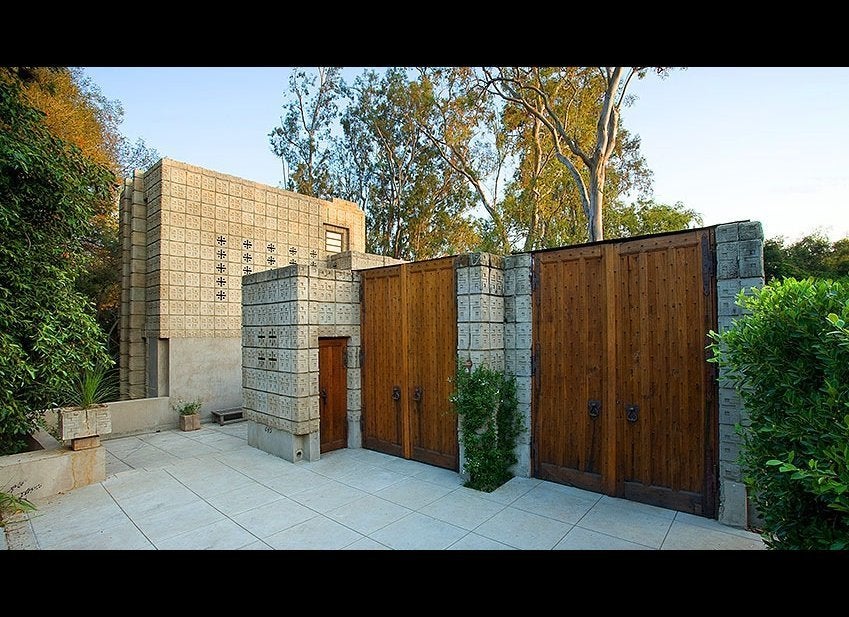 Frank Lloyd Wright-Designed Home In Pasadena