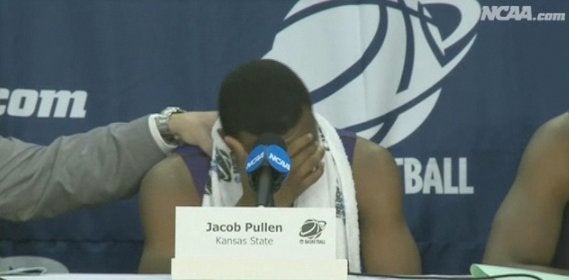 After Kansas State got knocked out of the NCAA tournament by Wisconsin on Saturday, Wildcats star Jacob Pullen couldn't help but choke up while answering a reporter's question.
That's when Kansas State coach Frank Martin got angry at Wichita Eagles beat writer Kellis Robinett and claimed that his question made Pullen cry.
"Jacob, you, I mean, obviously, do some good things, set the school scoring record and matched your career high in points but you still can't get the win," Robinett said. "How do you sum up the emotions that come after that?"
Pullen started to answer the question, but paused and put his hand over his face.
"That is what you wanted to see?" Martin said, while Pullen put his hand on his face. "That what you were trying to get out of him? Make him cry here in front of people? Good question."
Scroll down to watch the video.
Related
Popular in the Community