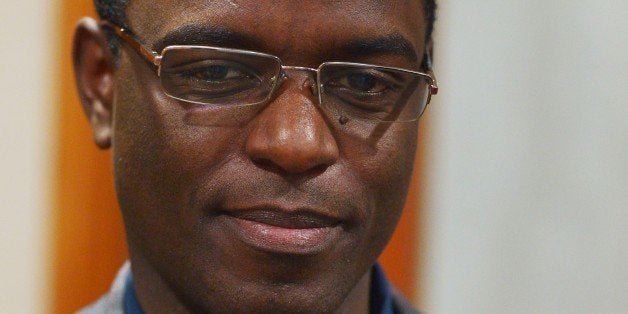 Ugandan activist Frank Mugisha was traveling outside his country when the notorious anti-homosexuality bill was signed into law by President Yoweri Museveni late last month. And now he's not sure if he will be arrested and imprisoned upon his return, or thrown out of his home -- or both.
"I've heard more than 50 cases of violence and discrimination," Mugisha, who serves as Executive Director of Sexual Minorities Uganda, said in an interview with me on SiriusXM Progress on Tuesday. "People who have been evicted from their homes. People who have been disowned. People who tried to commit suicide. People who have lost their jobs. People who have lost friends. People who are fearing to go back to their homes and are now staying with friends. LGBT offices have been closed down. And local councils have visited the homes of people and asked them why they are recruiting...[and] promoting homosexuality. And I don't even know if I have a home any more, because I've not returned home and I don't know the reaction my neighbors or my landlord are going to give me when I go back."
The law broadens already existing prohibitions on homosexual relations with a penalty of 14 years for "first offenders" and a maximum sentence of life in prison for "aggravated homosexuality," which includes instances of repeated gay sex between consenting adults. The law also penalizes those who provide services to, or even know of, lesbian, gay, bisexual or transgender (LGBT) people, including individuals, companies, media, or non-governmental organizations. Within days of the law's passage, a Ugandan tabloid named the nation's "200 top" gays, leading to so-called "witch hunts" and discrimination.
Mugisha was out of the country trying to get support from LGBT groups overseas when Museveni signed the bill, and he is currently in London. Regarding the very real possibility of his own arrest and imprisonment upon his return, he said, "I really don't know what would happen because the law is very clear that any person promoting homosexuality, any person talking about homosexuality — my own Facebook, my own Twitter accounts, are now regarded illegal, so physically and personally and spiritually I am illegal in Uganda. So I don't know if, when I get into the country, I'm going to get arrested. So in every aspect I'm very paranoid, I've very worried, I'm very scared."
Nevertheless, Mugisha is intent on returning home and fighting the law.
"I definitely have to go back because this law is about people's lives," Mugisha said. "Many of my friends — I've got over 5,000 Facebook friends — half of them are emailing me and telling me they are worried. They are scared of what could happen. There are many people who are afraid. And I think we have to challenge this law in whatever form or way we have to do it and remove it from our law books. So that is part of the reason why I have to go back. I have to work with my friends. I have to work with everyone who is giving us support, so that we can challenge this law."
Calling all HuffPost superfans!
Sign up for membership to become a founding member and help shape HuffPost's next chapter
BEFORE YOU GO
PHOTO GALLERY
Gay Pride Around The World