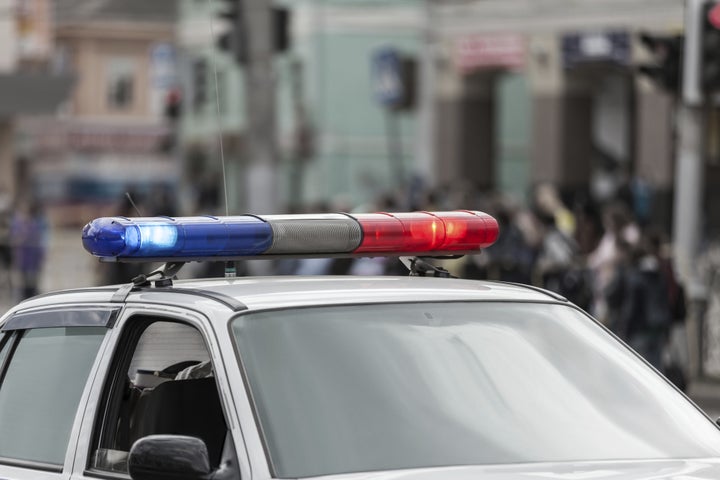 WASHINGTON ― A former police chief of a predominately white small town in New Jersey said African-Americans had "no value" and were "like ISIS," and suggested putting them before a firing squad, federal authorities alleged this week.
Federal authorities have arrested Frank Nucera Jr., who until recently was chief of Bordentown Township Police Department. They allege the now-retired officer referred to African-Americans using various racial slurs and instructed his officers to position police dogs at high school basketball games to intimidate African-Americans, according to a criminal complaint unsealed on Wednesday.
(Warning: This story contains offensive racial slurs.)
Nucera, 60, is facing a hate crime charge and a federal civil rights charge. FBI Special Agent Vernon Addison wrote in an affidavit that Nucera "has a significant history of making racist comments concerning African Americans, to whom he frequently referred to as 'n****rs'" and Italian-derived racial slurs for African-Americans. One of Nucera's officers "made numerous recordings" of Nucera that "contained extremely offensive racist comments" over the course of a year because he was "alarmed" by Nucera's racism, according to the affidavit.
The federal charges against Nucera relate to a Sept. 1, 2016, police encounter involving an 18-year-old African-American man and 16-year-old African-American girl. A hotel manager called police because he said the pair hadn't paid for their hotel room the night before and were swimming in the hotel pool. The FBI affidavit states that their encounter with police "escalated into a physical struggle," that both teens "resisted arrest" and that one of the officers used pepper spray.
After both teens were handcuffed, Nucera allegedly grabbed the 18-year-old's head and slammed it "into the right side of the metal doorjamb," according to the affidavit. An officer heard the 18-year-old's head make "a loud thud" as it hit the doorjamb, the feds alleged. Officers said the 18-year-old wasn't resisting when Nucera slammed his head, but had "stopped walking for a moment to loudly complain." The use of force wasn't reported to the department.
Hours after the assault, Nucera was recorded telling an officer he was "fucking tired" of African-Americans.
"I'll tell you what, it's gonna get to the point where I could shoot one of these motherfuckers," Nucera allegedly said. "And that n****r bitch lady, she almost got it," he said, referring to the 16-year-old girl's aunt, who was present at the arrest. "Fucking nipple hanging bitch. I'm so tired of them, man."
Nucera allegedly said that black people should "stay the fuck out of Bordentown" and referred to the 18-year-old as "fucking little, fucking n****r."
In a separate incident noted in the report that occurred in November 2015, Nucera said he wished an African-American from Trenton who he believed had slashed the tires of a police vehicle would give him a reason to "put my hands" on him.
"These n****rs are like ISIS, they have no value," Nucera allegedly said. "They should line them all up and mow 'em down. I'd like to be on the firing squad, I could do it. I used to think about if I could shoot someone or not, I could do it, I'm tired of it."
Nucera also "instructed police officers to bring canines to certain games and position the canine vehicles at the entrance to the gymnasium in order to intimidate African American patrons," according to the FBI. In another instance, Nucera allegedly told an officer to walk a police dog through an apartment complex so African-American residents could see him.
William Fitzpatrick, New Jersey's acting top federal prosecutor, said in a statement that Nucera "dishonored the profession" and harbored "intense racial animosity" and senseless hatred of African-Americans.
"The conduct alleged is a shocking breach of the duty of every police officer to provide equal justice under the law and never to mistreat a person in custody," Fitzpatrick said.
Steve Benewitz, the mayor of Bordentown Township, said in a statement sent to HuffPost on Wednesday afternoon that the charges were "limited to one person, and are not indicative of the Bordentown Township Police Department, or the Township as a whole." He called the charges "abhorrent," and said it was important to note that they "began from a self-reported complaint from within the Township Police Department."
Bordentown has about 11,000 people and is located south of Trenton and a little over an hour outside of Philadelphia. The Trentonian reported in January that Nucera was mysteriously "MIA" and that officials said the police chief had retired amid rumors that he was under criminal investigation. His salary was reported to be $147,724 per year.
Federal court records do not indicate that Nucera has an attorney. There is currently an acting chief in place in Bordentown, where his son Frank Nucera III is serving as a traffic sergeant.
Read the criminal complaint against Nucera Jr. below.
This article has been updated with comments from Benewitz and Fitzpatrick.
CORRECTION: A previous version of this story misstated the population of the township of Bordentown. It has 11,000 people, not 4,000.
Ryan Reilly is HuffPost's senior justice reporter, covering criminal justice, federal law enforcement and legal affairs. Have a tip? Reach him at ryan.reilly@huffingtonpost.com or on Signal at 202-527-9261.
Popular in the Community