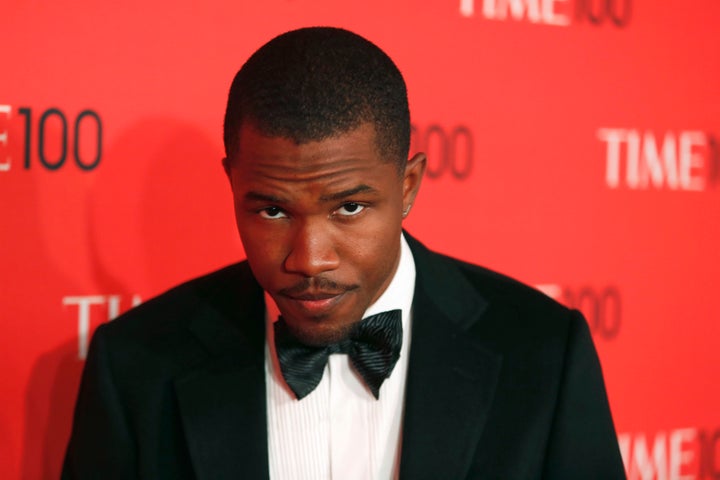 In the four years since his breakthrough album "Channel Orange" broke all of our hearts, no one knows what's been going on in Frank Ocean's mind.
His creative decisions have been shrouded in mystery ― Where's the album, Frank?! ― and when he failed to submit his newest efforts, "Blonde" and "Endless," for Grammy consideration, his patient fans just chalked it up to his perennial compulsion for not doing anything on time. 
Much like delay of his new albums, however, Ocean's decision not to enter his latest work into the Grammys race was purposeful, and in this case, a political act. In a revealing new profile for The New York Times, the 29-year-old explains that he's rejected the awards show system altogether, noting that it has largely ignored efforts from musicians of color in the Album of the Year category over its 50-plus-year history. 
"That institution certainly has nostalgic importance," Ocean said. "It just doesn't seem to be representing very well for people who come from where I come from, and hold down what I hold down."
"I think the infrastructure of the awarding system and the nomination system and screening system is dated," he continued. "I'd rather this be my Colin Kaepernick moment for the Grammys than sit there in the audience."
Kaepernick is the San Francisco 49ers quarterback who has chosen to kneel during the national anthem before the start of football games this season, as an act of protest against "a country that oppresses black people and people of color."
Ocean, who has already won two Grammys and has been nominated eight times, prefers to have complete control of his music, eschewing the traditional methods of album releases and promotion. His Apple Music exclusive album "Endless" fulfilled his recording duties in his contract with Def Jam ― something he describes as "a seven-year chess game" ― and now he alone decides what Frank Ocean will do next. 
"I believe that I'm one of the best in the world at what I do, and that's all I've ever wanted to be," he said. "It's more interesting for me to figure out how to be superior in areas where I'm naïve, where I'm a novice."
Calling all HuffPost superfans!
Sign up for membership to become a founding member and help shape HuffPost's next chapter
BEFORE YOU GO
PHOTO GALLERY
11 Musicians Prince Has Impacted Over The Years