 Up and coming singer Frank Ocean may be learning the hard way that the flattery of imitation doesn't get you everywhere in the music industry. Ocean's song, "American Wedding" off his free mixtape nostalgia, ULTRA is a reworking of The Eagles' 1977 song "Hotel California," and Warner Music Group isn't too happy about the unlicensed re-appropriation.
According to Ocean's tumblr, he was told he would be sued if he ever performed the song live again (CAUTION: GRAPHIC LANGUAGE):
He (They) threatened to sue if I perform it again. I think that's fuckin awesome. I guess if I play it at coachella it'll cost me a couple hundred racks. If I don't show up to court, it'll be a judgement against me & will probably show up on my credit report. Oh well. I try to buy my shit cash anyway. They also asked that I release a statement expressing my admiration for Mr. Henley, along with my assistance pulling it off the web as much as possible. Shit's weird. Ain't this guy rich as fuck? Why sue the new guy? I didn't make a dime off that song. I released it for free. If anything I'm paying homage.
Though nostalgia, ULTRA was released over a year ago, the legal trouble appears to have only surfaced last week. A representative for Henley said that it was neither his client nor The Eagles who threatened legal action, but the label which owns the master track. Here's a portion of Larry Solter's response, as sent to the Los Angeles Times:
Frank Ocean did not merely "sample" a portion of the Eagles' Hotel California; he took the whole master track, plus the song's existing melody, and replaced the lyrics with his own. This is not creative, let alone "intimidating." It's illegal. For the record, Don Henley has not threatened or instituted any legal action against Frank Ocean, although the Eagles are now considering whether they should.
The Huffington Post reached out to Ocean's publicist, who told us that he had no comment on the matter.
Ocean is signed to Def Jam, though he released nostalgia, ULTRA for free on his blog.
Billboard reported that YouTube either pulled videos or muted the audio on any posted version of the song, live or otherwise.
Ocean is a part of rap collective Odd Future, serving as the group's sole true singer. Tyler, the Creator is Odd Future's de facto leader, and he took to Twitter to defend Ocean in his typically brash manner (CAUTION: GRAPHIC LANGUAGE):
For observers of Odd Future's rapid rise in hip hop, it's an interesting moment. The group was widely touted as breathing new life into hip hop in similar fashion to Eminem's 2000 Marshal Mathers EP, a perhaps hasty comparison that rested in part on the fact that both used a shock jock, "horrorcore" style that emphasized violent and graphic lyrical content over relatively simple production.
While Ocean's songs are more romantic in nature (he also covered Coldplay on his mixtape), this legal battle represents the brash group's first big industry reality check. Whether one believes Warner Bros. is being overprotective of its source material or that Ocean should have cleared the sample before use (he's already performed it live a number of times, to great acclaim), it will be interesting to see if the group sticks to Tyler-esque threats and rants or gives in to industry pressures.
LISTEN: Frank Ocean - American Wedding:
PHOTOS of The Eagles Performing: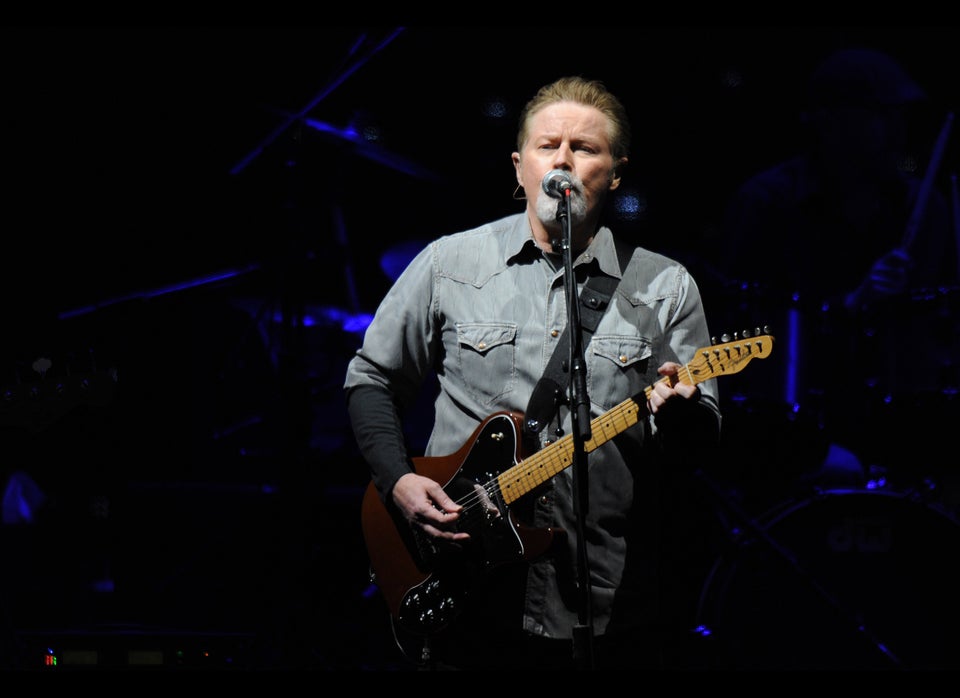 Popular in the Community