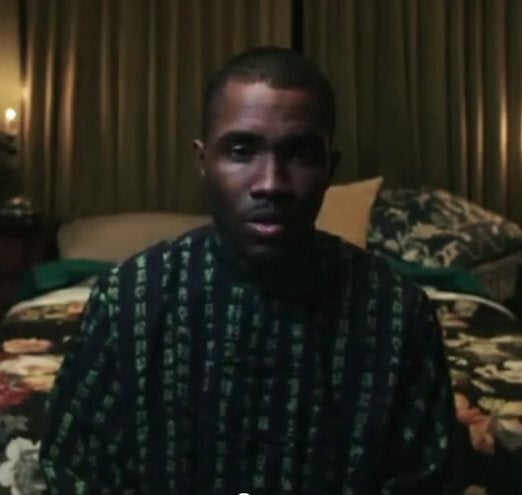 Should we care whether Frank Ocean is gay or bisexual? The short answer is no. Recently this week Anderson Cooper and Megan Rapino, a soccer player on the U.S. women's national soccer team came out of the closet but it wasn't a big shock to anyone who followed their personal lives. The admission was more of a confirmation of what everyone knew or thought they knew about them. Early Wednesday morning, Ocean posted a message on his Tumblr and in the message, which would've been the Thank You's section for his upcoming album, he admits that his first love was a man. The admission comes within a few days of a U.K. radio host questioning his sexuality after listening and reviewing Channel Orange. Apparently in a few songs from the new album he uses "him" instead of "her" and it's not from a woman's perspective either, a la J. Cole on "Lost Ones", it's from his prospective.
When it comes to Frank Ocean, were there signs that he was gay/bisexual? He has a few odd lyrics about his sexuality on the track "Oldie" that might have given us a clue. I wouldn't have thought so before today's admission but I don't obsess over such things like certain people do. I just enjoyed his voice and his music. Personally after the initial shock, I'm over it. He's doing something that he feels is right and it's especially brave given the industry he is in, where the suspicion of being gay makes anyone double down on their masculinity. Drake has become a dart board for his "soft" approach to life and for being hip hop's version of Chris Bosh, an NBA player with a equally soft reputation. Yet Drake writes songs exclusively about women and his relationship with women but his masculinity is always being questioned.
The real is question is how the overall public reacts. I'm sure his hardcore fans will support him no matter what but what about the people that are not invested in Frank Ocean, the musician and the person. Will he lose fans? Does he gain fans from the community that support his lifestyle? How does the music industry react? Does this decision cost him support? Would a rapper turn away working with him because he doesn't want to be associated with someone who is considered gay? Does this confirm Fat Joe's idea that hip hop is run by a gay mafia? Will more artists come out? I don't know. These are all questions that I can't answer but worth mentioning. It will be interesting to watch Frank Ocean's career from here on because he's still a relatively new artist to a lot of people.
When I think of Frank Ocean I think about his talent, his amazing songwriting ability, his terrific voice. I think of the first time I heard "Novacane" and how much I liked that song. I think of his feature on "No Church In The Wild" and how it made the track. I think of his upcoming album and how I can't wait to hear it. I don't think about how he fell in love with a man four summers ago or how anyone else feels about it.
This is the tracklist from Frank Ocean's upcoming album Channel Orange due out July 17.
Calling all HuffPost superfans!
Sign up for membership to become a founding member and help shape HuffPost's next chapter