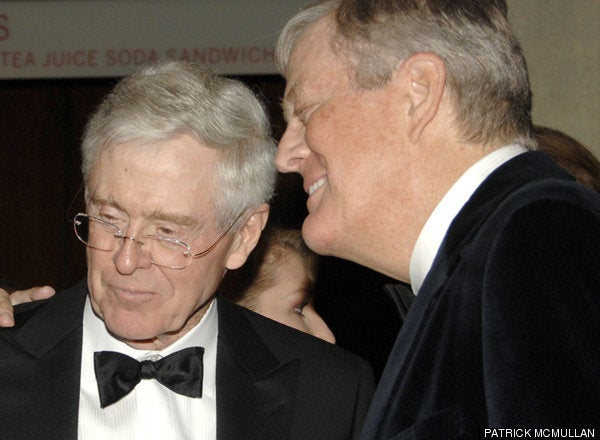 ANOTHER weekend, another grass-roots demonstration starring Real Americans who are mad as hell and want to take back their country from you-know-who. Last Sunday the site was Lower Manhattan, where they jeered the "ground zero mosque." This weekend, the scene shifted to Washington, where the avatars of oppressed white Tea Party America, Glenn Beck and Sarah Palin, were slated to "reclaim the civil rights movement" (Beck's words) on the same spot where the Rev. Martin Luther King Jr. had his dream exactly 47 years earlier.
There's just one element missing from these snapshots of America's ostensibly spontaneous and leaderless populist uprising: the sugar daddies who are bankrolling it, and have been doing so since well before the "death panel" warm-up acts of last summer. Three heavy hitters rule. You've heard of one of them, Rupert Murdoch. The other two, the brothers David and Charles Koch, are even richer, with a combined wealth exceeded only by that of Bill Gates and Warren Buffett among Americans. But even those carrying the Kochs' banner may not know who these brothers are.
Calling all HuffPost superfans!
Sign up for membership to become a founding member and help shape HuffPost's next chapter