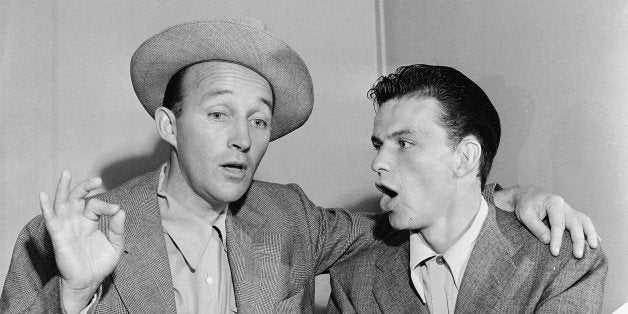 This is Frank Sinatra's centennial year -- the Sirius radio station bearing his name tells us every three minutes. Earlier this year HBO aired a six-hour documentary chronicling his career from the earliest days to his late triumphs. (I've watched it five times.) A Scorsese biopic is rumored to be in some stage of production. Pop culture references to Sinatra abound. Advertisers still use his image and his voice. "Sinatra-cool" is a recognizable phrase. Sinatra imitators make a good living in night clubs and concerts.
But we hear little or nothing about Bing Crosby. Why?
Statistics won't give the answer: Crosby had 43 number-one hits -- more than the Beatles and Elvis put together. His career total of record sales tops one billion albums sold, making him the most popular singer ever. "White Christmas" alone has sold more than one-hundred million copies and is the all-time best-selling single.
In movie ticket sales he ranks just below Clark Gable and John Wayne. For 15 years he was on the list of top ten box office draws. For five of those years he was number one. He won an Academy Award for Best Actor (Going My Way). The "Road" movies he made with Bob Hope and Dorothy Lamour were wildly popular over a period of 22 years. He entertained the U.S. soldiers tirelessly during World War II, and the GIs voted him the person who had done the most for their morale. Life magazine declared in 1945 that, "America's number one star, Bing Crosby, has won more fans, made more money than any entertainer in history....[He] is a national institution."
The age difference won't give the answer either. Crosby was 12 years older than Sinatra, but their careers pretty much overlapped for the 37 years from 1941 to 1977, when Crosby died. They formed a mutual admiration society and appeared together on TV and radio and, most memorably, in the 1960 film High Society. In fact, the two shared a great deal: Both were Academy Award winners and repeat nominees, and both were praised for non-Oscar winning dramatic performances: Crosby for The Country Girl and Sinatra for The Man With The Golden Arm and The Manchurian Candidate; both were Downbeat Poll winners; both raised large amounts of money for charitable causes; both were meticulous musical craftsmen, although neither could read music; both were big jazz fans and could sing jazz when they wanted to; both broke barriers in efforts to counter racism; Sinatra championed and protected Sammy Davis Jr.; Crosby idolized life-long friend Louis Armstrong and acknowledged a debt to Mildred Bailey, who introduced him to the world of African-American music. On the darker side, both were more than a little fond of alcohol.
So again, why the disparity in the degree to which they are remembered? There are, I think, three reasons.
First, the Sinatra legacy is aggressively overseen by his daughters Nancy and Christina Sinatra, who zealously guard and promote his voice and his image. No one, to my knowledge, is doing that for Crosby.
Second, Sinatra's biography seems made for dramatic representation. Crosby's public persona was cheerful and joke-filled, especially when he was clowning around with Bob Hope. The more troubling aspects of his personality were not widely known until after his death, when one of his sons wrote a bitter, tell-all memoir. Sinatra's life, warts and all, was on continuous display for more than fifty years. First came the meteoric rise -- adoring, screaming fans, the marriage to a neighborhood sweetheart, success in every medium, riding high; then the downturn -- loss of popularity, loss of voice, and loss of public approbation when his affair with Ava Gardner became fodder for the tabloids. And then, when he had just about been given up for dead, he got the role of Maggio in From Here To Eternity (with the help of Gardner's lobbying), followed by the Academy Award, a new record contract, the unofficial but very real title of Chairman of the Board, The Rat Pack, the virtual ownership of Las Vegas, the involvement with various mob figures, the involvement with the Kennedys, the feud with the Kennedys (or at least with Bobby), the marriage to Mia Farrow, his son's kidnapping, the divorce from Mia Farrow, fist-fights with reporters, the transformation into a Republican, and a final big hit in "New York, New York." It's more than any soap opera could contain and it all played out in front of a voracious public.
What that public sensed and senses to this day -- and here is the third biggest reason for Sinatra's enduring presence -- is that there seems to be no distance between the life and the art (an intuition supported by Sinatra's writing "I'm a Fool to Want You" during one of the many volatile moments in his relationship with Gardner). When you listen to Crosby, you feel pleasure and admiration: what was called the "golden voice" (a natural instrument superior to Sinatra's) rolls over you in pleasant cascades of sound or picks up your mood when the song is upbeat like "Accentuate the Positive" and "In the Cool, Cool, Cool of the Evening."
But when you listen to Sinatra, it's like tuning into the anguished ruminations of your best friend, or like tuning into your own ruminations as they flood your mind at three o'clock in the morning. Sinatra does not sing about something, but sings that something from the inside out. It's a performance that is at once dramatically spectacular and wholly interior. Whether it's the early, achingly vulnerable voice telling you that "I Fall in Love Too Easily," or the mature swinger who sings "I've got You Under My Skin" with no hint of vulnerability at all despite the song's message, or the world weary I've-been-there-and-it-hurts guy who says to the bartender "One for My Baby and One More for the Road," or the rough-voiced survivor who boasts that "I Did It My Way," the testimony is directly received without the filter of performance and premeditation.
Of course it is a performance and certainly premeditated -- Sinatra was legendary in his attention to the details of his recordings -- but it is the art that hides art, the art that invites you in and opens up a space where you can inscribe your own story alongside the story of the singer. You can make it your way, revisit those times when it seemed your broken heart would never heal, relive those moments of tenderness when love was fresh and promised to last forever, and re-experience the occasional exultation when things are going so well that you want to shout "I've Got the World on a String." It's not that Sinatra is better than Crosby -- he wasn't -- but that he is more useful, more of a resource when something in your life calls out for a summing up you can't quite deliver.
Crosby was a marvel: at the end his voice was nearly as good as it ever was. At his end Sinatra, suffering from dementia, wasn't singing at all, and in the years before his death, he didn't so much sing as declaim loudly, asking gestures and exaggerated intonations to do the work his voice could no longer do. He was a wreck; but he was our wreck, and he still is.
REAL LIFE. REAL NEWS. REAL VOICES.
Help us tell more of the stories that matter from voices that too often remain unheard.