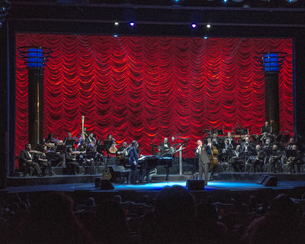 Before Frank Sinatra died he gave a bunch of music to his long-time musical director Vincent Falcone and said, "Vinnie, just keep the music going, that's all." Honoring Sinatra's wishes, Bob Anderson, deemed by People magazine as "America's greatest singing impressionist," is performing at The Palazzo Theatre in Las Vegas in Frank: The Man, The Music. Set on the same grounds as the old Copa Room in the Sands Hotel where Sinatra and many others from his era once ruled Las Vegas, the show is a concert, complete with a 32-piece orchestra lead by Falcone.
"It's a revisiting of Vegas in the days of the '60s, '70s and early '80s," Falcone, who started working with Sinatra in December 1975, says. "It's a recreation of some of the finest music this country has ever produced. These songs that we are doing established what is now known as The Great American Songbook."
Backstage Falcone and Anderson sit and regale each other with stories from the past. On this particular day they're in Anderson's cozy and organized dressing room. As Anderson is in the middle of telling the story of when he first met Sinatra, he turns to Falcone and says, "Remember that older lady who used to know Sinatra really well?"
"Oh, yeah! She's dead now," Falcone recalls. "She was a doll."
Minutes pass and Anderson falls into another story. Suddenly he yells, "Eleanor!"
"Yes! Eleanor Russell!" Falcone laughs.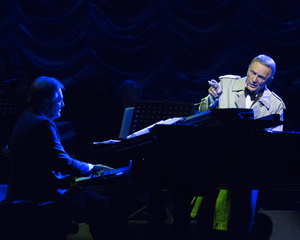 It's evident their bond goes back to the early '70s when Falcone was working the Tender Trap, a jazz club in Vegas. Anderson would drop by and listen. Eventually Falcone received a call from Anderson's cousin asking if he would direct him at the Sahara. It was then their lasting friendship began.
For the past two years Anderson has been working on bringing Frank: The Man, The Music to the Strip. The show coincides with what would have been Sinatra's 100th birthday. When he hits the stage he becomes Frank Sinatra, but the process starts in the makeup chair where Academy Award-nominated makeup artist, Kazu Tsuji, begins the transformation. Initially it took two hours, but Anderson says they've gotten it down to an hour and 15 minutes. Once that's complete, Anderson has a few sips of wine, puts on his tuxedo, takes a look in the mirror, and heads to the stage where he feels the excitement from the moment he sees the orchestra and hears the overture play. Other than perpetuating the magic that is Sinatra, Anderson has greater mission.
"We wanted to do a show that would allow the younger generation to step back in time and see what show business was like," Anderson says. "They can leave their world of all high-tech gadgetry and stuff and come back for 90 minutes and experience something they've never seen before. What I've found to be true about this generation is that if you show them something that they haven't seen, they will watch it."
Although many have referred to the show as a tribute, Anderson refrains from using the word. He prefers to think of it as a "theatrical production; a reenactment."
"The goal of this show was to be as authentic as we possibly could. I stay away from caricature," says Anderson. "If I had to work at doing Frank Sinatra, I couldn't do it. If it didn't come naturally I'd be aware of everything I was doing, and it would be exaggerated."
Becoming Sinatra is something Anderson has been working on his whole life. A native of Michigan, he grew up with seven siblings. His older brother had a lot of Sinatra records, and Anderson would listen and try to sing as close to Sinatra as he could. At 20 he set his sights set on Los Angeles. He took Route 66 in his old Volkswagen and wound up in Las Vegas. Having no money, he slept in his car for three days. While in Vegas he was invited to sit in on a rehearsal for Nancy Sinatra and The Everly Brothers at the Sahara. As fate would have it, The Everly Brothers got in a fight with each other and Ms. Sinatra was left without an opening act and someone to sing with on duets. After making several unsuccessful phone calls to performers, Anderson stepped up and informed everyone in the room he was a singer and knew all of the duets. They took a chance on him, and a Vegas star was born. Eventually he met Merv Griffin, who noticed his ability to do impressions of famous singers, including Tom Jones, Johnny Mathis and Engelbert Humperdinck, and he became a frequent guest on his talk show. Anderson never looked back.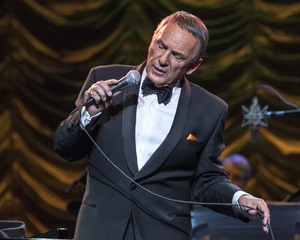 Still, after all he's accomplished in his career, he says this show is what he's the most proud of. In spite of all the people who impersonate Sinatra, Anderson believes in what he does and has no hesitation calling the show the "quintessential Sinatra production in the world." However, he admits that when he first started doing the show he worried how audiences and the press were going to respond.
"I thought they were going to think, 'Who the hell does this guy think he is?' Yet, they are accepting it. The first couple of songs they don't know what to make of it yet, but by the third or fourth song, they go along for the ride," he says.
Falcone beams with pride, too. Thinking about how his old friend and boss would feel about this show he says, " I know he would be proud. He'd be our biggest advisor. He wanted this to happen. He wanted to music to go on."
REAL LIFE. REAL NEWS. REAL VOICES.
Help us tell more of the stories that matter from voices that too often remain unheard.