If you've ever wished you could step in time -- specifically to Las Vegas in the 1960s -- to see Frank Sinatra perform, now's a good time to make your way to Sin City. A newly opened show, Frank: The Man. The Music, is a stylish homage to the man many would argue was the greatest singer of the 20th century. This recreation of a Frank Sinatra concert in the 1960s is playing at the Palazzo Theatre through the end of the year.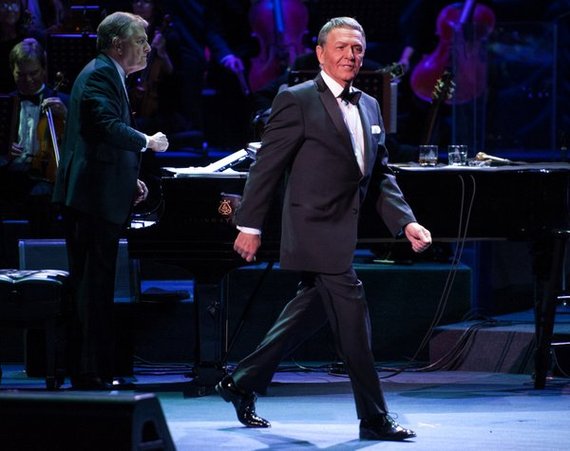 Frank stars Bob Anderson, a veteran singer with nearly 30 years of experience performing in Vegas. Now he's spending two hours in a makeup chair before each show for an application of Sinatra makeup devised by Kazu Tsuji, the Hollywood makeup artist who transformed Brad Pitt for The Curious Case of Benjamin Button.
The singer's joined on stage by Sinatra's former music director, Vince Falcone, and a 32-piece orchestra. Anderson's impersonated numerous famous singers during his career, among them Dean Martin, Sammy Davis Jr., Tony Bennett, Tom Jones, and Louis Armstrong. Dean Martin, himself a fan of Anderson, once said, "Bob does me better than I do me."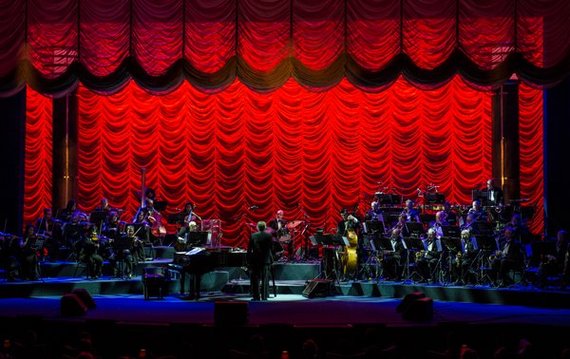 In a city like Vegas, which is constantly changing and updating itself, it's a pleasure to find a show that's new, yet tips its hat to history. The Palazzo Theatre was built on the site of what was once the Sands Hotel's Copa Room, a venue that was ground zero for numerous show-biz legends of the latter part of the 20th century, including, most famously, Sinatra and the rest of the Rat Pack.
I went into the show with high hopes, but unsure of what to expect. I'm a big Sinatra fan but I'm not one to seek out tribute shows. Sinatra had a singing style all his own, with intonations that were precise yet flowing, along with unique gestures and mannerisms that don't seem easy to inhabit, but Anderson captures Sinatra beautifully, in a show that's a respectful tribute, not satire.
He began the show with "Fly Me to the Moon," then proceeded to sing about two dozen more beloved Sinatra songs, including "Luck Be a Lady," "I've Got You Under My Skin," and "Strangers in the Night." Anderson and the band change things up with a break from the concert format for a bit to visit a typical Sinatra recording session at Capitol Records' legendary Studio B. I spoke to Anderson after seeing his show at The Palazzo.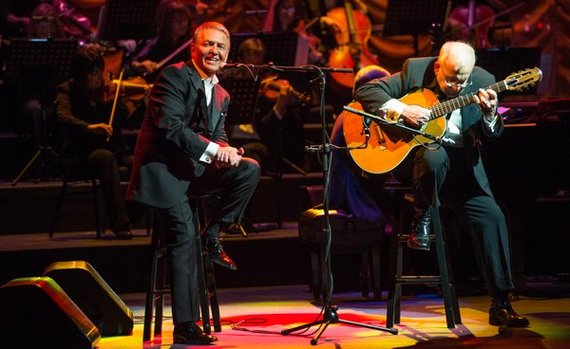 What made you decide to do the show now?
It's the millennium of Sinatra's birth. Tony Bennett's still around, touring with Gaga. He's so cool, so good, but every generation loves Sinatra. When I came back to Vegas last year, people were happy I was back 'cause they want that kind of music on the Strip - there's room for it. There's the Cirque shows and Britney Spears, but there also has to be room for Sinatra. I did a Sinatra showcase and the response was overwhelmingly positive. I try to bring people back to that period: leave your world of high-tech gadgets and see what it was like to see Sinatra, the atmosphere. I've talked to people in their twenties and they're thrilled. If it's quality, they'll dig it. I'll work my butt off to make this work. My intention is to make this the must-see show on the Strip, then go on to the West End and Broadway.
What do you think makes Frank Sinatra so special? 
His phrasing was so unique. He was the biggest contributor to the Great American Songbook. Johnny Mercer and Cole Porter loved and respected him so much as he was the greatest interpreter of their songs. Sinatra was cool.
Were you involved in conceptualizing the show?
I started to write the script and the business plan three years ago, and I wanted it here because this is where The Sands was. The Copa Room at The Sands is the most historic supperclub in the world.

You seem so comfortable with the band. How long did you rehearse the show?
I've worked on this two hours a day, four days a week. I have a big screen, 8'x10', with mirrors, and I'd get up at 6am, get in the mood and watch Sinatra videos and sing along, just to see his personality.
Is it intimidating to portray such an icon?
I've done a few shows now so I'm relaxed. I can be Frank, but it was kind of intimidating to take on the persona, the voice, and his ability to say nothing.
That was the greatest musical period, with Sammy and Frank and Judy and Ella and Motown, but unless your parents played it you're not likely to be aware of it. Advertising now is marketed to the young generation. People don't even know who Tom Jones is. Even Michael Jackson, who was so talented, doesn't get played as much as he should. It's a tough market.
It was great to see people so dressed up at your show.
People were dressed up so elegantly. Even the valet guys noticed. The restaurants are happy this is happening. People want to dress up and they want a reason to do so.
Is it difficult to impersonate Frank?
I've done Sinatra for a long time but it wasn't a piece of cake. It's one thing to do some Sinatra music at a club, but to really try to do Sinatra with a 32-piece band is quite a different thing.
What would you like people to know about the show?
People ask me, why'd you leave that song out? Well, there's 1200 Sinatra songs and 1196 of them are great. So I included a medley. I want them to know I'm covering his four decades of enormous popularity. At least 15 of the musicians in in this show played with Frank Sinatra. I want the audience to leave the show with a feeling of what quality in the music industry was.
Calling all HuffPost superfans!
Sign up for membership to become a founding member and help shape HuffPost's next chapter