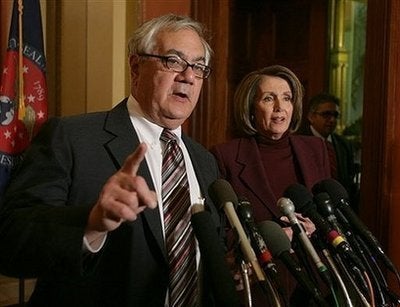 Rep. Barney Frank plans to call the heads of major bailed-out banks to testify before his committee next week, two aides to the House Financial Services Committee chairman said. [Update: See the list of invited bankers below.]
Frank, a Massachusetts Democrat, has been a vocal proponent of using federal dollars to stabilize the financial system, but has also been a harsh critic of bankers who have refused to provide Congress with information as to how the bailout funds are being used. He has also been sharply critical of the Bush administration's use of the first half of the bailout funds, charging that it failed to oversee the program properly and didn't use the funds to address the foreclosure crisis as Congress had intended.
A committee aide said that the hearing, tentatively scheduled for Wednesday, Feb. 11, is still being planned and that a full witness list has yet to be compiled. Frank has long promised to bring bank heads before his committee to call on them to explain how the funds have been used.
For Frank and other backers of the bailout, known as TARP, or the Troubled Asset Relief Program, the problem is that its purpose is to prevent a total collapse of the global financial system. Because of the way politics works, it's difficult to get credit for preventing harm rather than doing good.
"It's like wearing dark pants and pissing down your leg," Frank said before the bailout vote in October. "It gives you a warm feeling, but no one knows you did it."
Lawmakers' hope had been that the rescue package would save the financial system from collapse and also return some liquidity to the credit market. While it has (so far) prevented collapse, lending remains at low levels.
Congress recently approved dispersal of the second half of the $350 billion in TARP funds. President Barack Obama is reportedly planning to tell Congress how he intends to spend that half once the stimulus bill has passed. Obama officials have indicated that more funds may well be needed beyond the original $700 billion.
Mr. Lloyd C. Blankfein, Chief Executive Officer and Chairman, Goldman Sachs & Co.
Mr. James Dimon, Chief Executive Officer, JPMorgan Chase & Co.
Mr. Robert P. Kelly, Chairman and Chief Executive Officer, Bank of New York Mellon
Mr. Ken Lewis, Chairman and Chief Executive Officer, Bank of America
Mr. Ronald E. Logue, Chairman and Chief Executive Officer, State Street Corporation
Mr. John J. Mack, Chairman and Chief Executive Officer, Morgan Stanley
Mr. Vikram Pandit, Chief Executive Officer, Citigroup
Mr. John Stumpf, President and Chief Executive Officer, Wells Fargo & Co.
Popular in the Community