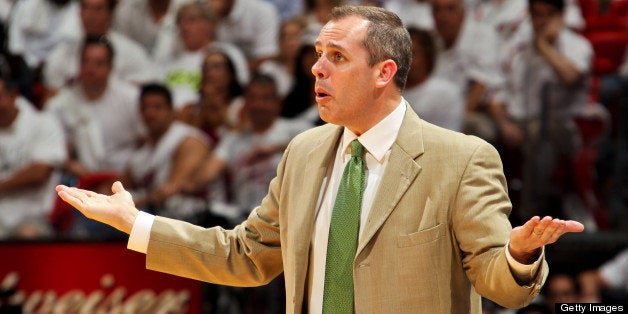 A vital element of NBA Playoff basketball is breaking down end of game decisions.
In the case of Game 1 of the East finals, the most vital -- and costly -- decision occurred when Indiana head coach Frank Vogel took out center Roy Hibbert on two consecutive defensive possessions in overtime. Vogel's intentions were clear; Hibbert, despite being an elite rim protector who allows under 40 percent shooting at the rim, per ESPN, could potentially have been a liability against Miami's smaller lineup. Both times however, the Heat found driving lanes and an open rim without him on the floor.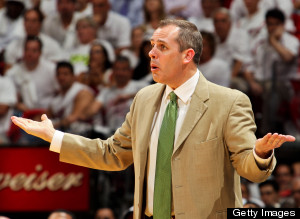 Pacers coach Frank Vogel told reporters "I would say we'll probably have him in next time," after the Game 1 OT loss. (Getty Images)
"I would say we'll probably have him in next time," Vogel said after the Pacers' 103-102 defeat. Paul George added: "[Hibbert] does an amazing job of protecting the rim. I'm 100 percent sure he would've been there."
But hindsight is 20-20 and the bottom line is that Indiana -- after a gift-wrapped win thanks to a perplexing Dwyane Wade foul on George's desperation three-point attempt -- blew a golden opportunity to steal home court advantage away from the rusty Heat.
The mistake that Vogel made was letting Eric Spoelstra dictate his lineup. Spoelstra used marksman Shane Battier as a decoy four-man to spread the floor and also utilized Chris Bosh as his five-man. More importantly, LeBron's eyes lit up like a kid whose about to bust open his first piñata. Of course on paper, Bosh, another terrific shooter, would extend Hibbert away from the hoop and therefore mitigate his ability to protect the paint. But Indiana defended the three-ball better than any team in the league this year for a lot of reasons, and having Hibbert in the paint was as vital as any. Remember, it was Hibbert's massive block on Carmelo Anthony that helped seal Indiana's upset over the Knicks in Game 6 of the second round.
As this series progresses, Vogel will once again be faced with the decision to defend Miami's small ball, spread attack by either countering with quickness or relying on Hibbert and the rotations of a defense that ranked second in points allowed and dominated efficiency-wise during the entire regular season.
Email me at jordan.schultz@huffingtonpost.com or ask me questions about anything sports-related at @Schultz_Report.
Popular in the Community