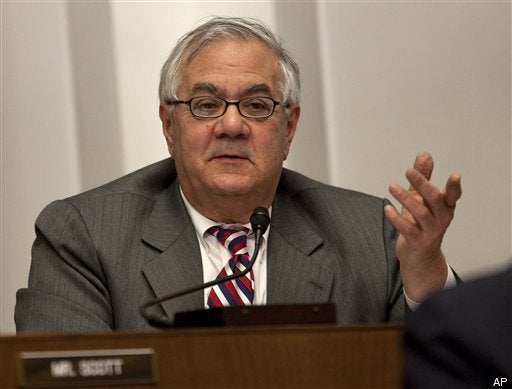 The House and Senate have reached "conceptual agreement" on strengthening what's known as the Volcker Rule in the Wall Street reform bill, House Financial Services Chairman Barney Frank (D-Mass.) said after a conference committee hearing Thursday.
The Volcker Rule restricts major banks from trading taxpayer money for their own profit. The Senate version would leave the decision of whether to bar such trading up to regulators. The House bill would empower regulators to do so, but would give no direction. Advocates of a strong Volcker Rule fear that without direction, regulators won't act.
Sens. Jeff Merkley (D-Ore.) and Carl Levin (D-Mich.) were amassing support for a tough Volcker Rule in the Senate when Wall Street lobbyists succeeded in blocking it from being considered.
Frank said that conference negotiators were moving in the direction of Merkley and Levin's amendment. "I think there's conceptual agreement. You have several things: You have tough regulation of derivatives, which I prefer much of what the Senate did. You're going to have a tougher version of the Volcker Rule." A reporter asked what the tougher rule would look like.
"I would say the general direction that Senators Merkley and Levin were moving in is a direction a lot of people are supportive of, but the final version, we'll see. It will be tougher than the House. The House simply empowers the regulators. There will be some direction" given to regulators, he said. Conceptual agreements, of course, are much different than final agreements on financial regulatory reform.
The conferees meet again on Tuesday to debate titles three, four, five and nine, dealing with the merging of regulators, insurance regulation, private funds and credit rating agencies.
REAL LIFE. REAL NEWS. REAL VOICES.
Help us tell more of the stories that matter from voices that too often remain unheard.