These days, Frank Wedekind is best known as the author of Spring Awakening. His 1891 play about teenage sexuality was turned into a smash-hit by Duncan Sheik and Steven Sater. Their long running Broadway musical won eight Tony awards and has been performed all over the world.
Before Spring Awakening, Wedekind (1864-1918) was best known for his Lulu plays. Those two "Lulu" plays, Earth Spirit (1895) and Pandora's Box (1904), were originally conceived of as a single work. Called a "monster tragedy," the Lulu plays tell the story of an alluring, somewhat petulant show-girl who rises in society through her relationships with wealthy, lustful men -- like "moths around a flame." Eventually, after a series of unfortunate events, she falls into poverty and prostitution. The play's frank depiction of sexuality and violence, including lesbianism, murder and an encounter with Jack the Ripper, pushed the boundaries of what was then considered acceptable literature.
Despite their provocative subject matter, the Lulu plays are among the most performed and adapted early 20th century dramas. There were two silent films, and as many as a dozen later movies and TV films based on Pandora's Box alone. Alban Berg's acclaimed opera, Lulu (1937), was based on Wedekind's work. As were the works of numerous other writers, poets, performance artists, comic artists, and rock musicians who found inspiration in the German playwright's words. Rufus Wainwright's All Days Are Nights: Songs for Lulu (2010) and the Lou Reed-Metallica collaboration, Lulu (2011), are two recent examples.
On Sunday, March 25th the Callanwolde Fine Arts Center in Atlanta, Ga. along with the Atlanta Chapter of the American Theatre Organ Society will screen the second film version of Pandora's Box, which stars Louise Brooks as Lulu. Ron Carter, silent film accompanist and Callanwolde House Organist, will accompany the film on Callanwolde's 60-rank Aeolian organ using the instrument as a symphony orchestra.
Pandora's Box is a film which can still shock and enthrall, even 80-plus years after its release. It is also a film whose reputation has ridden a roller-coaster of scorn and acclaim.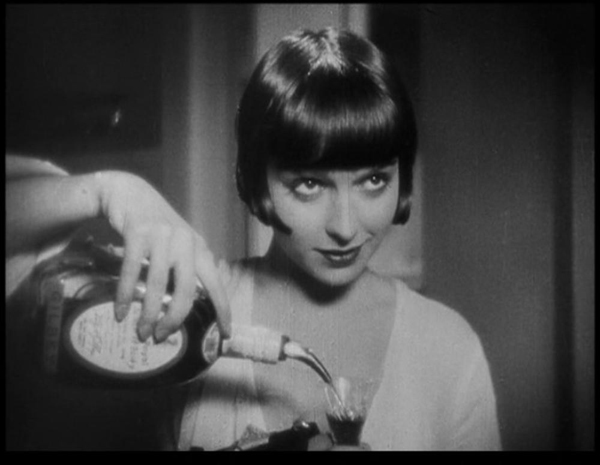 Booze, sex, murder, mayhem: Louise Brooks as Lulu in Pandora's Box.
Image courtesy Callanwolde Fine Arts Center
Pandora's Box made its world premiere in February of 1929 at the Gloria-Palast in Berlin; German reviews of the time were mixed. When Pandora's Box opened at a small art house in New York City in December of that same year, American newspaper and magazine critics were also ambivalent, even hostile.
Photoplay, one of the leading fan magazines of the time, noted "When the censors got through with this German-made picture featuring Louise Brooks, there was little left but a faint, musty odor. It is the story, both spicy and sordid, of a little dancing girl who spread evil everywhere without being too naughty herself. Interesting to American fans because it shows Louise, formerly an American ingénue in silent films, doing grand work as the evil-spreader."
Mordaunt Hall, critic for the New York Times, famously wrote, "Miss Brooks is attractive and she moves her head and eyes at the proper moment, but whether she is endeavoring to express joy, woe, anger or satisfaction it is often difficult to decide." Quinn Martin, critic at the New York World, echoed Hall's remarks when he stated, "It does occur to me that Miss Brooks, while one of the handsomest of all the screen girls I have seen, is still one of the most eloquently terrible actresses who ever looked a camera in the eye."
Variety put the nail in the coffin when its critic opined "Better for Louise Brooks had she contented exhibiting that supple form in two-reel comedies or Paramount features. Pandora's Box, a rambling thing that doesn't help her, nevertheless proves that Miss Brooks is not a dramatic lead."
Lulu has been described as a vamp or femme fatale, but in fact, she is a kind of naive, almost innocent character. As Brooks biographer Barry Paris put it, her "sinless sexuality hypnotizes and destroys the weak, lustful men around her." And not just men... Lulu's sexual magnetism knows few bounds, and this once controversial film features what may be the screen's first lesbian character.
At times, this G.W. Pabst-directed film -- heavily censored in its day and still incomplete -- can come off a little heavy handed, almost like melodrama. In Pandora's Box, Brooks nevertheless reveals her considerable gifts as an actress through an individualized interpretation of her otherwise archetypical character. And largely because of Brooks' sensational performance, this more than 80 year-old film now enjoys a large reputation. Today, Pandora's Box is widely considered not only Brooks' best work, but one of the great masterpieces of the silent film era.
What is it that continues to attract contemporary viewers to Pandora's Box, and to its singular star? Perhaps, the answer lies in our ability to see beyond the film's melodramatic trappings, and to appreciate qualities found beneath its celluloid skin.
Lottie Eisner, the great German film critic, once described Brooks as "An astonishing actress endowed with an intelligence beyond compare." While Kevin Brownlow, the Academy Award-winning British film historian, described the actress as "One of the most remarkable personalities to be associated with films." Louise Brooks is certainly both of these, and more.
Those who catch the film Sunday night in Atlanta will be able to judge for themselves.
Thomas Gladysz is an arts journalist and silent film enthusiast. He is also the founding director of the Louise Brooks Society, an online archive and international fan club devoted to the legendary film star. Gladysz has organized exhibits, contributed to books, appeared on television, and introduced the actress's films around the world.
Popular in the Community