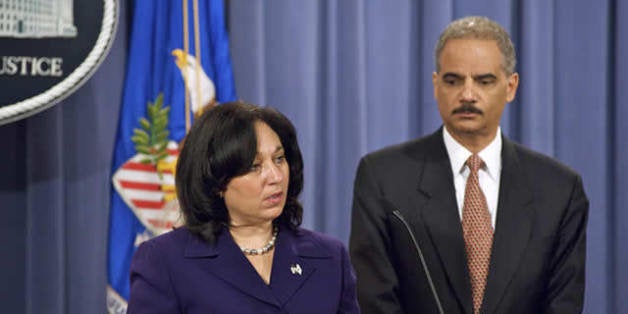 WASHINGTON -- Rep. Frank Wolf (R-Va.) this week jumped to the defense of Michele Leonhart, the Drug Enforcement Administration head who has recently been out of step with the Obama administration on drug policy and sentencing reform.
But Wolf, who chairs the House Appropriations subcommittee that funds the Department of Justice, said it troubled him that the Justice Department might be putting pressure on Leonhart, whom he described a "career civil servant" despite the fact that she serves in a politically appointed position.
"Having served in the Nixon Administration, I am well aware of how the political leadership of an administration can try to politicize the civil service, including law enforcement," Wolf wrote. "This article suggests a similar 'Nixonian' effort to pressure a career law enforcement leader into changing her congressional testimony and public comments to fit the narrative of the administration. I am deeply concerned and hope you will correct the record if the information reported was inaccurate."
In contrast to Leonhart, FBI Director Jim Comey, a Republican who served as deputy attorney general under George W. Bush, indicated on Wednesday that he was open to legislation that might roll back the length of particular mandatory minimums, though he didn't express his view on any specific piece of legislation.
"I don't have a particular view on what the exact mandatory should be and what the incentives that will flow from that will be," Comey said in response to a question from Sen. Dick Durbin (D-Ill.) during a Senate Judiciary Committee hearing. "What you're saying makes sense to me in principle. I think it's always important to look at our justice system and say can we be smarter about the way we approach things without watering down the deterrent effect."
Holder told The Huffington Post that he believes it's the guarantee of a sentence, rather than the length of one, that induces a defendant to cooperate.
"I've been a prosecutor since 1976, I understand the notion of starting at the bottom and working your way up, and I would never put in place a system that would undercut that fundamental part of our law enforcement system," Holder said. "And yet I think we can be smarter. We don't have to put people in jail for 10 and 15 years. You could have sentences that are substantially shorter that will, necessarily, continue to induce the kind of cooperation that we need."
In his letter to Holder, Wolf was unequivocal in his praise for Leonhart, who joined the DEA in 1980 and was first put into a top leadership position within the agency by former President George W. Bush.
"I have been very impressed with Administrator Leonhart's leadership of the DEA and have full confidence in her," Wolf wrote. "She has done an outstanding job leading this agency during a challenging time. I know many others in Congress agree. She has dedicated her career to law enforcement, serving as a Baltimore city police officer before becoming a DEA agent. Her record is one of service and integrity, and I know Congress appreciates her honest and forthright testimony."
In a handwritten note at the end of his letter, Wolf also congratulated Holder for his work on the Chinese spying case announced by the Justice Department this week.
Calling all HuffPost superfans!
Sign up for membership to become a founding member and help shape HuffPost's next chapter
BEFORE YOU GO
PHOTO GALLERY
United States Governors