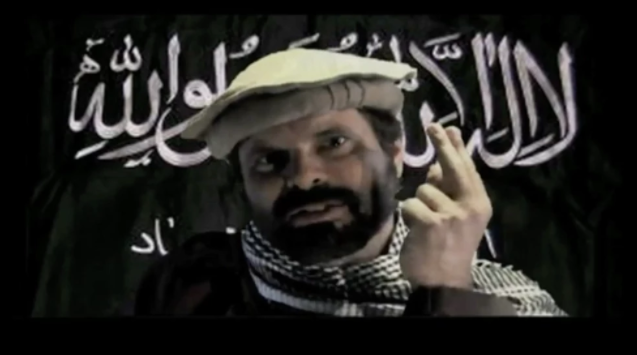 A White House senior adviser at the Department of Homeland Security once said that "true" Muslims can't peacefully "coexist" or "mingle with other faiths," it was revealed in a report this week.
The strikingly Islamophobic remarks were made by Frank Wuco, a former radio host and veteran naval intelligence officer who frequently appeared as a pundit on far-right radio and TV shows before being appointed to the White House by President Donald Trump in 2017.
During an August 2010 appearance on "The Willie Lawson Show" on Blog Talk Radio, Wuco presented himself as an expert on "true" Islam, according to audio unearthed Monday by the liberal media watchdog group Media Matters for America.
"[There's] a critical misunderstanding of the true nature of Islam, which was never intended to coexist, to complement, to mingle with other faiths," Wuco said during that appearance. "It is clearly stated in the law, in the traditions, in the Quran, that Islam is here to abrogate all faiths that came before, was sent to abrogate and cleanse the corruption of the Jews and the Christians that are found in the previous scriptures."
During a July 2012 appearance on a radio program called "Erskine Overnight," also unearthed this week by Media Matters, Wuco can be heard arguing that "so many have bought in hook, line, and sinker into the Muslim propaganda, particularly generated by the Muslim Brotherhood, that this is a — yeah, it's a religion that seeks cohabitation and tolerance and peace with non-Muslim faith groups and nationalities and it just simply is not true."
"To say that Islam is willing to coexist peacefully with other religions and other sort of nationalities, if you can have such a thing in Islam, is really antithetical to what the Quran and what Sharia law teaches," he added.
As a senior White House adviser, Wuco has a role in developing national security policy, and has been charged with helping enforce Trump's constitutionally dubious Muslim ban. Wuco, the White House and the Department of Homeland Security did not respond to requests for comment on this story.
In statements to HuffPost, Muslim scholars and civil rights groups roundly condemned Wuco's remarks.
"First of all, we would need ask him whether he still believes bigoted and Islamophobic things about Muslims and Islam," said Ibrahim Hooper, national communications director at the Council on American-Islamic Relations. "My assumption is that he still believes these things. Anyone who believes that an entire faith or religious minority in America is incompatible with our society should not be serving anywhere in our government or be advising our government."
John Esposito, a professor and founding director of Georgetown University's Bridge Initiative, noted that Wuco's remarks demonstrate "an ignorance of the faith and history."
A majority of Muslims, he said, according to "findings of major polls conducted by Gallup, PEW and other polling organizations in Muslim-majority countries and in the US and Europe... reveal consistency in the values held by Muslims and mainstream followers of other religions."
Scott Simpson, public advocacy director for the civil rights group Muslim Advocates, said Wuco "is the kind of bigoted, hostile, conspiracy-theory pushing official who is simply incapable of governing our diverse nation."
"DHS is one of the key agencies implementing the Muslim ban and anyone who still doubts that anti-Muslim animus is a driving force behind the ban should take a look at Wuco's record," Simpson said.
The Trump administration, which last week marked its first anniversary, has been flush with anti-Muslim bigots. Former chief strategist Steve Bannon, Attorney General Jeff Sessions, CIA Director Mike Pompeo, former national security adviser Sebastian Gorka, White House aide Katharine Gorka, senior policy adviser Stephen Miller, White House counsel Kellyanne Conway and former national security adviser Michael Flynn all have close ties to anti-Muslim organizations listed as hate groups by the Southern Poverty Law Center.
In 2010, writing on the website of "Need To Know" ― a radio show hosted by Wuco that is now off the air ― Wuco insisted that Muslims around the world are "perfectly happy to subjugate and humiliate non-Muslim members of their societies."
Muslims who live in the West, he claimed, "will make every effort to establish independent rule for their enclaves under Sharia law, using violence to secure what they believe to be their divinely revealed right; the eventual subsuming of all that lies outside the dar al-Islam (House of Islam), until all is within it; until all is consumed by Islam in preparation for God's final judgement of man."
As recently as 2016, during an appearance on the radio show "The Dougherty Report," Wuco falsely claimed that Sweden is being overrun with violent Muslims.
"The assertiveness of Muslim communities in Western nations is becoming so pronounced... you don't even need ISIS in Sweden," he said.
"You've got everyday run-of-the-mill Muslims in massive communities protesting and becoming violent with the Swedish government, saying that they're going to take over the country," he continued. "This isn't even ISIS. These are just peace-loving Muslims who have been allowed to immigrate into these countries."
Wuco also worked as a "security consultant" prior to his time in the White House, delivering bizarre lectures to the American military. Wuco, who is from Florida, frequently affected an Arabic accent during these lectures, role-playing as a fictional character named Fuad Wasul ― a "committed jihadist" who'd supposedly escaped from an American prison.
"If you think you're winning this war, if you think that you're defeating jihad, you're wrong, dead wrong," Wuco once told a group of civilian intelligence analysts at MacDill Air Force Base in Florida.
At various points during his career as a pundit, Wuco called for a mosque surveillance program, described a ban on Muslims entering the U.S. as a "great idea," and said he would have dropped nuclear bombs on Iraq and Afghanistan after the Sept. 11 attacks.
In July 2011, according to audio obtained by CNN's KFile, Wuco ― like many other anti-Muslim bigots at the time ― speculated that a terror attack in Norway that had left 77 people dead was almost certainly the work of Muslims.
A short time later, however, the murderer was revealed to be Anders Breivik, a white supremacist enamored with American anti-Muslim extremists like Robert Spencer, Frank Gaffney and Brigitte Gabriel — all of whom, incidentally, have appeared as guests on radio shows hosted by Wuco.
In audio clips recently obtained by KFile, Wuco can be heard advancing other forms of bigotry: promoting the racist conspiracy theory that President Barack Obama was born in another country, denouncing the supposed "Zimbabwe-ficiation" of America, and mocking the LGBTQ community.
Wuco, according to another Media Matters report, once claimed that "societies and nations for millennia have suffered greatly" for accepting LGBTQ people.
America does not do a good job of tracking incidents of hate and bias. We need your help to create a database of such incidents across the country, so we all know what's going on. Tell us your story.
Popular in the Community