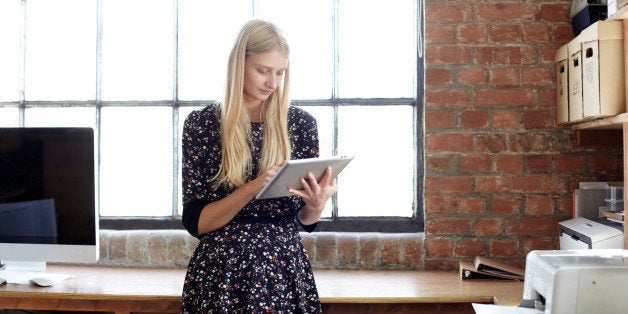 I watch a lot of HGTV with my wife. It's a sort of penance for watching sports -- the yang to my NFL ying. So I'm exposed to a lot of "design." I have watched dozens of designers re-design broken homes. And while they do make those homes work better, they seem to rely on lots of slick finishes and design parlor tricks.
We live in a new era of "design." Target teams up with Jason Wu and Phillip Lim. Project Runway turns fashion design into a competition. And every celebrity from Vanilla Ice to Jennie Garth has their own HGTV show.
So much design, so little, though, that's sublime. A couple of months ago, I woke up in a house designed by a genius, and I felt the difference. It was an odd and wonderful feeling, considering where I had awakened the last 17,000 or so days -- in houses designed -- that might be too strong a word -- by ordinary schmoes. Houses like the ones almost all of us here in America wake up in every day.
I was staying in a house designed by Frank Lloyd Wright in Willoughby, Ohio just outside Cleveland. The house was built in 1952 for the Penfields, an ordinary couple, for what was then an ordinary amount of money -- $25,000. It was one of about a hundred Usonian houses Frank Lloyd Wright designed for everyday folks -- modest, small homes constructed of inexpensive materials. In fact, the Penfield House is built from concrete blocks with a cement floor and a material that was relatively new at the time -- dry wall. The house is mostly one large rectangle of living space on the first floor with no walls to divide kitchen from dining room or living room. There's a large simple stone fireplace in the middle of the room. The first floor can't be more than 600 or 700 square feet. And the second floor is a smaller rectangle divided into three small bedrooms and one small bath.
But great design transcends its materials and dimensions. The house is a marvel of symmetry. Slender, delicate lines divide the windows, dissecting the nature outside into long frames that guide your view upward. The concrete floor is divided into large squares that perfectly mirror the wooden beams that box the ceiling. It is a world of absolute linearity.
The beds are small and not particularly comfortable. In fact, none of the Frank Lloyd Wright furniture in the house is comfortable. And yet I woke up remarkably calm and refreshed. I can only attribute it to the perfect design of the house.
I always thought organic shapes were the most calming. The zen of a circle with no beginning or end point, the shape of the womb, of the earth, mother, protector. But I was wrong. It's order that calms the human soul.
The house combines the certainty of a spreadsheet with the mystical joy of a beautiful mathematical equation. I spent the weekend in a place that made perfect sense. Anything seemed possible.
And then the weekend ended, and my wife and I drove home past buildings that were rectangles without spirit and down our street of houses with haphazard angles, made of lines that meet not with joy but with a sense of resignation.
I spent the next week wondering what might have happened had Frank Lloyd Wright's Usonian vision won over post World War II America. What if two generations of Americans had toddled around geometrically perfect houses, thrown their tantrums into a world of order, spilled their sippy cups onto tiled floors that mirrored the lines of the ceiling, daydreamed out of windows that ordered the world outside into manageable panes of reality? Would they be better at math? More open to great music? Would there be less violence? Fewer dysfunctional families? A smaller number of divorces? Would there be less suburban sprawl? More civility?
I know how Frank Lloyd Wright would answer that question. And maybe he'd be right. Great design may not solve all our problems, but it has the power to calm the soul and to make us want to live better, cleaner lives.