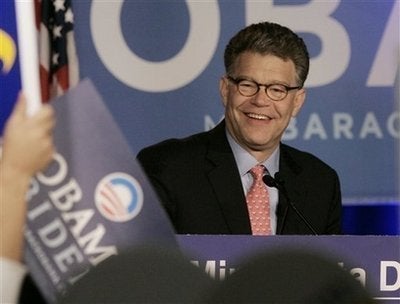 Al Franken's campaign announced on Wednesday that, for the first time since the Minnesota recount began, the Democrat has actually pulled ahead of Republican Sen. Norm Coleman.
Speaking on a conference call with reporters, Franken's chief counsel Marc Elias said the campaign's own internal count showed them up 22 votes, a jump from the 13 vote deficit that they faced on Tuesday.
"We have approximately 138,000 ballots left to count," said Elias. "94.3 percent of the state has now been counted... Obviously that number is going to change, but we are pleased thus far with how things are going."
If true (the official state and newspaper numbers show a margin more favorable to Coleman, owing to the many challenges each campaign has logged), the tally underscores just how incredibly close the Minnesota race has become. On Wednesday, the state will go over ballots from Wright County -- a largely Republican area that could thrust Norm Coleman back into the lead.
Indeed, observers of the recount process and even members of both campaigns are bracing themselves for the near certainty that the courts will become involved. Among those aspects of the recount that have been or seemed destined to be legally debated: rejected absentee ballots (of which the Franken campaign says there are some 1,000 that should be counted), missing ballots (171 of which emerged in Ramsey County on Tuesday), and the pool of ballots that the campaigns have contested.
The last group has been building up into the thousands, as both candidates have filed both legitimate and frivolous objections. On the Wednesday conference call, however, Elias said that the Franken campaign would withdraw roughly 600 of their challenges.
UPDATE: Talking Points Memo's Eric Kleefeld explains why the withdrawn 600 challenges could be significant... from a PR perspective.

Popular in the Community