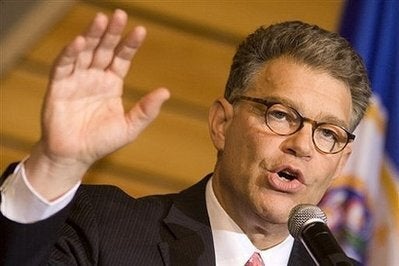 The Minnesota Senate race remains undecided, separated by a margin of less than 500 votes. But despite the narrowness of the contest -- and the fact that recounts are required by state law for races where the margin is less that one half of one percent -- Norm Coleman has declared victory. Moreover, he has cast doubt on the expedience of a recount.
"I recognize that because of my margin of victory, Mr. Franken has the right to pursue an official review of the election results," the Republican Senator said during his speech Tuesday evening. "It is up to him whether such a step is worth the tax dollars it will take to conduct."
If I were trailing, "I would step back," he added. "I just think the need for a healing process is so important [and] the possibility that any change magnitude is so remote."
Democrats, naturally, are fuming. Arguing that any re-examination of the exact vote would chip into Coleman's current 462-vote lead, they also point to history as an ally.
Just two years ago, the initial tally in the St. Louis County Attorney's race was reversed after a recount. Allen Mitchell, the incumbent, held a 53-vote lead after approximately 80,000 cast - a percentage of victory margin larger than what Coleman holds over Franken. An automatic recount, however, ended up flipping the results, giving the contest to Mitchell's challenger, Melanie Ford by 88 votes.
Franken is hoping for a similar fate. The Democratic challenger has instructed the state that he wants a recount, citing voting problems in favorable counties.
"We won't know for a little while who won the race, but at the end of the day we will know the voice of the electorate is clearly heard," Franken said. "This has been a long campaign, but it is going to be a little longer before we have a winner."
The end result is that Minnesota and Congress likely won't know the result of the election for several weeks. Secretary of State Mark Ritchie, a Democrat, put the date of finalizing a number as sometime in December.
Calling all HuffPost superfans!
Sign up for membership to become a founding member and help shape HuffPost's next chapter