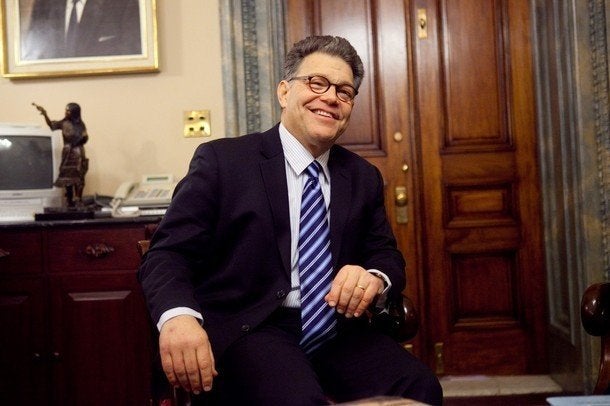 After operating largely under the radar during his first few months in office, Sen. Al Franken (D-Minn.) is slowly beginning to make political ripples.
On Tuesday night, the Minnesota Democrat got his first piece of legislation passed by the United States Senate via roll call vote. The amendment stopped federal funding for those defense contractors who used mandatory arbitration clauses to deny victims of assault the right to bring their case to court. It passed by a 68-30 margin with nine Republicans joining each voting Democrat. And in the immediate aftermath, Franken was granted the chance to revel, ever so slightly, in his victory.
"The story came to my attention of Jamie Leigh Jones who, when she was 19, went to Iraq to work for [defense contractor] KBR and she was put in the barracks with 400 men and was sexually harassed," Franken told the Huffington Post in a brief interview shortly after the vote. "She complained. But they didn't do anything about it. She was drugged and gang raped and they locked her up in a shipping container. She tried to sue KBR and they said you have a mandatory arbitration clause in your contract. She tried to fight back and said this is ridiculous. She took it to court and they have been fighting her for three years."
"This bill would make it so that anybody in business with the Department of the Defense can't do this," he concluded emphatically. "They can't have mandatory arbitration on issues like assault and battery."
Franken's amendment, which was added to the FY2010 Defense Appropriations Bill, didn't steal the headlines from the other news of the day: the ongoing debate over the war in Afghanistan. But it did add another notch in his belt as he makes the transition from popular comedian to serious politician. The senator has largely avoided the national spotlight in favor of pursuing a behind-the-scenes yeoman-like approach. Indeed, when asked to discuss what role congressional Democrats would play in adding conditions to any potential troop increase in Afghanistan, he demurred, saying there wasn't enough time in the brief interview to address such a weighty topic.
Since winning election, the senator has had several memorable moments and achievements. He was praised for strong questioning -- and a solid Perry Mason joke -- during the confirmation hearings for Supreme Court Justice Sonia Sotomayor. And, in mid July, a bill he authored to provide more service dog services to wounded veterans was adopted by the Senate through unanimous consent.
That piece of legislation, like the one passed on Tuesday night, was a low-risk but eminently logical effort -- something that could engender bipartisan support by addressing a plain and evident problem. But in his conversation with the Huffington Post, Franken indicated that his eyes were set on a broader topic, one that his amendment only began to address.
"One of the things I campaigned on is the fact that we haven't done oversight on our contractors," he said. "Part of the job of Congress is to do oversight which we really didn't do it, especially from 2001 to 2007. It was actually almost criminal that we didn't do it on our contractors in Iraq because there was all this money that was wasted and lost on fraud and abuse. It was totally incompetent and in contributed to the collapse of the country because the reconstruction was done so wrong."
Popular in the Community