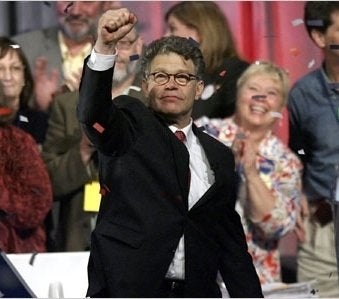 Days after Al Franken was awarded dozens of votes in the official recount process, the campaign of the Democratic Senate challenger in Minnesota released a statement declaring that Franken expects to win the election.
FRANKEN CAMPAIGN: WE EXPECT TO WIN BY 35-50 VOTES

Campaign Releases New Internal Count Projecting Post-Recount Lead

SAINT PAUL [12/20/08] - The Franken campaign today released an update to its internal count and announced that it expected the reconciliation of withdrawn challenges next week to result in a 35-50 vote lead for Al Franken at the end of the recount.

Franken lead recount attorney Marc Elias:

"The work left for the state canvassing board to do next week - the re-allocation of withdrawn challenges - is work we have already done in our internal count, because that count has always assumed that all challenges will fail. On Tuesday, I will stand before you with that work completed. Al Franken will have a lead of between 35 and 50 votes. And, at some point not too long after that, Al Franken will stand before you as the Senator-Elect from Minnesota."

The Franken campaign's internal count before the state canvassing board began its work of reviewing challenges was based on the assumption that all challenges would fail. That internal count yielded a four vote lead for Al Franken.

However, multiple published reports support the fact that Franken challenges were of better quality than Coleman challenges, resulting in a widening of Franken's lead.

Published reports currently indicate a 260 vote lead for Franken, but also suggest uncertainty as to what will happen when withdrawn challenges are re-allocated to the candidate for whom the ballots were originally called.

But because the Franken methodology already assumed those ballots would end up in the tally of the candidate for whom each one was originally called, the internal count can predict the result of that work with certainty: a 35-50 vote lead for Franken.
REAL LIFE. REAL NEWS. REAL VOICES.
Help us tell more of the stories that matter from voices that too often remain unheard.