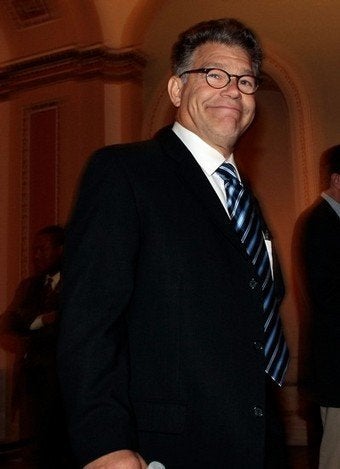 Al Franken received a potentially major boost towards his hopes of becoming Senator on Friday, when Minnesota state officials ruled that absentee ballots rejected because of clerical or administrative errors should, in the end, be counted.
The decision by the state canvassing board -- which was unanimous -- is, essentially, an official request for county officials to go back and count the wrongfully rejected absentee votes. This process has already begun in many counties and could portend sizeable gains for Franken.
The Democratic challenger has spent the past few weeks demanding that the state review the approximately 1,500 absentee ballots that they contend were unlawfully dismissed. Many of these votes have come from traditionally Democratic locales where, for one reason or another, voters are more likely to make clerical errors when completing their ballots.
The state has set December 19th as the end date for the sorting and counting of this absentee ballot pool (hardly a restrictive time frame for completing the task). The Coleman campaign retains the right to appeal the decision to a district or state court.
With the hand recount over in the state's Senate race, Franken's campaign claims to be clinging to a four-vote lead. This count, however, assumes that none of the challenges to ballots during the recount process will be upheld. In short: the race is incredibly tight. The inclusion of this pool of rejected absentee ballots could very well push Franken into the Senate.
UPDATE: The Franken campaign got more good news from the canvass board hearing. The state had, during the recount process, been unable to locate 133 ballots from the Minneapolis area. But rather than disregarding these votes, officials decided that they will use the results from Election Day.
Popular in the Community