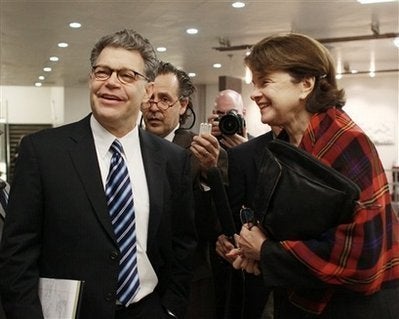 Al Franken has narrowed the gap he faces with Sen. Norm Coleman even closer than the 73 votes the campaign reported yesterday, a source close to the Democratic challenger tells the Huffington Post.
With roughly ten percent of the recount remaining, the gap between the two contenders is now at the point where quite literally, every vote matters. The source did not offer a specific number for the new margin but hinted that it could be roughly a third less than Monday's reported figure.
The numbers can be confusing. For example, the Minneapolis Star Tribune has the margin at well more than 300. But that figure is inflated, the Franken campaign says, by frivolous or easily resolved ballot challenges.
On Tuesday, the Minnesota's Secretary of State office had Al Franken actually leading the recount by more than 4,000 votes. But that count is not official. Rather it is a snapshot in time, showing where the vote totals are as ballots are recounted (as if there were a new election). Thus, when the Minneapolis votes were reassessed, Franken's total jumped up. Aides to the Democratic challenger expect that number to narrow as more recounting takes place.
In the end -- if the Franken numbers are to be believed -- the election will come down the pool of challenged ballots that need to be legally resolved, whether or not rejected absentee ballots will be reconsidered, and how many missing ballots are potentially rediscovered. It could easily be that close.

Calling all HuffPost superfans!
Sign up for membership to become a founding member and help shape HuffPost's next chapter