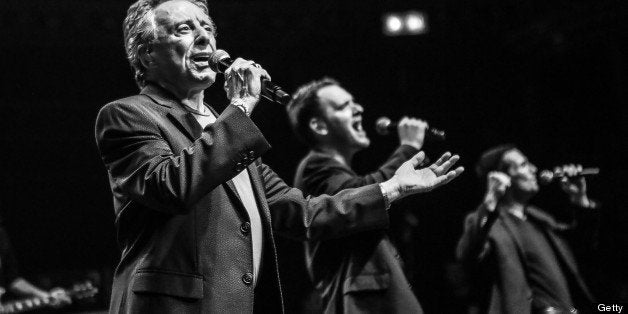 Francesco Stephen Castelluccio knew what he wanted to do for a living by the time he turned seven. It just took the magic of one performer -- Frank Sinatra -- who stood up on the stage of the Paramount Theater in New York City to reel him into dreaming of a singing career that would change the course of his life. Long before "Frankie Valli" was born, Francesco spent many nights, as a young kid, dreaming of becoming a singer.
Fast forward to 2013 and the world now knows his dream was destined to come true. Shall we roll off the hits? "Sherry," "Big Girls Don't Cry," "Walk Like a Man," "Rag Doll" "My Eyes Adored You," and "Grease" are just a few of the Top 40 Hits that put Frankie Valli and The Four Seasons (Tommy DeVito, Nick Massi, Bob Gaudio) into the Rock and Roll Hall of Fame in 1990.
Jersey Boys -- the musical that walks the audience through the formation, the triumphs, the downside and the eventual break-up of the 1960s rock 'n roll group -- took home the 2006 Tony award for Best Musical and is still going strong after eight years on Broadway. The National Touring Company has enjoyed success in North America as well as England, Toronto, Melbourne, and Singapore.
The "Opus 17" singer (Oh, what a powerful falsetto voice!) sat down with The Huffington Post to talk about the ups and downs of his prolific life and career and how Jersey Boys hit a snag before it got off the ground.
Your show at Wolf Trap in Vienna, VA. was one of the best I've ever seen. You take command of that stage. People truly love you. Does that feeling ever get old? Do you still feel as excited when you walk on that stage now as you did 50 years ago?
You know, I can't express to you enough how fortunate I really feel that I am. To have an audience who has stayed as long as they have... I love it! If the time ever comes where I don't feel that way anymore I won't do it. But, I'm not feeling that way. I love to perform. I've been performing since I was a teenager. I've been so fortunate to have been able to do it for just about all my life.
You started in 1960 with The Four Seasons but it took two years to get your first hit. Even though you're a legend now and you've had dozens and dozens of hit records, for two years, you didn't have a hit song on radio."Sherry" wasn't a hit until 1962. Were those a long two years for you?
It was a long time before I had anything, or even had a hit so they were long, but making records and being in the music business and being a singer is not just about having hits. It's about being able to be out there working for an audience. In that respect, I've been very fortunate. Before I had any hit records I was working in little clubs and saloons all throughout New Jersey and parts of New York and got the experience, and without that, I'm not sure that I would have ever been able to make it. It was a very important part of my life and some of the best times that I remember. It was different because I had an opportunity to do everybody's music and that's what I love. We did everything from standards to whatever the current pop music was at the time so it was a very memorable period of my life.
Probably if I had never become successful, I would still be doing it in some little bar somewhere. As far back as I can remember, I've always loved to sing and to have the opportunity to sing is wonderful.
Where were you the first time you heard your very first record on the radio and how did you react?
The very first time I ever heard anything of mine on the radio I was in New Jersey and I was in my teens. I did my first record which was an old standard called 'My Mother's Eyes.' It was the old Georgie Jessel theme. I heard it on local radio out of Newark. And it was very exciting! It made me know -- all the more -- that's what I wanted to do. So from that point on, I pursued it. It was a long, hard climb but we got there and that's the most important part of it.
I was just excited to hear it. I was a kid and all of a sudden people knew who I was out of nowhere. I had this kind of regional success with the record being played on the radio, and everybody got to know who I was especially where I grew up in Newark, NJ.
On stage, you shared a story about your mother taking you to see Frank Sinatra in concert when you were seven. When you saw him at that young age, he must have made a big impression on you.
I had never seen anything quite like it. I had never really seen a live show of any kind. It was certainly a special treat. It looked bigger than life, my goodness! Women were screaming and yelling and all of that. I just couldn't believe it.
Later on in life, you got to meet Sinatra. Do you remember that first meeting and how excited you were?
My actual first meeting with Frank Sinatra was in New York City at a club called Jilly's. Jilly was probably his best friend in life. I had done a benefit that his mother was sponsoring and had put together for some blind children in Jersey City. I was kind of an act that came because somebody fell out. We had just had a couple of hits already. We did it for his mother and he heard about it, and he wanted to meet me. I met him in Jilly's. We had dinner and drinks that night and we became friends. We kind of hung out for about 10 years and I got to know him. I couldn't really believe that. Here was this guy that I saw for the first time [at seven] and a guy who I had admired in my early years of wanting to be in the business -- that not only would I meet him but we would become friends. So it was really spectacular for me and probably one of the most important highlights in my life.
I cherish the memory of being a friend of Frank Sinatra on a friendship level to the point where we really hung out. We worked in Vegas, we'd talk on the phone, and if I wasn't doing anything, I'd fly out and I spent time in Palm Springs at his house -- on a level the way friends would be, not with a whole crowd of people. It was Frank and Jilly and myself.
Did you ever ask him for career advice or where you beyond that at that point?
To be very honest with you, one of the things that I did right from the very beginning when I did get to meet him, I cherished the friendship so much that I made it very clear to him that that's what it was really all about for me. I wasn't expecting him to call and get me a job somewhere or put me in a movie or do any of that. I said, I just want to be friends with you like this, and that's the way we were.
You came into the music scene when rock and roll was on its way. Who were your early rock and roll heroes?

There were a lot of R&B groups that were my heroes, but the funny thing about my career and the way it went and where it went, at first I didn't really want to do pop music. I was a little bit more into jazz and R&B. When I was growing up as a kid, the groups that I was listening to were The Four Freshmen, and the Hi-Lo's and all the early R&B vocal groups like The Clovers, The Ravens, and the Orioles and Dinah Washington. These were the people that were motivating me musically. And the fact that I loved Sinatra so much, as far as I was concerned no one could ever interpret a lyric the way he could. No one ever got more out of lyric than he did. I learned a lot just by listening and hanging out.
What did you think of Elvis when he first started?

I thought Elvis was spectacular. I was a big fan right from the beginning.
Did you ever meet him?

Yes, I did. He was incredible. The first time I actually met Elvis was at a music convention and then I was invited to Vegas and I saw him. In fact Nancy Sinatra and a number of other people and myself were all invited back stage. I had been good friends with Nancy for several years.
Was Elvis bigger than life?
He was incredible! He was so much like I thought he would be. He was just really a real guy. He didn't think [about] who he was.
What do you think of some of the pop stars of today like Lady Gaga?

There's an awful lot of talent there. We see the gimmick part of it. I think Lady Gaga is talented. Madonna is talented and the flair that Michael Jackson had. He was talented! Whatever it is that they do, they must be doing something right. They do have an audience out there so I respect that.
Jersey Boys is a huge hit. Give us the short story on how Jersey Boys come to be. Was it your idea and how did you get the ball rolling to bring the musical to life?
There was an interest from the network in doing a movie of the week about The Four Seasons. I had a couple of meetings and looked at several of the movie of the weeks and after seeing them, I wasn't overly enthusiastic about doing a movie of the week. And we thought about it. It never really came together and I called a concert promoter out of New Jersey whose name was John Scher, and he had a play on Broadway -- Victor, Victoria. I heard that he was a big, big fan. We had lunch and a couple of weeks later we signed a contract with them. He was really the first person that had access to The Four Seasons for Broadway. He had it for about three or four years and we just couldn't get it together. We couldn't find the right director and writers and so forth and so on and the deal was over. We went with Des McAnuff who directed [The Who's] Tommy on Broadway. I really liked him as a director. I thought he would be the right guy and fortunately it all worked out. It went into La Jolla Playhouse (at University of California, San Diego) as a workshop for six weeks and stayed for about three or four months, and got rave reviews. When it closed in La Jolla, we couldn't get a theatre for a year, and I thought all that momentum was lost. Finally we did get a theatre and opening night was absolutely spectacular, and the rest is history.
I read that the musical dramatizes several real-life incidents in your life. How did you narrow down what you wanted to tell from your life?

One of the things you have to do when you're doing a story about your life, you have to tell the truth. And that's how it should be. It's not all the good things only. I always thought there was something to this story about The Four Seasons. You know, we had two guys in the original group who had served time in prison, and we kept that a secret. When I was a kid, I was in trouble and was on probation for five years. And we were just so afraid the public might find out and record companies would not sign us and radio would not play us so we kept it very, very quiet. Until it came time we were actually going to do a play and Bob Gordio and I sat and looked at each other and he said to me, 'Are you sure you want to do this?' I said, 'Yeah, why?' He said, 'Because if we do this, we're going to have to tell the truth.' I said, 'At this point in time in our lives, does it really matter? Look at the world and look at where we are. Today the way things are, you have to get arrested in order to become successful.' So we went straight ahead.
You share the story about your daughter, Francine, who died of a drug overdose. Was that difficult?
It was very difficult. I lost a kid to drugs at 20 years old. It was probably one of the hardest things in my life and probably one of the things in my life that I will never get over. It is a very strange feeling to lose a child. It's not supposed to be that way.
You're doing a movie based on Jersey Boys. You'll be the executive producer; Clint Eastwood is producing and directing. Who has the last word with creative direction of the movie?
The director always has the last word. In a case like this when it's about your life, you just want to be accurate.
You were on one of my favorite TV shows, The Sopranos. Tell me about working on that show.
That was a wonderful experience for me. I mean, that .was something that I absolutely loved doing. I am so happy that David Chase gave me the opportunity to do The Sopranos and created a role for me. I got to do six or seven episodes and it was a highlight in my life.
In your concert, you did a song called 'Fallen Angel.' You said to the audience that you wanted them to listen to the lyrics. What does that song mean to you?
For me it's just that sometimes we should learn to be more forgiving of the things that we do and understand that we are all in this world trying to do the best that we can. We will make mistakes and we should be able to forgive for things that go wrong, whether it's in a relationship or friendship or a family situation. That's what's very special about that song.
Looking back over your life, if you could have a do-over on one event in your life, what would it be?

I'm not too sure that I would change very much. I grew up in a tough, rough neighborhood and I think all the things that happened in my life for the good and the successes came from the fact that the way I grew up, I wanted more and I was willing to go out there and work my tail off to get as much out of life as I possibly could. I've always felt that to spend this time here on this earth and not use this time to get to the highest point that you could possibly get, what a waste. For me, that's what it's always been about. I'm always looking for something new, a new challenge of some sort.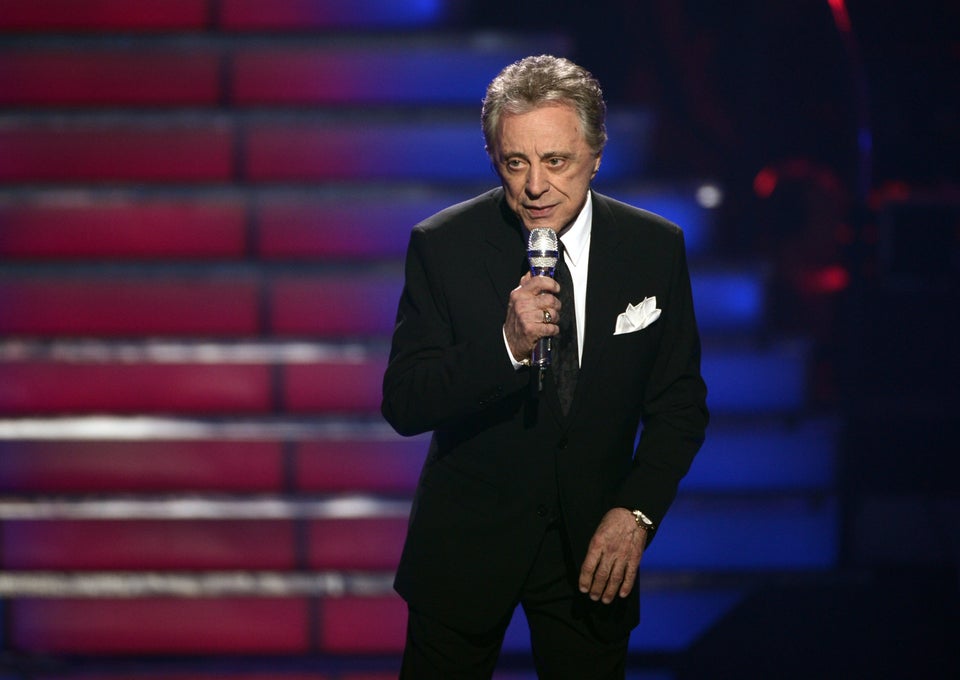 Frankie Valli
Related
Popular in the Community