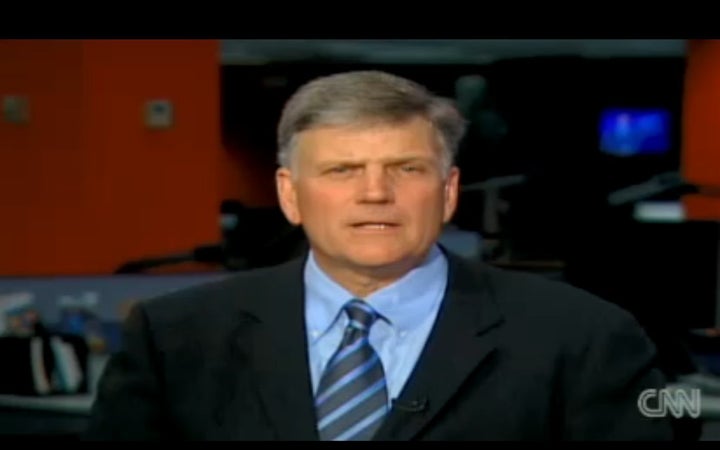 Reverend Franklin Graham, son of renowned Christian evangelist Billy Graham, said Thursday that the reason a growing number of people believe President Obama to be a Muslim is because he was, in fact, born into that religion due to the "seed of Islam" that was passed to him through his father, Barack Hussein Obama, Sr.
"I think the president's problem is that he was born a Muslim, his father was a Muslim. The seed of Islam is passed through the father like the seed of Judaism is passed through the mother. He was born a Muslim, his father gave him an Islamic name," Graham told CNN's John King.
"Now it's obvious that the president has renounced the prophet Mohammed and he has renounced Islam and he has accepted Jesus Christ," Graham went on to clarify. "That's what he says he has done, I cannot say that he hasn't. So I just have to believe that the president is what he has said."
Graham went on to say that Obama's supposed conversion didn't matter to the Muslim world.
"The confusion is, is because his father was a Muslim, he was born a Muslim. The Islamic world sees the president as one of theirs. That's why Qaddafi calls him 'my son.' They see him as a Muslim. But of course the President says he is a Christian, and we just have to accept it as that," Graham explained.
Though President Obama has explained in his memoirs that his father was indeed born a Muslim, according to a Time Magazine article by Barack Obama in 2006, Barack Obama Sr.'s deep skepticism of religion eventually led to his atheism:
My father was almost entirely absent from my childhood, having been divorced from my mother when I was 2 years old; in any event, although my father had been raised a Muslim, by the time he met my mother he was a confirmed atheist, thinking religion to be so much superstition.
Watch Franklin Graham on CNN:
Calling all HuffPost superfans!
Sign up for membership to become a founding member and help shape HuffPost's next chapter